Father of the nation laid to rest: the afterlife of Mahatma Gandhi
After 60 years, the ashes of India's most iconic leader were scattered at sea yesterday. It marked the end of an extraordinary journey, literal and metaphorical. Andrew Buncombe reports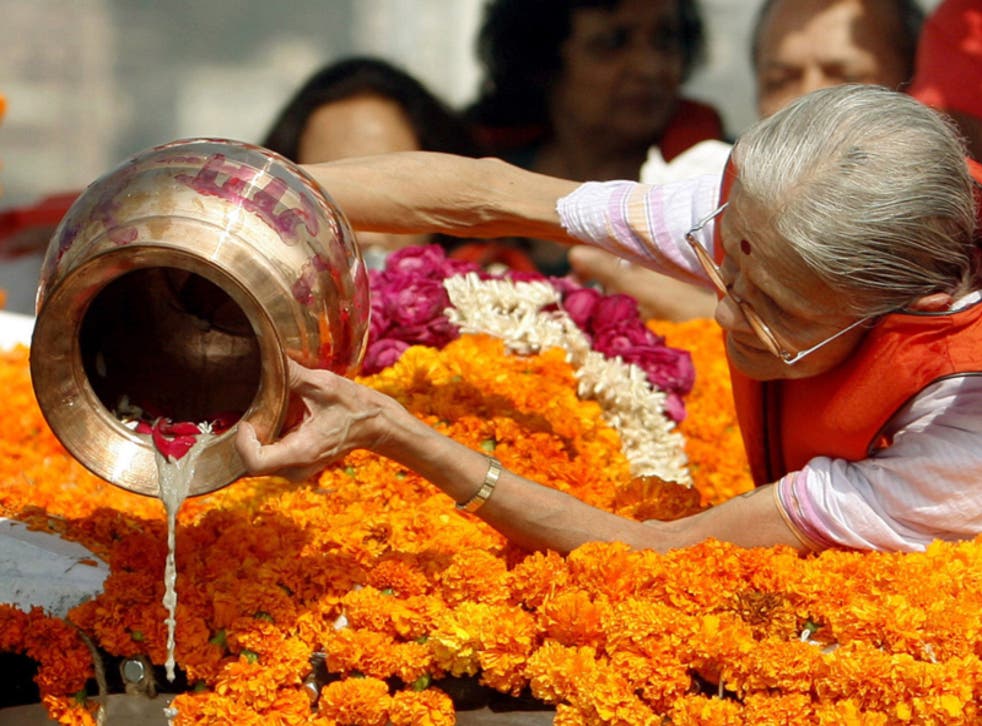 They marched in unison on a bright, clean morning, singing his favourite religious songs and walking behind a flower-decked truck carrying what his family believe is the last of his remains.
Through the streets of India's largest city, more than 300 people who describe themselves as Gandhians followed the truck strewn with roses and marigolds as it made its way towards the ocean. Shortly afterwards, from the side of a bobbing boat, a member of the family of Mohandas Gandhi tipped up the urn and poured the ashes of India's most revered statesman on to the water. They were gone in an instant.
Yesterday's ceremony was heavy with symbolism and significance. Held on the 60th anniversary of the day on which Gandhi was assassinated – shot by an extremist who rejected his lifelong call for peace – the service was itself also designed to salve a wound that has troubled the peace leader's descendants.
"It's an emotional day for us and also a day for deep thought. A day that we should remember him and remind ourselves of his teachings," said Gandhi's great-granddaughter, Neelam Parikh, a frail 75-year-old who poured the ashes into the water as other relatives held their hands and bowed their heads.
Gandhi was assassinated on the afternoon of 30 January 1948, shot three times at point-blank range by a Hindu extremist, Nathuram Godse, as he walked in the garden of the house in which he was staying in Delhi. His status, already vast – was instantly cemented in both India's history and the psyche of its people.
Today in India, his influence, along with his image which smiles out everywhere from banknotes to hoarding boards, is widespread and multi-layered. It remains a factor not only in the country's mainstream politics but also in the politics of dissent, where the idea of peaceful, non-violent protest which he advocated remains a powerful tool for the marginalised.
Gandhi was killed just six months after the cause for which he had struggled for decades – independence from Britain – became a reality. In the aftermath of his death, his remains were cremated according to Hindu tradition. "The light has gone out of our lives, and there is darkness everywhere, and I do not quite know what to tell you or how to say it," said India's Prime Minister, Jawaharlal Nehru, announcing Gandhi's death to a stunned nation.
Yet rather than scattering the ashes at sea or in a river within 13 days as is tradition, in an era before television or digital technology a decision was taken to dispatch a portion of Gandhi's ashes to villages and towns across India. This was to allow his followers and supporters to pay their respects. It appears, however, that efficient records were not kept and it is unclear how many urns of ashes were sent from Delhi to the country's vast, rural hinterland. Today there are at least two other locations – one in southern India and one in the US – that claim to possess an urn containing some of his remains.
The previous occasion on which an urn was found was in 1997 when it was discovered in a bank vault in northern India. The ashes contained in that cask were later immersed at the point where two sacred rivers, the Ganges and the Yamuna, meet. Those scattered yesterday in the Arabian Sea had previously been
kept by Sriman Narayan, a businessman and close friend of Gandhi.
After his death, Mr Narayan's son, a businessman based in Dubai, sent them to a museum with the intention that they would be displayed for the public, according to his father's wishes. But once Gandhi's family learnt of the plan they intervened and asked that they instead be scattered. "The family discussed the issue internally and we felt it was not right to put up his ashes on public display and requested the museum to hand over the urn to us," one of his great grandsons, Tushar Gandhi, said.
Perhaps ironically, yesterday's ceremony to scatter Gandhi's ashes may have gone some way to smooth over an historic discord that existed within his own family. Ms Parikh, who led yesterday's proceedings, is the granddaughter of Gandhi's eldest son, Harilal, who became estranged from his father and even converted to Islam in an act apparently intended to anger him.
Their difficult relationship, long known, was examined in greater detail last year in the Indian film Gandhi, My Father, a
movie which some followers of the independence movement's leader believed should not have been made as it portrayed human failings of a man whom some consider close to a saint. The title Mahatma, which Gandhi was given, means "great soul".
Yet Gandhi himself had acknowledged his role in falling out with his son, who did not attend Gandhi's funeral and who died destitute and ravaged by alcoholism shortly after his father's assassination. "The greatest regret of my life...," he wrote in one letter. "Two people I could never convince – my Muslim friend Mohammed Ali Jinnah [a fellow independence activist who eventually pushed for the creation of a separate, Muslim-dominated country that became Pakistan] and my own son, Harilal Gandhi." Selecting Ms Parikh to scatter the ashes, Gandhi's family said, was a symbolic gesture of reconciliation. "It's the correct thing to do, since Gandhi's three younger sons' families have participated in earlier funeral rituals," another of Gandhi's granddaughters, Usha Gokani, told the Associated Press. She added: "I hope this is the last of the ashes. This is more appropriate than preserving them in a permanent display."
Last night, members of India's political elite held a prayer ceremony at Birla House, the property in south Delhi where Gandhi was staying when he was killed. Among those paying their respects were the Prime Minister, Manmohan Singh, and Sonia Gandhi, head of India's ruling Congress party. Mrs Gandhi is the widow of the former prime minister Rajiv Gandhi, grandson of Jawaharlal Nehru.
Some commentators argued that today's India, where the overwhelming majority of the poor and powerless population are often overlooked in the race towards economic development, would disappoint Gandhi. Throughout his life, Gandhi believed India's economy and society should be organised around its villages. That has not been the case.
Yet even while yesterday's commemoration of Gandhi's assassination was relatively muted, some also spoke of Gandhi's continuing relevance both within a country where the division between rich and poor remains vast, as well as overseas.
Writing in the Hindustan Times, Ramachandra Guha, author of India After Gandhi, recalled how the independence leader had repeatedly called on India's Muslims and Hindus to put aside their religious differences. He added: "What Gandhi asked of Hindus and Muslims in India in 1919 should be asked again of them today, asked also of Jews and Arabs in Palestine, of Hindus and Buddhists in Sri Lanka and of Christians and Muslims in Europe, North America, west Asia and Africa."
Join our new commenting forum
Join thought-provoking conversations, follow other Independent readers and see their replies