Harrowing photos from inside Filipino jail show reality of Rodrigo Duterte's brutal war on drugs
'They cannot think straight. It's so crowded. Just the slightest of movements and you bump into something or someone,' inmate says
Will Worley
Sunday 31 July 2016 12:50 Comments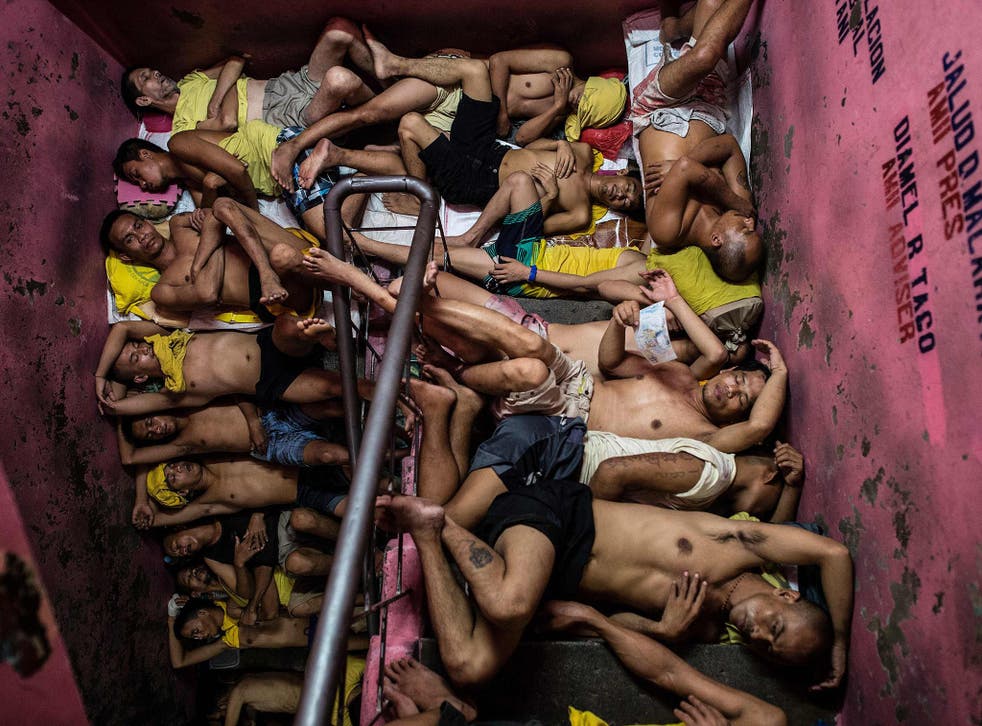 Harrowing photos have emerged showing the "inhuman" conditions inside prison in the Philippines.
The facility, Quezon City Jail, in Manila, is home to 3,800 inmates – nearly five times more people than it was designed for.
It is a reflection of a criminal justice system in chaos, set to worsen as the state engages in an aggressive war on drugs instigated by the country's hardline president, Rodrigo 'The Punisher' Duterte.
Prisoners – caught up in trials which take years – can be seen crammed body-to-body on concrete floors and stairwells. Others are forced to sleep sitting or standing.
"Many go crazy," Mario Dimaculangan, the jail's longest serving inmate, told the AFP news agency.
"They cannot think straight. It's so crowded. Just the slightest of movements and you bump into something or someone."
The conditions are mirrored in detention facilities across the country, according to Dr Nymia Pimentel Simbulan, executive director of the Philippine Human Rights Information Centre (PhilRights), also based in Quezon City.
"These conditions exist in municipal and city jails across the country, as well as state penitentiaries," Dr Simbulan told The Independent.
Sanitary conditions are also poor, and in Quezon City Jail, one toilet is used by up to 130 other people. According to an April 2015 Commission on Human Rights report, toilet facilities in Filipino jails "either do not exist or are poorly maintained" and cause an "odious stench".
The unhygienic environment means illnesses, such as as tuberculosis, skin infections, diarrhea and sepsis are rife. Medical services are few and far between.
Tensions between the prisoners occasionally erupt into violence and torture is also used against them.
"Overcrowding is a major problem," Dr Simbulanas said. "As is food, cleanliness and a general lack of the facilities which make a place fit for humans."
The Philippines are a signatory of the United Nations Convention Against Torture, which forbids the cruel or inhuman treatment of prisoners. "Unfortunately that is not the case in many of the detention centres and jails in the Philippines," Dr Simbulan said.
"This has been a long problem, it's been there for decades and it seems the government has not really taken steps to address over-population and the lack of facilities, which make prison conditions inhuman."
The problem is rooted in a broken legal system. "If our jails are overcrowded and congested," Dr Simbulan said, "that will also be true in our courts."
Aside from a lack of physical space in courtrooms, there is a shortage of judges and prosecutors to hear cases. Consequently, with just two or three hearings a year, inmates' trials can take years, even decades.
"Posting bail is often not an option because most of those who run afoul of the law are poor," Phelim Kine, Asia deputy director for Human Rights Watch, told The Independent. "And even if they can afford bail, the majority of detainees in most of these jails face drug charges that are non-bailable."
Up to 90 per cent of detainess in custody of the Bureau of Jail Management and Penology are awaiting or undergoing trial, according to the organisation's own figures. "This makes the Philippines the Southeast Asian country with the highest number of pretrial and remand detainees and the second highest in all of Asia," said Mr Kine.
Quezon City inmate Mr Dimaculangan told AFP he had been in the prison since 2001, after being charged with the murder of a politician's relative, and has averaged just one trial hearing a year.
In addition, cases which should be settled at the barangy level – community committees which deal with petty quarrels and disputes – are often escalated to the main court, loading more pressure onto the system.
Even if any of the young men who have been jailed are found innocent when their trial is finally concluded, their life prospects are bleak.
In addition to losing years of their lives inside, many find it difficult to find work in the outside world because of the enormous stigma associated with jail time.
Philippines: Duterte's tough crime crackdown continues
Applying for a job often requires clearance from the police and National Bureau of Investigation.
"That would be a major stumbling block for the individual to be able to get a decent and well paid job," Dr Simbulan said. Many end up in the informal sector and can drift back into criminality.
Furthermore, the situation is likely to deteriorate. The new Filipino president, Mr Duterte, has launched an aggressive war on crime and promised to kill drug dealers, criminals and even addicts.
"We in the human rights community are seriously disturbed to see an increase in the number of extra-judicial killings," Dr Simbulan said. "Based on recent developments, we do not expect this to get better but actually to get worse."
At least 420 suspects have already been the victims of police executions. A 'kill list' that documents the deaths is maintained by the the Manila-based Inquirer newspaper, which said the "surge" had been "marked and unmistakable" since Mr Duterte took office on 30 June.
World news in pictures

Show all 50
Thousands of drug offenders have handed themselves into the authorities to avoid being killed.
Campaigners said the government has not shown signs of wanting to improve the prison system.
According to Dr Simbulan: "The government has embarked on a campaign against illegal drugs, without being able to satisfy the basic prerequisite requirements that would enable the judicial system to absorb an influx of detainees."
Mr Kine echoed this sentiment, saying: "The sharp increase in detentions of individuals ensnared in the Philippines government's 'war on drugs' will inevitably worsen the country's already scandalously abusive problem of lengthy pretrial detention and subject those detainees to potentially life-threateningly unhealthy overcrowding in jails and detention centers."
Register for free to continue reading
Registration is a free and easy way to support our truly independent journalism
By registering, you will also enjoy limited access to Premium articles, exclusive newsletters, commenting, and virtual events with our leading journalists
Already have an account? sign in
Join our new commenting forum
Join thought-provoking conversations, follow other Independent readers and see their replies