Four Sri Lankan soldiers arrested in connection with claimed abduction and murder of journalist
Prageeth Eknaligoda went missing soon after the 2010 presidential elections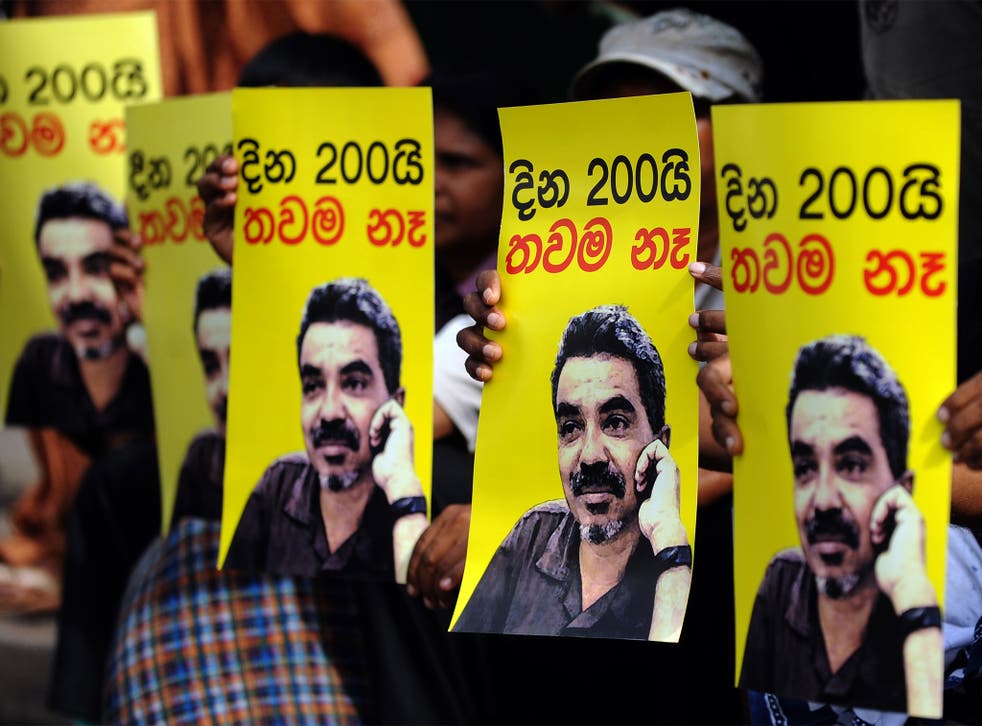 Four soldiers in the Sri Lankan army have been held in connection with the claimed abduction and murder of a journalist and regime critic who disappeared five years ago.
Prageeth Eknaligoda went missing soon after the 2010 presidential elections during which time he supported the defeated presidential candidate Field Marshall Sarath Fonseka, a bitter rival of the former president Mahinda Rajapaksa. Two lieutenant colonels, a sergeant and a corporal were arrested following the testimony given by other suspects already in custody, police spokesman Ruwan Gunasekera told AFP.
Former Tamil Tiger rebels had reportedly confessed to abducting and handing over the journalist to an army camp in a former northern war zone, under a contract. The rebels have claimed that Mr Eknaligoda had then been murdered and his body dumped at sea.
The breakthrough in the case comes less than three weeks before the United Nations Human Rights Commission reviews a probe on claimed - and denied - war crimes and human rights violations, allegedly committed by the Sri Lankan army under the former government. The island's powerful military, which defeated the Tamil rebels in 2009, has been accused of crimes including abductions, extra-judicial murder and rape during and after the country's three decade ethnic war.
"The Rajapaksa regime has been responsible for my husband's disappearance," Sandhya Eknaligoda, wife of the missing journalist told The Independent. "Mahinda and Gotabhya Rajapaksa were behind my husband's disappearance, and I'm not afraid to say it," she said, referring to the younger brother of the former President and once powerful Defence Secretary. "All I want is justice."
Bob Dietz, of the Committee to Protect Journalists' Asia, said: "At least nine journalists were murdered in direct relation to their work under the leadership of Mahinda Rajapaksa. It is important for the new government to bring all of those killers to justice and break Sri Lanka's cycle of impunity once and for all."
Join our new commenting forum
Join thought-provoking conversations, follow other Independent readers and see their replies