Ghoncheh Ghavami: Mother of British-Iranian woman jailed for watching men's volleyball writes open letter to daughter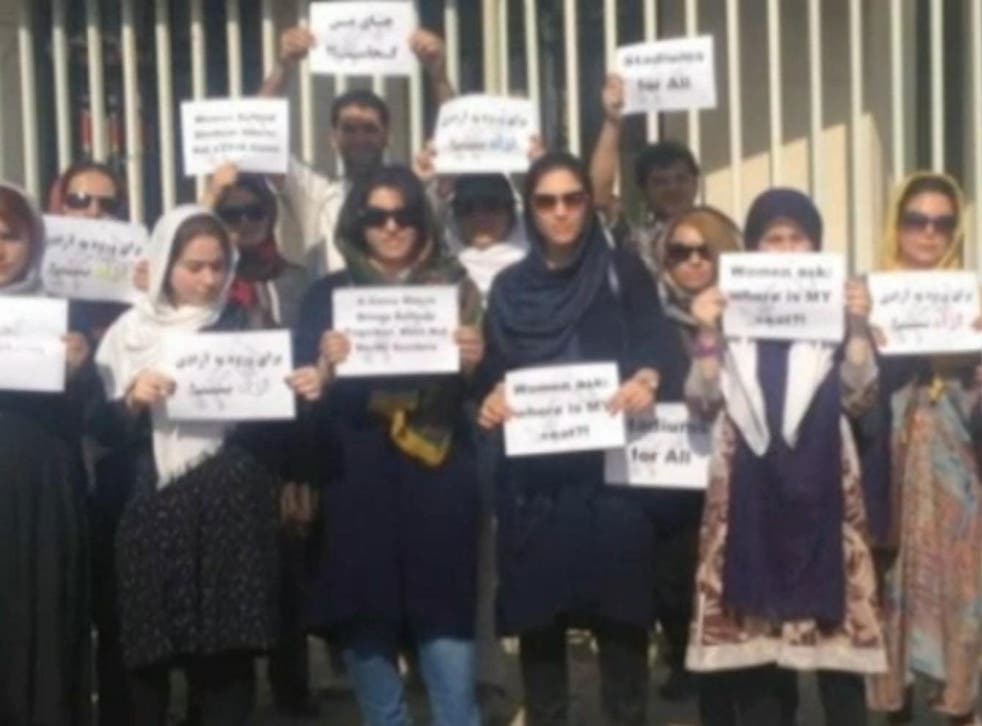 The mother of a British Iranian woman imprisoned in Tehran for watching a volleyball match has spoken publicly for the first time of her anguish at her daughter's incarceration.
Ghoncheh Ghavami, 25, has been held in Tehran's Evin Prison since 30 June, after watching a men's volleyball game in peaceful protest at a ban on women attending. Her family had been keeping quiet about her internment in the hope of securing her release, but after no progress with the authorities they have started to campaign for her release.
Ms Ghavami was a law student at SOAS university in London who split her life between the UK and Iran. Her mother, Soosan Moshtaghian, 50, was born in London and later lived with family in Iran where she met and married Houshang, a surgeon.
In a desperate open letter to her daughter, posted on Facebook today, Ms Moshtaghian wrote: "My dearest Ghoncheh, the days without you are unbearable for your father, Houshang, and I. In your absence, I have asked myself over and over again why and for what crime have they deprived me of seeing your glowing face for 74 days now.
"Each day, hoping to be close to your scent and your breath, I eagerly arrive at the closed doors of the Evin Prison, and they send me back in despair, without any answers. Dear God, you know that until today, I have only shared my pain and prayers with you. That if I am still standing, it is only for the hope of seeing the lighthearted laughters of my dear Ghoncheh. Should no one be responsible to account for the suffering of a mother?"
Ms Ghavami was first arrested on 20 June after taking part in a peaceful protest against the ban on women attending Volleyball World League matches in Tehran's Azadi Stadium. She was released within a few hours but 10 days later she was taken to Evin prison by plainclothes officers who had arrived at her house and who also seized her clothes and laptop.
She was held in solitary confinement for the first 41 days and subjected to intense interrogation with no access to a lawyer and no formal charge. She is now in a shared cell and is still under investigation for "propaganda against the state", with her jail time extended by another 60 days with no explanation.
Her brother, Iman Ghavami, 28, who lives in London, told The Independent: "There are no formal charges, so it's a mystery to everybody. She hasn't done anything.
"On the same day that my sister went to the stadium she bought a newspaper where the president said women could go into stadiums. She showed that to my parents who then said OK she could go. The news gave them peace of mind, but when she got there the exact opposite happened - she was arrested."
Ms Ghavami's mother and aunt were able to visit her earlier this week in prison, but were given no indication of when she might be tried or released. Commenting on the impact of her daughter's imprisonment on her husband, Ms Moshtaghian wrote in the open letter: "Your father grew old in one night from your absence. Do you remember how worried he would get from you being only a few minutes late? Now it has been 74 days that you are late, and we have gone everywhere to make your return possible. We have sat behind the doors of all the officials for hours but have received no answers."
Volleyball is one of Iran's most popular sports and its national men's team reached the finals of the World Championships in July. A spokesman for the International Volleyball Federation, the FIVB, said the federation was already in discussions on how to deal with Iran's treatment of women supporters of the game but that "the stakes have gone up with this awful piece of news" and that they would be planning their next move.
Members of the Iranian government did not respond to requests for comment on the case.
Reforms? freedoms still restricted
Women continue to be second-class citizens in Iran and their absence from the world of sport is conspicuous. Female football fans – and any women wanting to play – are still frequently barred from stadiums.
President Hassan Rouhani was elected in June last year on a ticket of advocating greater social freedoms, particularly for women. In October he asked police to be moderate when enforcing the requirement for women to wear the hijab and cover up. He has also said he wants women to be allowed into stadiums.
But he struggles to get his decrees followed through by police and security services because the country's supreme leader, Ayatollah Ali Khamenei, wants to strengthen measures which prevent men and women mixing. Last week, Mr Khamenei attacked the West for adopting the "wrong" treatment of women, saying the Islamic Republic had suffered a "cultural invasion" from the West.
But there were few signs of such an invasion in a Tehran court this week when three men and three women began their trial for filming a tribute video to Pharrell Williams' song "Happy". Police claimed the clip was vulgar and they are accused of "hurting public chastity," a crime which if convicted could result in public floggings and prison sentences.
The six were arrested in May after their video, which was shot in Tehran and featured them dancing and dressed in Western clothes became a YouTube sensation. The video concluded with a credit reading: "'Happy' was an excuse to be happy. We enjoyed every second of making it. Hope it puts a smile on your face."
Under some interpretations of Islamic law, women must be veiled in public and the video soon resulted in the friends being jailed and released on bail pending trial.
Grammy-winner Pharrell wrote on Facebook: "It is beyond sad that these kids were arrested for trying to spread happiness."
Join our new commenting forum
Join thought-provoking conversations, follow other Independent readers and see their replies