Head of Cambodian police says he 'learned from Hitler'
Lieutenant-General Sao Sokha has 'all kinds of blood on his hands', according to Human Rights Watch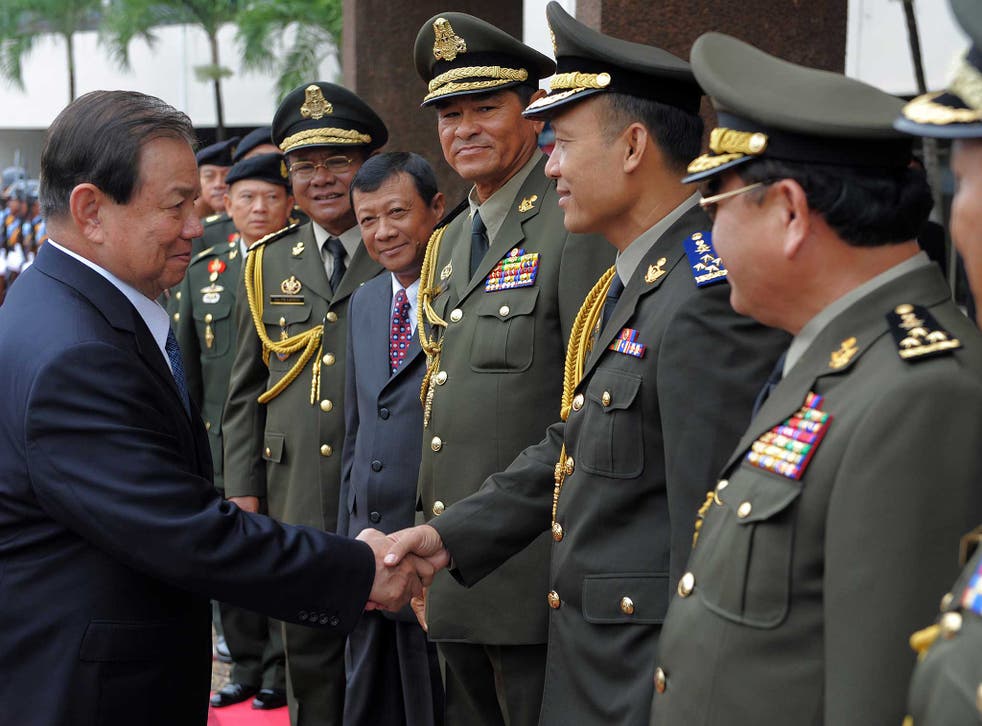 The head of police in an impoverished south-east Asian country has praised Adolf Hitler, saying he learnt everything from the leader of one of the most brutal regimes of the 20th century.
The remarks of Cambodian Lieutenant-General Sao Sokha, also a private advisor to the country's prime minister Hun Sen, have been condemned by human rights organisations who claim the government henchman has "blood on his hands."
The general told reporters at a military gathering: "Speaking frankly, I learned from Hitler."
Sokha, responsible for maintaining public order and internal security, continued: "Germany, after World War I, was not allowed by the international community to have more than 100,000 soldiers, but the Nazis and Hitler did whatever so they could wage World War II," the Cambodian Daily reported.
He claimed he drew inspiration from the Nazi leaders during their rise to power in the 1930s for steering Cambodia through a tumultuous transition following the fall of the Khmer Rouge in 1975 and the accession of Hun Sen.
Human Rights Watch Asia advocacy director John Sifton told The Independent he was not surprised by Sohka's remarks – only that he had the temerity to make them so publicly.
"This guy has blood on his hands," Mr Sifton said, comparing the general and his officers' "violent, incredibly brutal" control of the country as a "parallel" to that of a fascist state.
"Absolutely" loyal to Hun Sen, who has held onto power for the past three decades, Mr Sefton claimed that Sokho "has all kinds of blood on his hands."
Under the leadership of Hun Sen approximately 45 per cent of public land has been sold off to foreign investors, resulting in forced evictions for thousands.
According to Human Rights Watch, Cambodians have been subject to a wide range of serious human rights violations: extrajudicial killings, torture, arbitrary arrests, summary trials, censorship, bans on assembly and association, and a national network of spies and informers intended to frighten and intimidate the public into submission.
Cambodia endured a horrific period under the Khmer Rouge, who took power in 1975 after a bloody civil war. An estimated two million, mostly ethnic minorities, were murdered by the regime under leader Pol Pot.
A fragile peace was finally established in 1991 with the overthrow of the regime, following an invasion by Vietnamese troops controlling leading Cambodian figures, but in 1997 this partial progress was undone when then co-prime minister Hun Sen seized power.
Join our new commenting forum
Join thought-provoking conversations, follow other Independent readers and see their replies