#HerVoice: Ministers and human rights lawyers join NGOs in petition demanding end to sexual violence against women in India
The campaign behind the petition is a month-long initiative aiming to raise awareness of sexual atrocities in India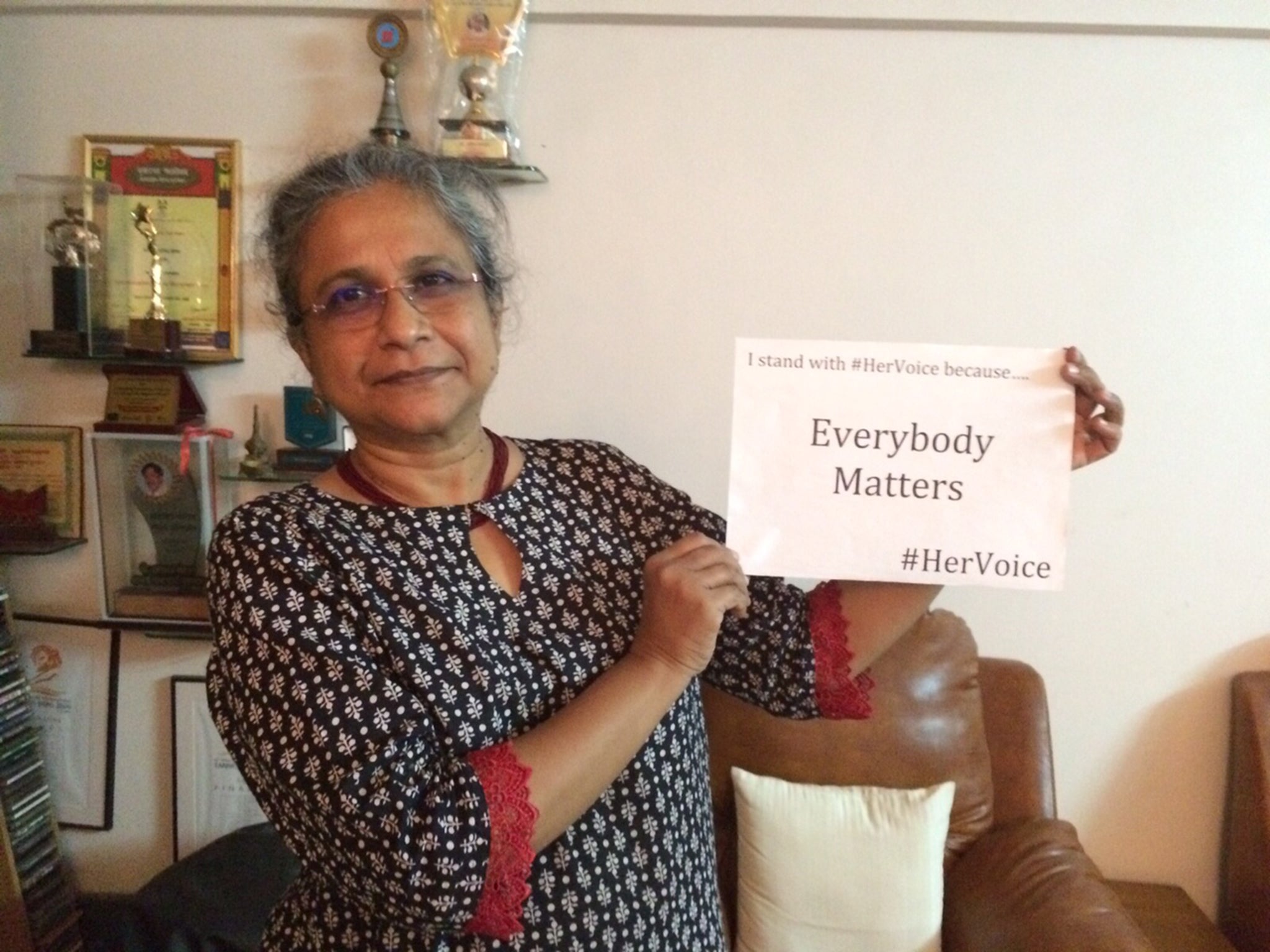 Human rights lawyers, ministers and renowned social activists are among hundreds who have publicly pledged their support to nine Indian Non-Governmental Organisations (NGOs) who are petitioning the government to end sexual violence against women and girls in India.
The campaign behind the petition – #HerVoice – is a month-long initiative that aims to raise awareness of sexual atrocities in India, where, according to the National Crime Records Bureau of India, a woman is raped every 34 minutes. It also aims to put pressure on state ministers to accelerate sensitivity training for police and educate civil society about rape culture.
Anna Hazare, the prominent social activist, said of the campaign: "The politicians and institutions of society are corrupt, which leads to the emergence of criminal elements in society. It is only pressure groups, like #HerVoice, that can fix this. I've seen every woman for my whole life as my mother or my sister. This is what should be taught to all men to end violence against women. We need this lens to enact change."
Priti Paktar, leading activist and the founder of anti-sex trafficking initiative Prerana, which rescues women from forced prostitution, said she stood in solidarity with the #HerVoice campaign because she believes Indian civil society still does not understand why rape is wrong.
"Nobody wants to hear her and nobody wants to be confronted with the facts. It's an uncomfortable truth," she tells The Independent.
"Marital rape, for example. They believe there is nothing to claim about that. Men are supposed to do that to women. They are supposed to do this to children. A lot of people here don't even know that it is wrong."
Flavia Agnes, human rights lawyer and founder of Majlis that works for survivors of domestic and sexual violence, said that despite India's anti-rape laws carrying the strongest penalties for offenders in the world, "the number of women committing suicide, being murdered in their own homes, goes up every year. It's been that way for 25 years."
Agnes further highlighted the need for the government to stop focusing on creating more laws, but to refocus the implementation of existing anti-rape laws to include better rehabilitative aftercare for victims.
India protests against sexual violence
Show all 20
"#HerVoice will definitely help to change attitudes when [people] hear the voices of the survivors and how the system has helped or not helped them. That exposure alone can lead to change. What that victim actually feels she needs."
Additional Superintendent of the Police in the state of Maharashtra, Pankaj Deshmukh, said that is the responsibility of men – not of women – to actively change rape culture.
"There are two reasons why men rape. One is that they pursue women like they are objects, like they are a dish to savour. They are trying to make a bold statement about power dynamics. It is not necessarily that the girl they are pursuing is more beautiful. It is to say that they are more powerful than a woman. And to tell the rest of society about that power.
Speaking about violence against women, Kaustub Ampte, head of the largest NGO in India and grandson of revered Indian nationalist Baba Ampte, said: "It's all about empowering a person who has lost confidence and has been discarded by society… if you restore someone's dignity, the community will accept them."
The campaign – #HerVoice – is a five week effort to bring attention to the multiple forms of violence that women and children face every day, and to call on both society and the government to bring about necessary changes.
"We want to accelerate, but keep sustainable, the momentum for change so that we can give back India #HerVoice," said Miranda Hudson, CEO of Snehalaya UK.
Snehalaya, an NGO partner of the #HerVoice campaign, provides refuge for women and children who are survivors of sexual violence. The campus, in Ahmednahar, Maharashtra, features a rehabilitation centre, a school, the only HIV clinic in the district, vocational training, and a crisis line for situations when a woman needs rescuing from a violent situation.
More information about the #HerVoice campaign can be found at http://www.withhervoice.org/.
Join our commenting forum
Join thought-provoking conversations, follow other Independent readers and see their replies