Hiroshima 70th anniversary: Mayor of city devastated by an atomic bomb leads call for action over nuclear weapons across the world
The 'Little Boy' bomb detonated over Hiroshima killed an estimated 70,000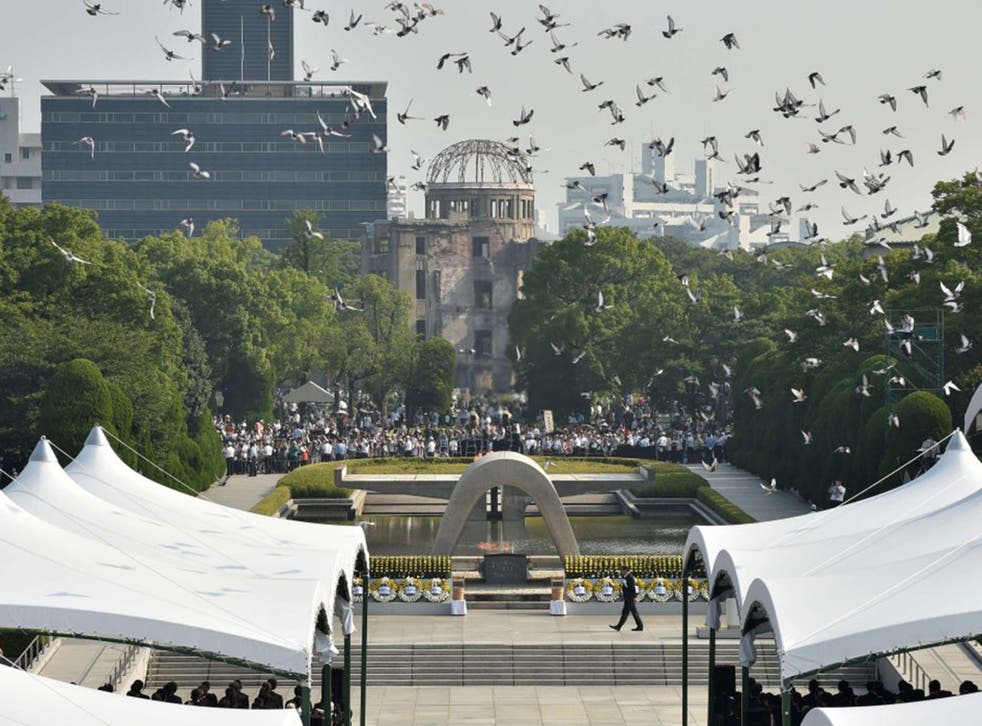 The estimated crowd of 50,000 people in Hiroshima represented around a third of those to die when America launched the world's first nuclear attack on civilians in the city.
Prime Minister Shinzo Abe led expressions of condolences to the estimated 160,000 victims, and called for the worldwide elimination of nuclear weapons. Thousands of protesters chanted anti-war slogans a short distance from the ceremony in Hiroshima's memorial park. Scattered shouts of "no more war" could be heard at the end of Mr Abe's speech. Many survivors of the bombing are upset at Mr Abe's attempts to loosen the shackles of Japan's pacifist constitution, which was written in 1946 during the American occupation of the country.
The "Little Boy" uranium bomb that detonated over Hiroshima killed an estimated 70,000 on 6 August, 1945. Tens of thousands more died in the subsequent months and years from burns and radiation-related illnesses. The destruction of Hiroshima, and Nagasaki three days later, are still the only instances of nuclear weapons used in warfare.
Hiroshima's mayor Kazumi Matsui called the atomic bombs an "absolute evil." He said: "Our world still bristles with more than 15,000 nuclear weapons and policymakers in the nuclear armed states remain trapped in provincial thinking." He added: "On the 70th anniversary, now is the time to start taking action."
Among the masses listening to Mr Matsui was US Ambassador to Japan Caroline Kennedy and America's under-secretary of state for arms control and international security, Rose Gottemoeller. America still maintains the world's largest, most advanced nuclear arsenal.
Japan's nuclear-armed neighbours, China and North Korea, did not send delegates to the ceremony, which was attended by representatives from a record 100 countries and territories.
Around 260 miles away, in Nagasaki, Kuniyoshi Aikawa remembered hearing the drone of a single B-29 US bomber flying over Hiroshima when he was 12. He survived, only to find himself in Nagasaki three days later, exposed a second time to the greatest destructive force in history.
Mr Aikawa was with his 14-year-old sister in Hiroshima when "Little Boy" detonated. His father had been drafted into the war and his mother was away.
The flash of white light from the detonation was followed by a blast that lifted him into the air – then he blacked out. "When I came to, our house had been blown apart."
He pulled his sister from the wreckage then began walking toward the mountains, where they thought they would be safe. The road was "hell on earth," he recalls, crowded with walking wounded. Many were beyond help: an injured soldier was holding a baby, turned to charcoal. A woman called for help from under the ruins of her house but Mr Aikawa was not strong enough to save her. When he returned from the mountains she had been burned alive, her body twisted in agony as she tried to free herself.
Mr Aikawa decided to take the train back to his mother's family, who lived in a village near Nagasaki. It was a fateful decision.
On 9 August, the "Fat Man" bomb was dropped, killing 70,000 people and creating a city where, in the words of its mayor, "not even the sound of insects could be heard". Mr Aikawa had just arrived at Urakami station, less than a mile from the bomb's centre. When the clouds parted, Nagasaki was a smoking ruin. "There were so many dead bodies lying on the ground it was difficult to walk," he told The Independent this week.
Like most survivors, Mr Aikawa dislikes talking about the war. For years, the radiation dose he received was not well understood and people reacted badly when he told them about his past.
Censorship under the American post-war occupation left many in Hiroshima and Nagasaki unaware of what exactly had happened to them until the 1950s. Radiation sickened and killed many but there was no government help. Thousands of hibakusha (nuclear survivors) who were denied treatment continued to die from illnesses related to their exposure.
The Japanese government finally began to provide health assistance to hibakusha from 1957. Today, Mr Aikawa carries a government ID stating he was exposed to radiation in both cities, making him one of a tiny handful of double-hibakusha.
In Hiroshima Mr Abe laid a wreath and said as the only victim of a nuclear attack it is Japan's "responsibility and duty" to achieve a world without the weapons.
But some listeners expressed disappointment in his speech. "What he says is right but what he is actually doing is different," said Satsuki Nakasei ,14, a high school student. "He is moving Japan away from pacifism."
The Day They Dropped The Bomb

Show all 5
The use of atomic weapons on Japan still bitterly divides opinion. Now 82 and recovering from stomach cancer in a Nagasaki hospital, Mr Aikawa is "miserable" that memories of the bombings are fading as many of the 190,000 survivors near the end of their lives.
The world has moved on: America alone has 8,000 warheads, each about 20 times the destructive power of Hiroshima. People shrug their shoulders when Mr Aikawa tells them what occurred 70 years ago. "They think it was all so long ago," he says.
Join our new commenting forum
Join thought-provoking conversations, follow other Independent readers and see their replies