Hong Kong votes to ban ivory sales one month after China embargo comes into force
The territory is the world's largest market for ivory, say researchers
Samuel Osborne
Wednesday 31 January 2018 11:47 Comments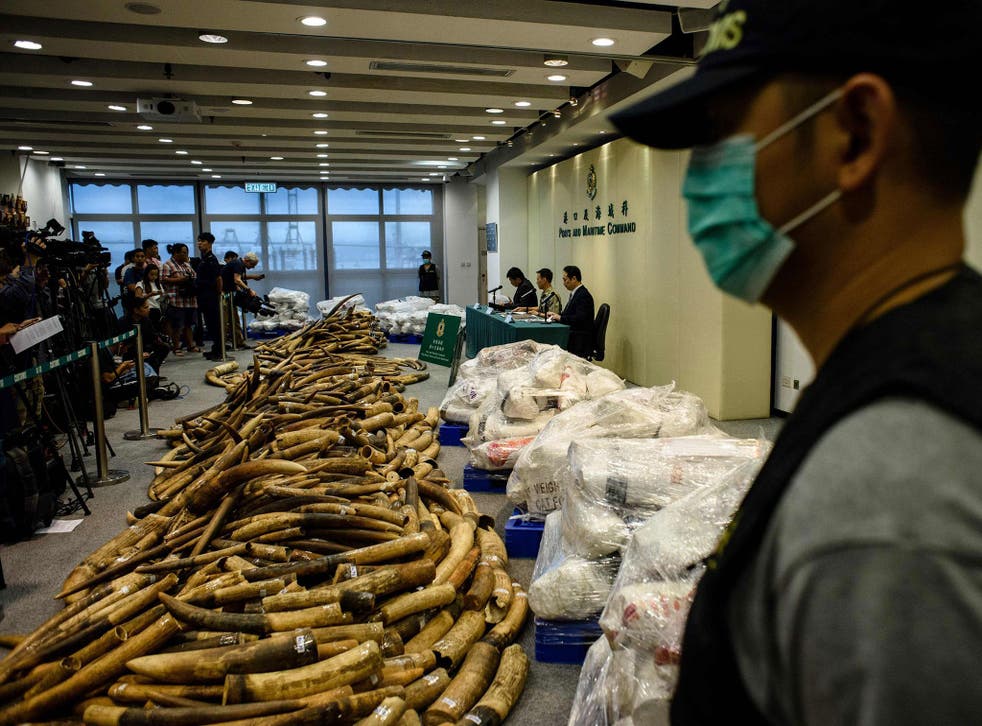 Hong Kong has voted to ban the trade of ivory in a landmark decision after years of campaigning.
Politicians voted in favour of amending an existing law to outlaw sales of ivory in the Chinese territory by 2021.
The proposal also includes significantly stiffer penalties for the smuggling of ivory and other highly endangered species to deter black market sales.
Researchers say Hong Kong is the world's largest ivory market.
China destroys ivory hoard
Under the new law, the maximum sentence will increase to a HK$10m (£920,000) fine, which is double the current amount, and 10 years in prison, up from the current two years.
Wildlife activists celebrated the move, even though Hong Kong has moved more slowly than Beijing.
Mainland China, the biggest source of ivory demand, banned sales at the start of the year after shutting all carving factories and shops last March.
The ban will have a "chilling effect on the global demand for ivory," Iris Ho, a spokesperson for Humane Society International, told The Independent.
She said the majority of ivory exports from the UK and EU have been destined for Hong Kong. "Now that their biggest customer is rejecting ivory consumption, the UK and EU should take swift action and shut down their domestic markets as well. "
Cheryl Lo, a spokesperson for the World Wildlife Fund, said in a statement: "A ban on ivory sales with heavier penalties in Hong Kong shows a clear commitment towards the future of African elephants."
"This will help reverse the trend of elephant poaching and illegal ivory trafficking."
Bert Wander, campaign director at Avaaz, said: "Shutting down this massive ivory market has thrown a lifeline to elephants. People all over the globe are standing up for these magnificent creatures and governments are listening.
"First it was China, then Hong Kong and next we're taking this ban to Europe to stop the world's largest exporter of legal ivory."
The current law in the former British colony allowed domestic sales of ivory dating from before the Convention on International Trade in Endangered Species of Wild Fauna and Flora (CITES)
Under CITES, ivory trading started to be regulated in the mid-1970s, before a total ban in 1990 on international sales.
Activists say there are signs unscrupulous dealers were exploiting the loophole to "launder" newer, illicit ivory, making Hong Kong a major black market trading hub.
They hailed the ban as a major step in efforts to slow poaching which results in the slaughter of tens of thousands of elephants and threatens the lives of park rangers in Africa.
The Hong Kong government refused to offer any compensation to the city's dozens of ivory shop owners and hundreds of licensed traders, who had demanded tens of millions of Hong Kong dollars in return for giving up their ivory stockpile, estimated at 670 tonnes.
Earlier this month, a member of Hong Kong's endangered species board pleaded guilty to illegal ivory possession and was fined fined HK$8,000 (£756).
Register for free to continue reading
Registration is a free and easy way to support our truly independent journalism
By registering, you will also enjoy limited access to Premium articles, exclusive newsletters, commenting, and virtual events with our leading journalists
Already have an account? sign in
Join our new commenting forum
Join thought-provoking conversations, follow other Independent readers and see their replies