Joshua Wong: Hong Kong pro-democracy protest leader arrested by police
Protesters stage sit-in ahead of visit by Chinese President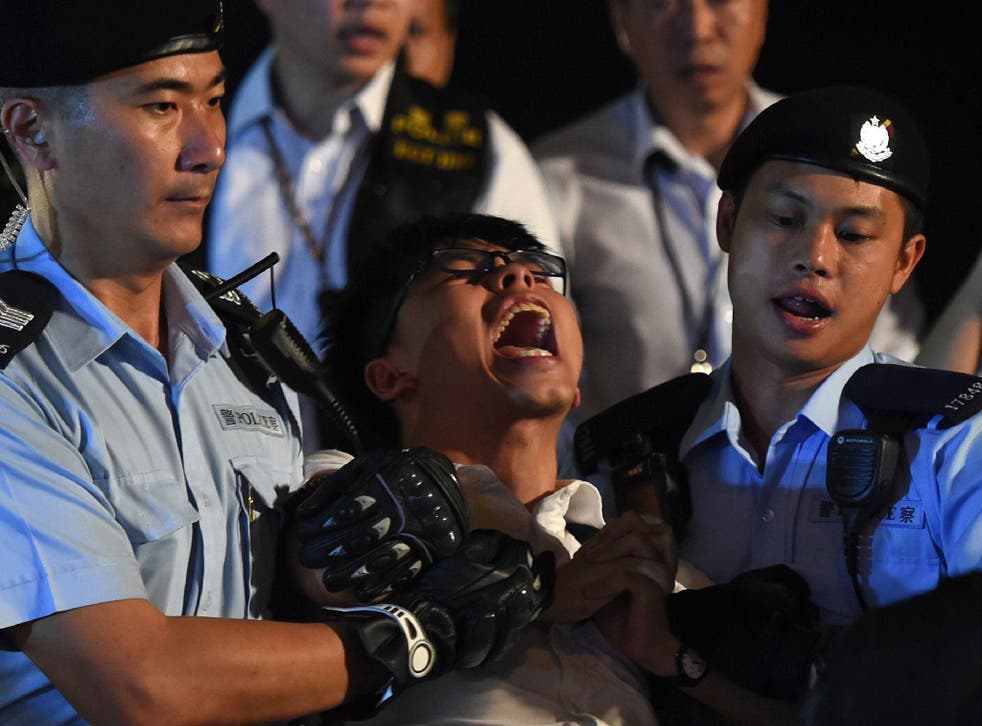 The young pro-democracy activist Joshua Wong has been arrested by police in Hong Kong.
Protesters staged a sit-in ahead of a visit by the President of China, Xi Jinping, intended to celebrate 20 years of Chinese rule.
Before he was arrested, Mr Wong gave a speech in which he said: "Hong Kong people will contiponue to fight for democracy, until the day we get back our rights."
Ahead of the anniversary, state broadcaster China Central Television has been running daily news features extolling what it calls the inextricable ties between China and Hong Kong in fields ranging from sports to the military and the arts.
But underneath the surface, tensions are simmering as Hong Kongers, especially the young, chafe at life under the tightening grip of China's Communist leaders.
"People are not celebrating but worrying about Hong Kong's future and its current situation," said Nathan Law, who at age 23 was elected the city's youngest-ever lawmaker last year and was a student leader of 2014's massive "Umbrella Movement" pro-democracy demonstrations.
Members of the Demosisto political party including Mr Wong draped a giant flower statue bequeathed by Beijing in 1997 in black cloth, which they said symbolised "the hard-line rule of the authoritarian regime."
Other protests in the works include a rally by a pro-independence group on Friday evening and a pro-democracy march on Saturday, the latter an annual event that has drawn big crowds in the past.
Mr Law said there's growing concern that Beijing is steadily eroding the "one country, two systems" principle put in place after it took control of the Asian financial hub.
Under that principle, Hong Kong largely runs its own affairs and enjoys civil liberties unseen on the mainland, but now, he said, "there are lots of people describing the current system as 'one country, 1.5 systems."'
He and others maintain a list of events that stoke fears about China tightening control.
At the top is the case of five Hong Kong booksellers secretly detained on the mainland starting in late 2015 for selling gossipy titles about elite Chinese politics to mainland readers. One of the men, Gui Minhai, is still being held.
China's Communist leaders are eager to tout the success of "one country, two systems," which was envisioned as a way to entice back Taiwan, which Beijing sees as a renegade province.
The recent tensions have drawn "serious attention" from Beijing, which can't afford to see pro-independence sentiment in Taiwan and Hong Kong at the same time, said Liu Shanying, political researcher at the Chinese Academy of Social Sciences.
"Therefore, it must be put under control," whether by force or gentler methods, he said. "There must be room for reflection on how to handle the Hong Kong issue properly because people in both Hong Kong and the mainland are Chinese after all."
Hong Kong votes in first major election since protests
Hong Kong University pollsters who have conducted surveys on ethnic identity since 1997 found that the level of young people identifying as Chinese fell to 3.1 per cent this month, the lowest ever level, according to a phone survey of 1,000 people.
Many young people lost hope after the 2014 protests, with the government refusing to give in to their demands for wider electoral freedom.
The unresolved conclusion fuelled the rise of a pro-independence movement, alarming Beijing.
Authorities have moved to clamp down on separatist sentiment, disqualifying two pro-independence candidates from office last year for making improper oaths.
It underscores widening divisions in Hong Kong society, between young and old, rich and poor.
Additional reporting by AP
Join our new commenting forum
Join thought-provoking conversations, follow other Independent readers and see their replies