Hong Kong protests: Thousands stream into park amid fears of 'chaotic situations' and Chinese crackdown
'We hope we can show the world that Hong Kong people can be totally peaceful,' say organisers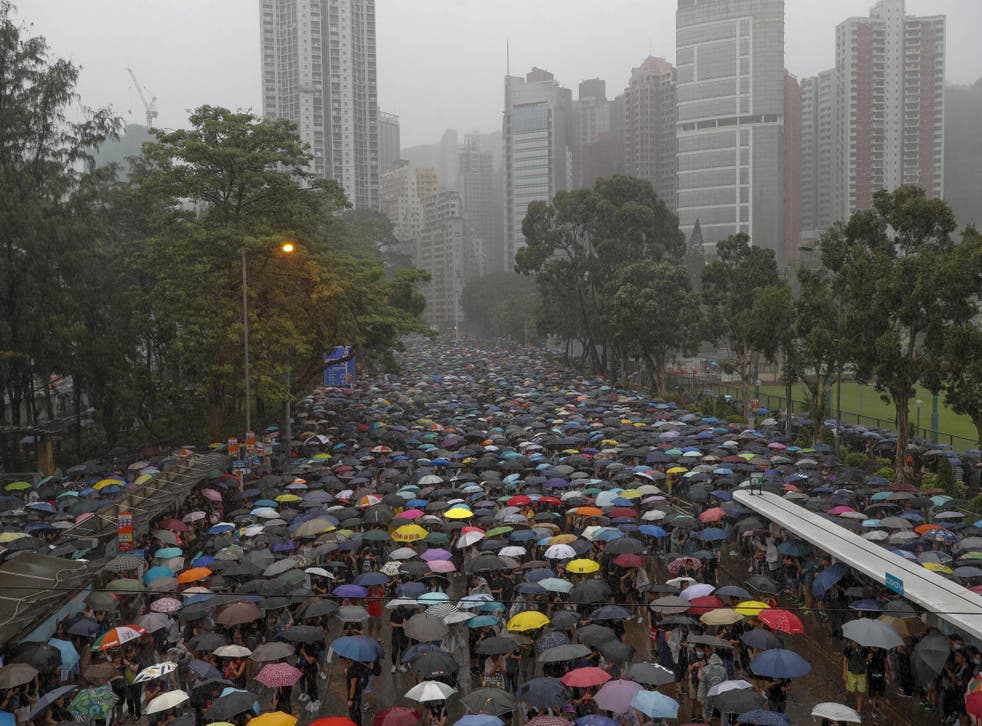 Tens of thousands of people have protested in Hong Kong for the tenth straight weekend, streaming into a central park in the rain.
While recent weeks have been marked by violent clashes between police and demonstrators, organisers called for Sunday's protest to be peaceful.
"We hope that there will not be any chaotic situations today," said Bonnie Leung, a leader of the Civil Human Rights Front (CHRF). "We hope we can show the world that Hong Kong people can be totally peaceful."
Many demonstrations have been arranged via word of mouth or social media, but the CHRF called Sunday's assembly after organising three massive marches in Hong Kong over summer
The group's last demonstration was on 1 July, the anniversary of Hong Kong's reunification with China. On that occasion, radical protesters stormed the city's legislature and tore down Chinese flags after a peaceful demonstration attended by tens of thousands of people.
Unlike much of the recent unrest, authorities gave official permission for Sunday's demonstration in Victoria Park.
In Beijing, You Wenze, a spokesman for the Chinese government, condemned statements from US politicians supportive of Hong Kong's pro-democracy movement.
Mr You called politicians' comments "a gross violation of the spirit of the rule of law, a blatant double standard and a gross interference in China's internal affairs."
He claimed Hong Kong's 7.5 million people and Chinese population as a whole rejected the actions of a "very small group of violent protesters" as well as "any interference of foreign forces", remarks that have become common in China's characterisation of the protest.
Continuing protests rock Hong Kong: In pictures

Show all 35
Mr You did not mention any specific politician, but numerous members of US congress members including house speaker Nancy Pelosi have affirmed their country's commitment to human rights and urged the Hong Kong government to end the standoff.
Congress could pass legislation to back human rights in the region. That could mean the re-introduction of the Hong Kong Human Rights and Democracy Act, which would require the secretary of state to issue an annual certification of Hong Kong's autonomy to justify special treatment afforded to the city.
Donald Trump could also issue an executive order suspending Hong Kong's special trading status with the US, which would have a devastating impact on the local economy at a time when Beijing and Washington are engaged in a bitter trade war.
Sunday's rally followed another day of peaceful gatherings. On Saturday protesters and police did not clash during protests for the first time in weeks. Some bystanders did heckle officers but police appeared not to make any arrests.
Thousands of school teachers also took to the streets on Saturday, when they marched to the official residence of Hong Kong's chief-executive Carrie Lam to show support for the protesters, many of whom are students.
Carrying signs that read "protect the next generation", teachers tied white ribbons to a metal fence near Government House. They urged the government to answer protesters' demands and stop using what they called police violence to disperse demonstrators.
The protest movement started over an extradition bill that would have allowed Hong Kong residents to stand for trial in mainland China, but demonstrators' demands have expanded to include Ms Lam's resignation, democratic elections, and an independent investigation into police use of force.
Groups including local watchdog the Civil Rights Observer and the office of the UN High Commissioner for Human Rights have accused police of using excessive force. Officers have routinely fired tear gas and non-lethal weapons at protesters during clashes.
Members of China's paramilitary People's Armed Police force have been training for days across the border in Shenzhen, including on Sunday morning, causing speculation that they could be sent in to suppress the protests.
Support free-thinking journalism and attend Independent events
Register for free to continue reading
Registration is a free and easy way to support our truly independent journalism
By registering, you will also enjoy limited access to Premium articles, exclusive newsletters, commenting, and virtual events with our leading journalists
Already have an account? sign in
Register for free to continue reading
Registration is a free and easy way to support our truly independent journalism
By registering, you will also enjoy limited access to Premium articles, exclusive newsletters, commenting, and virtual events with our leading journalists
Already have an account? sign in
Join our new commenting forum
Join thought-provoking conversations, follow other Independent readers and see their replies