Hong Kong Open and 'Matilda' musical become latest major events cancelled amid city's unrest
Canadian think tank says weeks of protests threatening city's status as global financial powerhouse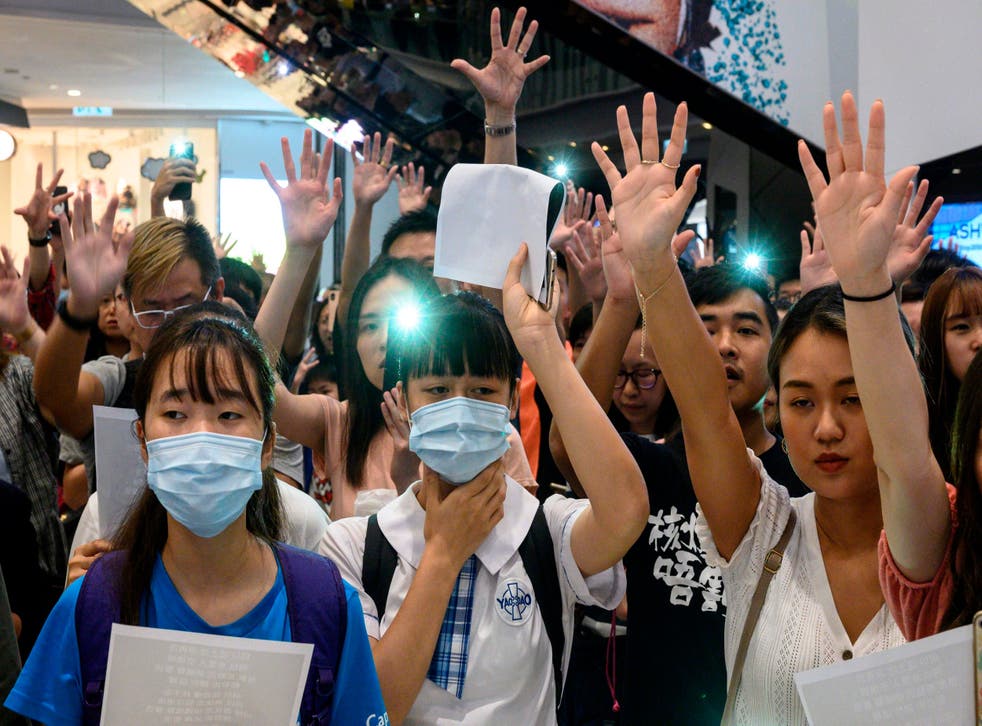 A major international tennis tournament has become the latest event postponed or cancelled amid months of pro-democracy protests in Hong Kong.
The women's Hong Kong Open was suspended indefinitely as a Canadian think tank warned that the ongoing unrest threatens the city's position as an economic powerhouse.
The tournament had been scheduled for 5 to 13 October, and was due to be held in Victoria Park, an area of the city that has become the focal point for many recent protest gatherings.
The Hong Kong protests started in June as a reaction to an unpopular extradition bill, but have since spiralled into a broad pro-democracy movement demanding greater rights and freedoms.
They represent the biggest challenge to Chinese rule in the city since it was handed over from Britain in 1997, and one of the sternest tests of president Xi Jinping's tenure.
Earlier this week there were protests in the stands of a home World Cup Qualifying football match between Hong Kong and Iran, with spectators booing the Chinese national anthem and chanting pro-democracy slogans. Iran had unsuccessfully applied to get the venue changed.
And James Cundall, the chief executive of the UK-based Lunchbox Theatrical Productions, said in a statement on Friday that he was cancelling a planned month-long run of the West End musical "Matilda".
The show performed by the Royal Shakespeare Company was supposed to open on 20 September at the Hong Kong Academy for Performing Acts.
"Sadly the 14 weeks of civil unrest in Hong Kong have decimated ticket sales, and more importantly we cannot guarantee the safety and wellbeing of our international company, which comprises a large number of young children," Mr Cundall said.
In recent weeks, major events ranging from K-pop concerts to Chanel fashion shows have been called off or moved out of Hong Kong.
Meanwhile, a report by the Reuters news agency said that citizens' applications for print-outs of their police records - seen as a marker for people considering permanent migration from the city - had jumped more than 50 per cent year on year.
Tourism to Hong Kong has plunged amid safety concerns, as the protests have at times broken out into violent clashes. The government accuses demonstrators of "rioting", while the use of tear gas, water cannon, rubber bullets and baton charges have seen police accused of excessive force.
The Fraser Institute, an independent public policy research organisation, said Hong Kong was one of the most economically free jurisdictions in the world but "interference from China including the violent crackdown on pro-democracy protests - severely threatens Hong Kong's rule of law".
But the administration of embattled chief executive Carrie Lam dismissed the Canadian body's concerns. "Such comments are entirely ungrounded and not borne out by objective facts," a government statement said. It defended police actions, saying they used reasonable force to halt increasing violence by protesters.
Thousands of protesters have assembled each night this week to sing karaoke songs in malls, their numbers dwarfing those of a pro-China counter demonstration on Thursday night that saw more than 200 mostly older citizens wave Chinese flags and sing the national anthem at a Kowloon shopping centre.
More protests are planned for the weekend, despite police banning a major march scheduled for Sunday. Many activists said they would disregard the ban.
Ms Lam said in a Facebook post late on Thursday that she would prioritise the creation of jobs and cheaper housing in a bid to appease the protest movement.
Though the pledge might seem tangential to the activists' main demands, Hong Kong's sky-high property prices and floundering economy are seen as factors that have fuelled the unrest.
Ms Lam, who has previously admitted her handling of the extradition bill triggered the "unforgivable havoc" in the city, attempted to move focus on from the political crisis. She said that more government measures would be announced in due course and that housing was "the first priority for improving people's livelihoods".
Join our new commenting forum
Join thought-provoking conversations, follow other Independent readers and see their replies