Thousands of protesters take to Hong Kong's streets to march against government-proposed amendments to Hong Kong's extradition law
Hong Kong to push ahead with extradition law change despite violent clashes and fears of more protests
Territory's leader insists delaying bill would cause 'more anxiety and divisiveness'
Hong Kong will push ahead with a law change to allow extraditions to China despite the largest protests since 1997 and warnings that the territory risks its status as an international financial hub.
Carrie Lam, Hong Kong's chief executive, said the extradition law bill would proceed as planned with its second reading on Wednesday, telling reporters that any delay would lead to "more anxiety and divisiveness".
Hundreds of protesters clashed with riot police in the early hours of Monday morning, with officers deploying tear gas, batons and shields in a bid to disperse a hardcore of demonstrators. Dramatic image showed at least one injured police officer with blood streaming down his face.
Organisers said that more than 1 million people attended the march on Sunday, which would make it the biggest rally since Hong Kong was returned to China from British rule in 1997. Police, using a different counting methodology, said more than 260,000 were involved at the march's peak.
The planned changes to extradition laws are seen as the latest step undermining Hong Kong's autonomy from the mainland, a key part of the 1997 handover agreement.
Hong Kong has extradition deals with 20 countries, but has long excluded China amid concerns over human rights and the legitimacy of the Chinese legal system.
Hong Kong: Extradition law protests continue into second week

Show all 40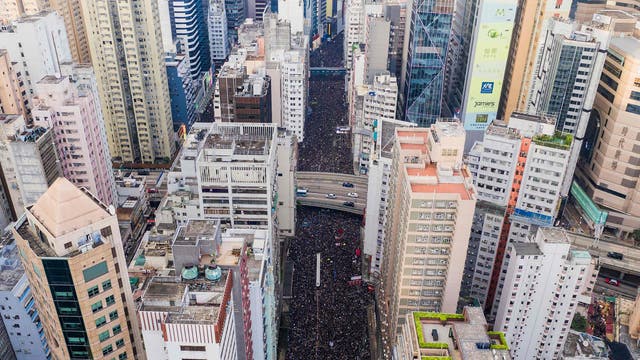 But in recent years many have accused China of extensive meddling in Hong Kong, denying democratic reforms and squeezing freedoms, interfering with local elections and the abduction of five Hong Kong-based booksellers, starting in 2015, who specialised in works critical of Chinese leaders.
Ms Lam, herself elected in 2017 by a committee of mostly pro-Beijing Hong Kong elites, denied she was taking orders from the central government in China.
"I have not received any instruction or mandate from Beijing to do this bill," she said. "We were doing it – and we are still doing it – out of our clear conscience, and our commitment to Hong Kong."
The proposed changes provide for case-by-case extraditions to jurisdictions, including mainland China, beyond the 20 states with which Hong Kong already has treaties.
It gives the chief executive power to approve an extradition after it has been cleared by Hong Kong's courts and appeal system.
Ms Lam said last month that, after feedback from business and other groups, only suspects facing more serious convictions and a minimum punishment of at least seven years would be extradited.
Beijing officials have increasingly defended the changes, and again on Monday the Chinese foreign ministry spokesman Geng Shuang said his government would support Ms Lam's efforts to pass the bill. A retired senior mainland security official said in March that Beijing already had a list of 300 mainland criminals it wanted back from Hong Kong.
Tara Joseph, president of the local American Chamber of Commerce, said the credibility of Hong Kong was on the line. "The passage of this bill comes at the expense of the business community and we fear business confidence will suffer," she said.
The bill will be put for debate on Wednesday as planned, Ms Lam said, for a second reading in the city's 70-seat Legislative Council, which is now controlled by a pro-Beijing majority. Protest leaders said further demonstrations would be held the same day.
Join our new commenting forum
Join thought-provoking conversations, follow other Independent readers and see their replies