Hong Kong protests: Shocking video shows police pepper spraying elderly man in face
The video is being shared as a symbol of a crackdown on demontrators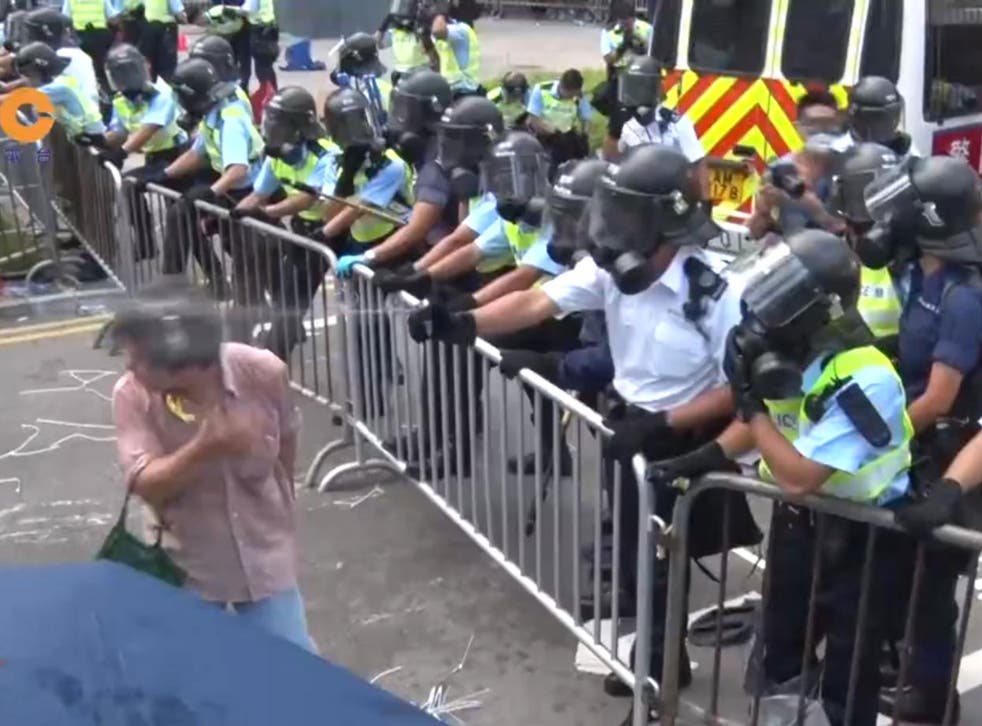 As the pro-democracy protests continue in Hong Kong, a video has emerged of a police officer pepper spraying a man directly in the face.
The footage, which has been widely shared on social media, is being held up as an example of authorities' harsh crackdown on demonstrations.
Thousands of people occupying the streets near Government headquarters in the city's Admiralty district were hit with volleys of tear gas and pepper spray over the weekend as riot police tried to beat protesters back with baton charges.
In the footage taken on Sunday, protesters are seen attempting to shield themselves with umbrellas as police behind a barricade wrench them them out of their hands to douse them with pepper spray.
As the group retreats, a middle-aged man stops to wipe the searing liquid from his eyes and talks to the crowd.
When an apparently unprovoked police officer taps him on the shoulder, he turns round only to be hit directly in the face with pepper spray, to shouts from watching protesters.
By Wednesday afternoon, the footage taken by Hong Kong's Digital Broadcasting Corporation had been shared more than 10,000 times on Facebook.
The demonstrators were left largely alone on Monday and Tuesday after an international outcry but student leaders have warned that if their demands are not met, action will escalate.
One of the key demands of the occupation is the immediate resignation of the city's unpopular Beijing-backed Chief Executive Leung Chun-ying, along with proper consultation on political reform to allow free and fair elections.
If he does not resign by Thursday, student leaders have threatened to occupy key Government buildings, risking a harsh police response.
Lester Shum, vice secretary of the Hong Kong Federation of Students, said protesters would not interfere with essential Government services like hospitals and social welfare.
In pictures: Hong Kong democracy protest 2014

Show all 32
But he added: "If he doesn't resign by tomorrow we will step up our actions, such as by occupying several important government buildings."
The movement, dubbed the Umbrella Revolution because of the widespread use of umbrellas against tear gas and pepper spray, has sparked solidarity protests around the world.
Join our new commenting forum
Join thought-provoking conversations, follow other Independent readers and see their replies