Trial in China begins for Hong Kong activists who tried to flee city in speedboat
Foreign diplomats were barred from attending the court hearing on Monday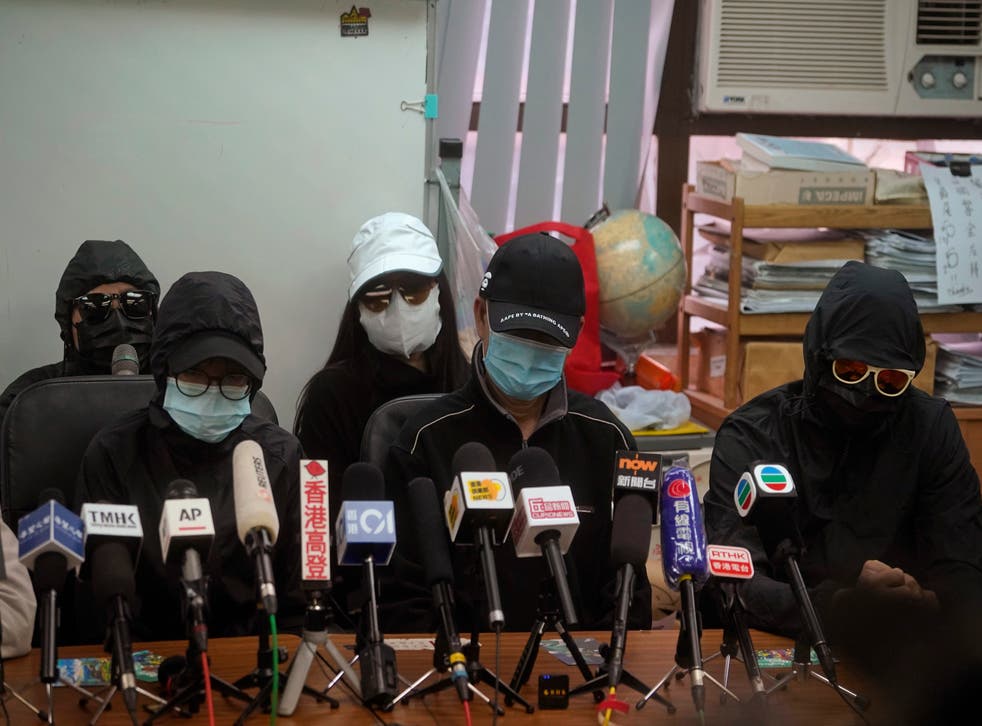 Ten of the 12 people from Hong Kong who were arrested in Chinese waters in August as they tried to flee to Taiwan are now facing trial in a court in mainland China.
The proceedings began on Monday as the defendants face charges of illegal border crossing, and could face several years in jail if convicted.
Access to the trial was severely limited, and it was not immediately clear whether the defendants were in court or were attending through a video link.
Diplomats from countries including the US, Britain, Canada and Australia, who wanted to attend the hearing at the Yantian District People's Court in Shenzhen city, were denied entry as the authorities claimed the court was full.
One Western envoy said: "We've been denied entry. The official explanation given is that the case does not involve any foreign citizens," reported the Reuters news agency.
The US Embassy in China on Monday also urged Chinese authorities to immediately release the activists in question and permit them to depart the country immediately.
The 12 persons include 11 males and one female who have been held virtually incommunicado in a mainland prison since their detention earlier this year. Their families have highlighted that they have been denied access to independent lawyers.
Of the 12, two are minors and, according to the Chinese authorities, will have a separate hearing.
According to the Hong Kong Free Press, the Shenzhen court said on its website that a verdict in the case will be handed down at a future date. The court claimed that local and Hong Kong politicians attended the trial, as well as reporters and defendants' family members.
Amnesty International's Hong Kong programme manager Lam Cho Ming said they fear that the "chance of these young Hongkongers getting a fair trial in China is remote given they have so far been deprived of their basic rights, including the right to defend themselves through legal representation of their own choosing."
Mr Ming, in a statement, said that their "families have repeatedly been denied direct access to them, and several mainland lawyers who have attempted to represent them at the families' request have been threatened by the Chinese authorities to force them to drop the case".
"China must guarantee that all 10 people whose case is set to be heard today, as well as the two others detained with them, get fair and public hearings. They must also ensure that none of the 12 are subjected to torture or other ill-treatment," said Mr Ming before the hearing.
The US Embassy in China, in a statement, said: "Their so-called 'crime' was to flee tyranny. Communist China will stop at nothing to prevent its people from seeking freedom elsewhere."
China has tightened its control over the former British colony and, in June, introduced a new national security law in Hong Kong to exert greater control in the city. The UK has said the move is among a number that threaten to breach the promises made about the city's autonomy when it was returned to China in 1997.
Pro-democracy activists trying to flee Hong Kong for self-ruled Taiwan – another territory claimed by China as its own – is not new and began last year itself when the former British colony witnessed anti-government protests.
In 2020, the authorities have taken a series of actions against pro-democracy protestors including legislators or anyone who has advocated the independence of Hong Kong.
Earlier this month, prominent Hong Kong activists Joshua Wong, Agnes Chow and Ivan Lam, all former members of the now disbanded political party Demosisto, were sentenced to prison for several months.  
Another pro-democracy voice in Hong Kong, media tycoon Jimmy Lai, who was sent to custody a few weeks ago, was granted bail on 23 December.  
Additional reporting by agencies
Register for free to continue reading
Registration is a free and easy way to support our truly independent journalism
By registering, you will also enjoy limited access to Premium articles, exclusive newsletters, commenting, and virtual events with our leading journalists
Already have an account? sign in
Register for free to continue reading
Registration is a free and easy way to support our truly independent journalism
By registering, you will also enjoy limited access to Premium articles, exclusive newsletters, commenting, and virtual events with our leading journalists
Already have an account? sign in
Join our new commenting forum
Join thought-provoking conversations, follow other Independent readers and see their replies