Hunt for woman who gouged out six-year-old's eyes in China
Police offer £10,000 reward but deny motive for crime is linked to organ trafficking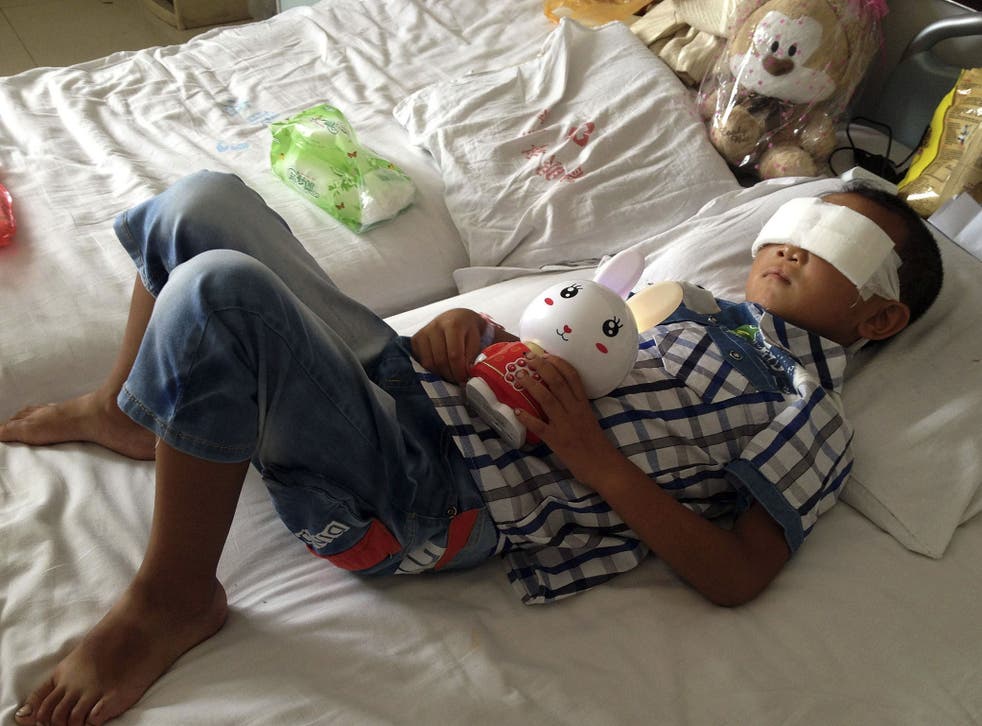 A search has been launched in China for a woman who is believed to have lured a six-year-old boy into a field in rural Shanxi province before gouging out his eyeballs.
The boy, whose name was given as Guo Bin, or Xiao Binbin (Little Binbin), told his parents he was walking outside when he was attacked by a woman with a strange, possibly foreign, or at least not local, accent.
"He had blood all over his face. His eyelids were turned inside out. And inside, his eyeballs were gone," his father told the local broadcaster, Shanxi Television.
He was drugged and lost consciousness before the assailant took out his eyes. The attacker told him not to cry. "If you stop crying I'll stop gouging your eyes," the person told him," his father said.
Both of Guo Bin's eyeballs were found at the scene.
Initially there had been speculation that his eyes had been removed to harvest them for their corneas to sell on the black market, but the police insisted that the corneas had not been removed.
Officers would not speculate on a motive, as the investigation was ongoing. "We are sparing no efforts trying to solve this case," a police spokesman said. Local police have offered a reward of 100,000 yuan (£10,570) for information.
The case has sparked widespread anger in China. On the Chinese Twitter-style service Weibo, one commentator, Zhong wu huanhuan, wrote how losing eyesight later in life was cruel.
"That a kid like this had to experience this kind of cruelty will have a huge mental effect. I hope the parents can get some kind of compensation to help them cope with the effect of this attack."
Joana Yang posted: "This is so cruel. This lunatic woman needs to be executed to calm public anger," while Edward Luo wrote: "The kid's eyes were taken out without putting him to sleep. How can such a brute do this?"
The incident happened in Fenxi County, which is near Linfen city in Shanxi, on Saturday evening.
Guo Bin's parents, who are farmers, became anxious when the youngster didn't come home for dinner from playing outside at his usual time.
The boy was discovered, twitching and groggy, covered in blood, during the night, by a man who was out catching scorpions in the valley.
State media ran photographs of Guo Bin lying in a hospital bed with his eyes bandaged.
"He asks why the sky is always dark... and why the dawn still hasn't come," the Beijing Youth Daily newspaper quoted an uncle of the boy as saying.
His mother said: "Who could do such a thing? We had no disputes with anybody. We are just a normal family."
Doctors at Shanxi Eye Hospital, where the boy is being treated, said that the boy was out of danger.
"We could only tell him that his eyes had some injury and have to be bandaged. It is such a difficult question to explain to him. It is the most heartbreaking thing," medical staff said.
There is a significant market in organ harvesting in China because of a shortage of donors. China usually harvests organs from executed prisoners as there is strong cultural resistance to organ donation.
In 2007, China introduced regulations that banned organ trafficking, and cracked down on "transplant tourism" by non-Chinese nationals.
Join our new commenting forum
Join thought-provoking conversations, follow other Independent readers and see their replies