I am an anarchist, says Delhi's chief minister Arvind Kejriwal as he causes traffic chaos with protest in city centre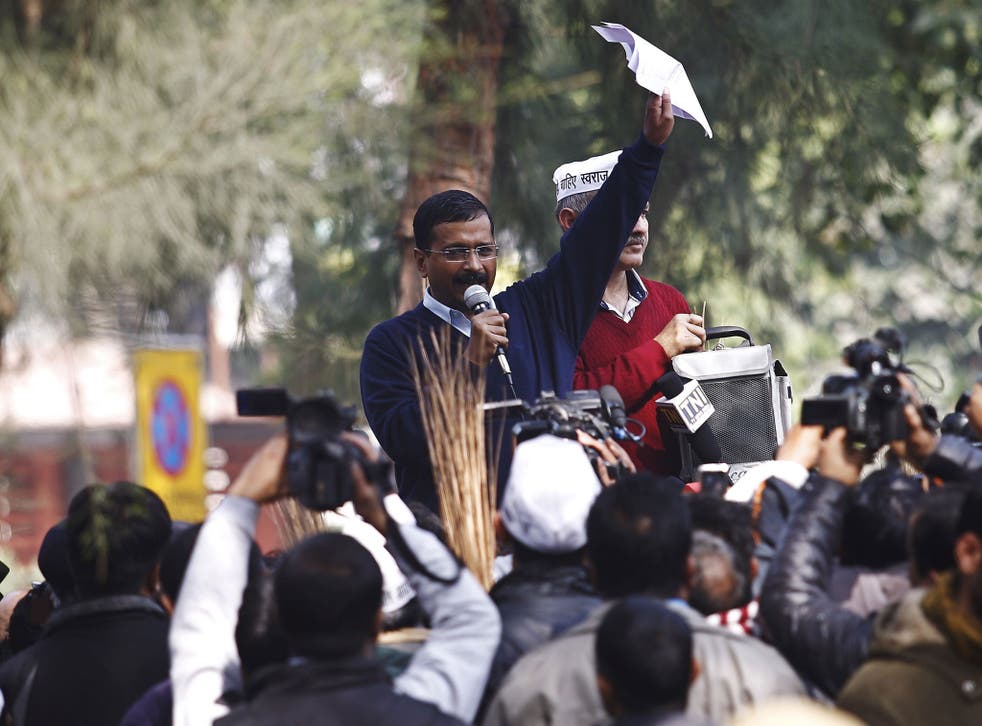 At around 3pm on Monday afternoon the Delhi traffic police issued an unlikely-sounding message by means of social media.
"Please avoid the roundabout at Krishi Bhavan," it warned commuters, "due to an encompass by the Delhi chief minister."
The politician in question was Delhi's newly-minted chief minister, Arvind Kejriwal, and the traffic chaos he created was a result of a sit-down protest he himself led at a roundabout in the centre of the city. He declared he was an "anarchist", said he was staying put on the street for 10 days and insisted he would not back down.
"There are some things that cannot be done from air-conditioned offices," Mr Kejriwal, surrounded by supporters wearing the style of white cap once favoured by independence leader Mahatma Gandhi, told The Independent. "Where is the mob? Why should the people stay in their offices."
Mr Kejriwal and his Aam Aadmi, (common man) Party (AAP) took charge of the Delhi state government earlier this month following a campaign during which they pushed an anti-corruption message. Their campaign captured the imagination of the city's poor and middle-class, long tired with the way in with corruption and poor-governance had become part of daily life.
In his first few days in office, Mr Kejriwal has sought to capture the headlines, offering to provide the people of Delhi with free water and slashing their electricity bills.
Monday's unprecedented protest in defiance of police, concerned demands that the control of the Delhi police force should be handed over to the state government. Unlike the police forces of other states in India, the police in Delhi, the national capital, report directly to the home ministry. Delhi politicians of all parties have for many years said they are powerless to improve law and order in Delhi since the police are not under their control.
Mr Kejriwal said there had been repeated attacks on women in the city and that it appeared nothing was ever done to protect them. "We are asking for justice for these women," he said.
The protest followed an incident last week in which the Delhi law minister, Somnath Bharti, led a raid night-time against African residents in the south of the city who he accused of selling drugs.
The police said they could not simply raid the premises without a warrant and a stand-off ensued between officers and the minister. Four African women subsequently complained of being arrested, beaten and forced to endure a cavity search. No drugs were found on them.
Mr Kejriwal's surprise coming-to-power in Delhi has electrified Indian politics just months ahead of a general election. Until two months ago, most political analysts predicted that the Congress party, which heads the central government, was likely to be replaced by the opposition Bharatiya Janata Party (BJP) and its charismatic but controversial leader Narendra Modi.
But the success of Mr Kerjiwal would change the political mathematics. After its success in Delhi, the AAP announced that it was planning to contest at least 300 of the 543 constituencies in the general election, which must be held before May. There is considerable speculation that Mr Kejriwal could dampen Mr Modi's fire.
"Sixty five years have passed since India's birth and we have not got freedom" said one of Mr Kejriwal's supporters, Om Prakash Sharma. "We are supporting the people. We are supporting democracy."
While mr Kerjiwal's success in Delhi created a fair degree of optimism, even among some people who did not vote for him, his stand-off with the Delhi police and support of Mr Bharti, has triggered concern among some.
Many have accused him of vigilantism and succumbing to mob rule. A number of African embassies lodged strong protests with India's foreign ministry. Last Friday, officials met with ambassadors from 20 African nations to ensure them their citizens were safe.
"The AAP's job is to govern, not to create anarchy and cause inconvenience to the people of Delhi," the local leader of the BJP, Harsh Vardhan, told a local television channel.
Mr Kejriwal's agitation, coming just days before India celebrates Republic Day with a large, high-profile march and procession in the centre of Delhi, has created a headache for the Congress party.
In Delhi, the Congress party is supporting Mr Kejriwal's minority administration. Many believe the Congress is hoping the AAP campaign will eat into Mr Modi's support.
Yet the Congress will not want to give into his demands to hand over the control of the police. The federal home minister, Sushilkumar Shinde said on Monday: "He should maintain dignity of his office. He should have patience, he should cooperate."
Join our new commenting forum
Join thought-provoking conversations, follow other Independent readers and see their replies