Imelda Marcos is back on the campaign trail at 80 – in a brand-new pair of shoes
Widow of the disgraced Philippines dictator wants to be nation's 'grandmother'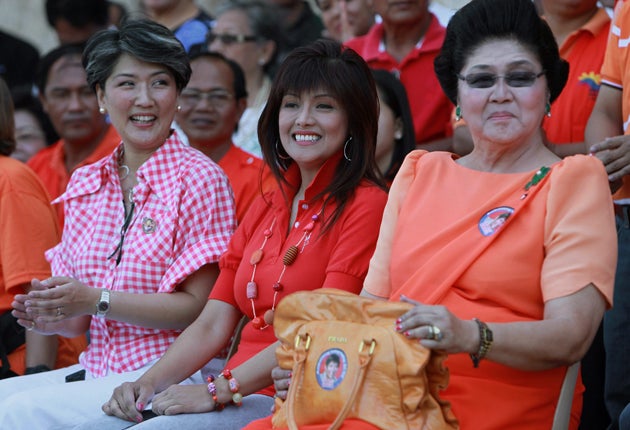 To most people, the reign of Ferdinand Marcos, the former Philippines dictator, is synonymous with rampant corruption and the brutal suppression of dissent. But not to his widow, Imelda, who kissed Marcos's glass casket yesterday as she launched an unexpected bid for a congressional seat in national elections to be held on 10 May.
"He was our best ever president," declared the flamboyant 80-year-old, resplendent in tangerine blouse and matching trousers, set off by jade and diamond jewellery. "During his time, we had territorial integrity, freedom, justice and human rights. Whatever else people may say, those were the best times ever for the Philippines."
Some of her compatriots may have wondered if the impeccably coiffed Mrs Marcos was talking about the same country, but there was no doubting her determination to hit the campaign trail and, she hopes, salvage her husband's reputation for posterity. "I cannot rest [until I do]," she said, explaining her decision to run for his old seat in the lower house.
Mrs Marcos – famous for the 1,220 pairs of shoes discovered in the presidential palace in Manila after the family fled the country following a popular uprising in 1986 – was allowed to return to the Philippines in 1991 with her three children. Marcos had died in exile in Hawaii two years earlier.
Given her past, the former first lady might have been expected to live a relatively quiet life on her return. But Mrs Marcos has rarely been out of the public eye. She ran for the presidency in 1992 and again in 1998. In 1995 she won a congressional seat, having retained the affection of many Filipinos despite her outrageously extravagant ways – which in the past included shopping trips to the world's glitziest boutiques – and her flaunting of wealth in a nation where most live in grinding poverty.
The relaunch of her political career was a good excuse to buy several new pairs of shoes, according to aides of Mrs Marcos, who donned elegant leather sandals for yesterday's trip to the family home and mausoleum in the northern town of Batac.
She is not the only member of her family seeking to perpetuate the Marcos dynasty. Her son, Ferdinand "Bongbong" Marcos Jnr, is seeking a senate seat, while her daughter, Imee, is running for governor of Ilocos Norte province, long a family stronghold. The Marcos name appears to be no impediment, despite evidence that Ferdinand Snr looted billions of dollars from state coffers during his 20-year reign.
Mrs Marcos, too, has faced charges of embezzlement, corruption and tax evasion. Indeed, about 900 civil and criminal cases have been filed against her since she returned. However, most were dismissed for lack of evidence, and convictions were overturned. She has never served prison time.
A housing minister in her husband's government and a former governor of the Manila region, Mrs Marcos still has grand ambitions. "What I really want is to be a mother to each and every village," she said. "I will not stop until each and every village becomes a human settlement and also a paradise ... because it is possible to make human settlements a paradise."
Her advancing years were no obstacle, she insisted, nor was her ill-health – she has diabetes and glaucoma. "It is true that I'm 80 years old, but I can also be a grandmother for our country."
While Mrs Marcos is guaranteed plenty of attention over the coming weeks, the real focus of the elections will be on the presidential candidates.
Gloria Arroyo, who has been in power since 2001, is barred from standing again, although she is running for a congressional seat.
The contenders to replace her include Benigno Aquino, son of Corazon Aquino, who mobilised the "people power" revolution that toppled Marcos and then took over as president.
If elected, Mrs Marcos hopes her long-standing campaign to have her husband buried in the national heroes' cemetery in Manila will bear fruit. At the mausoleum yesterday, she said of his current resting-place: "This is one of our major injustices."
Imelda Marcos: The shopping years
*A former beauty queen and singer, Imelda Remedios Visitacion Trinidad Romualdez met Ferdinand Marcos, then a congressman, in 1953. She was 24, he was 35. They married in a Catholic cathedral in Manila after an 11-day courtship. Marcos was determined to become president; Imelda was equally determined. She charmed, cajoled and fought on his behalf. In 1966 the couple moved into the Malacanang Palace, the presidential residence. Imelda played an active role in her husband's government, and toured the world as his special envoy. She splurged public funds on ostentatious building projects in the Philippines, aimed at enhancing her husband's standing. In 1986 the family fled to Hawaii after Marcos was ousted in a popular uprising. A shopping addict, she was later found to have left behind 1,000 handbags, more than 500 gowns, 15 mink coats – and, of course, those shoes.
Join our commenting forum
Join thought-provoking conversations, follow other Independent readers and see their replies