Imran Khan braves march into Pakistan's Taliban heartland
Activists say up to 800 civilians have been killed by drone strikes in tribal areas in recent years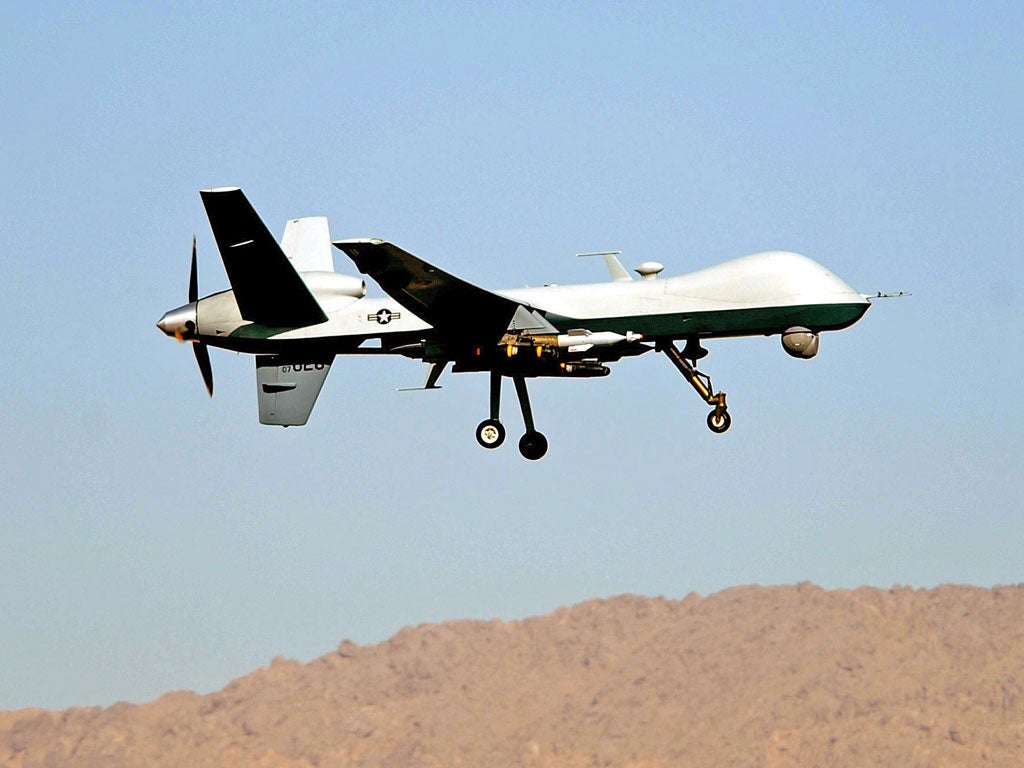 Imran Khan and a group of human-rights activists have vowed to press ahead with a march into Pakistan's remote tribal area to highlight the civilian cost of the American drone missile programme.
The cricketer-turned-politician said he would hold the government of President Asif Ali Zardari responsible if anything happened to those taking part. Mr Khan is tomorrow due to lead a convoy of vehicles into the tribal areas, culminating in a rally in South Waziristan on Sunday night. He is to be accompanied by human-rights campaigners from the US and Pakistan. In recent days, government officials had tried to warn the politician off, suggesting it might not be safe for the large contingent, despite an apparent statement from the Taliban that it would not target the activists.
Last night, campaigners said it was essential they pushed ahead with the plan. Speaking from Islamabad, Medea Benjamin, the co-founder of the US-based Code Pink campaign group, said people were prepared to risk danger to show solidarity with the people of the tribal areas. "We came here to show the people of Pakistan that there are Americans who are totally opposed to the drones and that we will try to put pressure on our government to stop this," she said. "And we are prepared to risk our lives to do this."
Mr Khan, who heads the Pakistan Tehreek-e-Insaf party, has been among the most outspoken critics of the US drone programme, an operation that started under former President George Bush but which was escalated under the administration of Barack Obama. The US claims the CIA-operated missile programme is an invaluable tool for targeting al-Qa'ida fighters and other militants and claims there is a strict process to ensure civilian casualties are minimised. The US claims, in private, that Pakistan's military co-operates with the programme.
But activists say that up to 800 civilians have been killed in recent years, among them up to 200 children. A recent report by experts from two US universities suggested that as few as 2 per cent of those killed were known militants.
Mirza Shahzad Akbar, a high court lawyer and activist, heads a group called the Freedom Foundation that in recent years has been bringing residents from the tribal areas – including the relatives of those killed in drone strikes – to Islamabad so they can meet with journalists and activists. One of those who attended a meeting last year was 16-year-old Tariq Aziz. Two days after he returned home, he was killed by a drone-fired missile. Mr Akbar said the activists were determined to show that "peace is possible".
He said: "We also have to break this black hole of information about what is happening inside North and South Waziristan. People from there want to talk to outsiders and outsiders want to talk to them. Why is a government trying to stop this?"
As part of the campaign, activists have delivered a letter calling for an end to drones signed by 26 US writers, activists and artists – including Noam Chomsky, Danny Glover and Oliver Stone – to the US embassy in Islamabad.
"When Americans found out what the war in Afghanistan was, they turned against it," said Robert Naiman, of Just Foreign Policy, a group taking part in the march. "When Americans find out the drone-strike policy in Pakistan is killing and terrorising civilians and hitting civilian rescuers, they will turn against the drone-strike policy in Pakistan as well."
Join our commenting forum
Join thought-provoking conversations, follow other Independent readers and see their replies