India: Thousands attend anti-government rallies in Delhi following student leader's arrest
The government cannot 'just shut down voices', say students
Jess Staufenberg
Monday 15 February 2016 20:37 Comments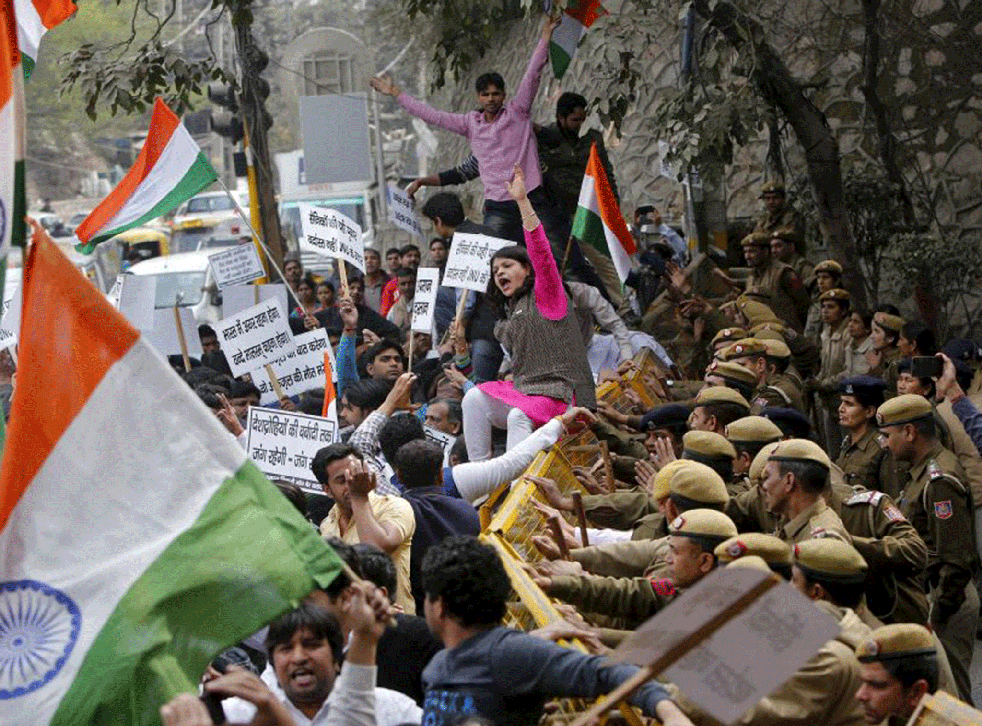 Thousands of people have taken part in angry protests over the arrest of a student for "anti-India" behaviour on a university campus in New Delhi.
Kanhaiya Kumar, student union leader at Jawaharlal Nehru University, was arrested following a rally on the campus that commemorated a Kashmiri separatist who attacked the Indian parliament, according to the Times of India.
In protest at his arrest, the students joined anti-government rallies highlighting the unfair treatment of minorities and Muslims in the country, with the demonstrations expected to continue.
The original rally that prompted the police crackdown was perceived as a celebration of an attempt to "question national unity" which Rajnath Singh, home minister under Prime Minister Narendra Modi, said the government would not tolerate.
The initial demonstration marked the 2013 execution of Mohamed Afzal Gur. He supported the separation of the state of Kashmir from India, and was convicted of an attack on the Indian parliament which left 10 people dead in 2001.
Yet following the sedition charge against Mr Kumar in connection with the rally, both lecturers and students have strongly criticised the government's efforts to quell dissent.
"The government and police can't just shut down voices that don't agree with them. Everyone in this country has a right to his opinion and must be respected," Delhi University student Arzoo Sahani told MailOnline.
Mr Kumar is currently in police custody and has denied any wrongdoing. More students have reportedly been taken into custody following the more recent protests.
The large-scale tension is the most recent manifestation of an ongoing dispute between India's Hindu-majority, the country's Muslim minority, and Muslim-majority Pakistan over who owns Kashmir. Both Pakistan and India claim control of the northern state.
Pakistan has one administered area, and India another - China also controls a small part - with two of the three wars fought between the two countries since Partition in 1947 being over the contested territory.
The incident follows escalated tensions over the suicide of a low-caste academic after he was suspended from Hyderabad University, adding to claims of religious and cultural intolerance under Prime Minister Modi.
Register for free to continue reading
Registration is a free and easy way to support our truly independent journalism
By registering, you will also enjoy limited access to Premium articles, exclusive newsletters, commenting, and virtual events with our leading journalists
Already have an account? sign in
Join our new commenting forum
Join thought-provoking conversations, follow other Independent readers and see their replies