Doctor's body 'shocked' as India approves domestic Covid vaccine before end of trials
Health watchdog slams approval of 'incompletely studied vaccine' and says lack of data is cause for concern
Stuti Mishra
in Delhi
Monday 04 January 2021 09:02 Comments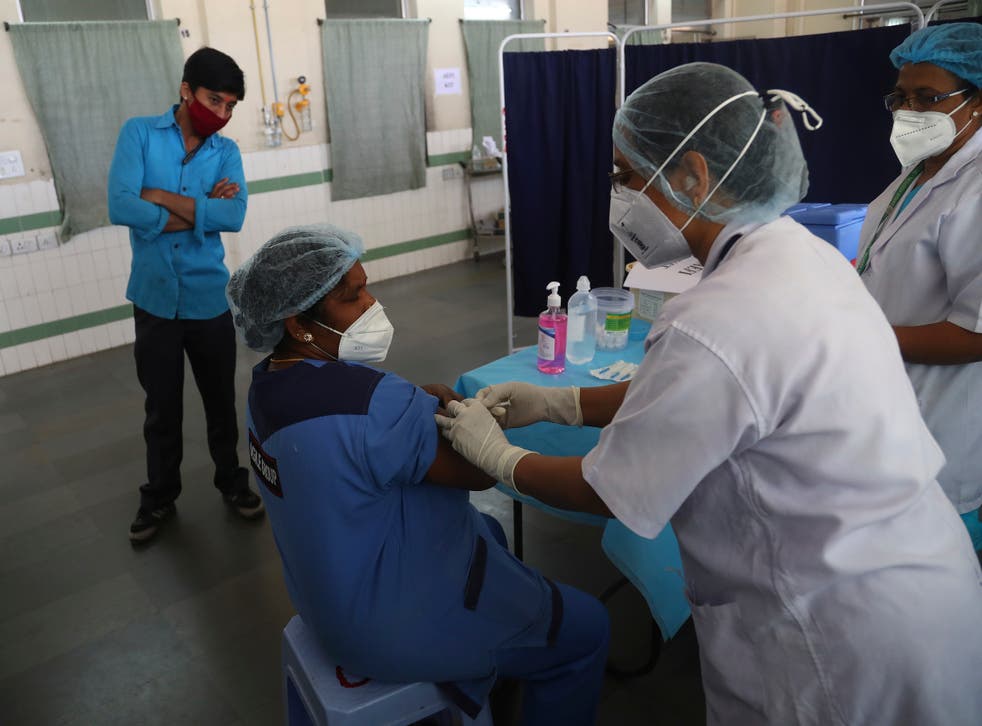 India's homegrown coronavirus vaccine "Covaxin", which received restricted emergency approval on Sunday, is the subject of mounting questions from medical experts and the political opposition over a lack of efficacy and trial data.
India gave its first approval to the Oxford-AstraZeneca vaccine after its expert panel gave the green light on Friday.
That was swiftly followed by the approval of Covaxin, which has been developed by Bharat Biotech, a Hyderabad-based pharmaceutical company, in association with the Indian Council of Medical Research (ICMR), a government agency.
The news, announced by the drugs controller general of India (DCGI), was hailed by prime minister Narendra Modi and his government as a "game-changer" and a triumph for the broader agenda of the country achieving "self-reliance". 
But experts have raised concerns over the seemingly hasty approval of the vaccine, coming before the completion of stage three trials or the publication of efficacy data.
Officials have described the Bharat Biotech jab as a back-up to the Oxford-AstraZeneca one, to be used under strict monitoring conditions and only if it looks like the country is at risk of a major surge in cases. DGCI VG Somani said the vaccine had been approved in "public interest as an abundant precaution, in clinical trial mode, to have more options for vaccinations, especially in case of infection by mutant strains".
But the All India Drug Action Network (AIDAN), an independent health watchdog, issued a statement saying that it is "shocked" at the approval of the vaccine and urged DGCI to reconsider its decision stating "intense concerns arising from the absence of the efficacy data". It also said that there is "no scientific basis to claim that Covaxin will be effective in the context of infection by mutant strains."
"The decision to approve an incompletely studied vaccine, even under accelerated process, raises more questions than answers and likely will not reinforce faith in our scientific decision making bodies." the statement read.
Several other health experts and opposition politicians also took to Twitter to object to the approval of the homegrown vaccine.
Dr Raghuram Hegde, a consultant doctor with Manipal Hospital said: "Giving emergency approval for Covaxin even before Phase 3 trials is completed is a body blow to Indian scientific establishment. Too much politics and headline hunting. Too less scientific thinking."
Dr Varun C, a cardiologist wrote: "I am not at all surprised by this govt rolling out #Covaxin even before phase 3 trials (hence efficacy unknown). This is the same govt that told us to take #Hcqs (hydroxychloroquine) as prophylaxis, and promoted @moayush (traditional medicine ministry) immunity boosting scams. No thank you, will ask to see the science."
One of India's most eminent medical experts, Dr Gagandeep Kang, told the Times of India newspaper that she has "not seen anything like this before." She added that "there is absolutely no efficacy data that has been presented or published."
Serum Institute of India (SII), which is producing the Oxford-AstraZeneca vaccine in the country, also took a dig at the Bharat Biotech vaccine. "Until we get the efficacy result, how do we know that anything works?" SII Chief Executive Adar Poonawalla told Reuters.
Shashi Tharoor, an opposition MP, wrote that Covaxin's "approval was premature and could be dangerous".
"Its use should be avoided till full trials are over. India can start with the AstraZeneca vaccine in the meantime."
Dr Harsh Vardhan, the health minister, hit back saying it was "disgraceful for anyone to politicise such a critical issue".
He also urged Indians to trust that "stringent protocols" had been followed for the two approved vaccines. But neither Bharat Biotech nor the Indian authorities have revealed its efficacy results. Reuters quoted sources as saying that the effectiveness of the vaccine could be more than 60 per cent with two doses.
Bharat Biotech has also partnered with drug developer Ocugen Inc to co-develop its vaccine for the US market, and Brazil has signed non-binding letters of intent to buy the shot.
Register for free to continue reading
Registration is a free and easy way to support our truly independent journalism
By registering, you will also enjoy limited access to Premium articles, exclusive newsletters, commenting, and virtual events with our leading journalists
Already have an account? sign in
Join our new commenting forum
Join thought-provoking conversations, follow other Independent readers and see their replies