As it happened
ended
1555591492
India election: Violence in West Bengal and Kashmir mars second day of world's biggest vote
Here are the key events from the day's voting, as they happened
Adam Withnall
Delhi
Thursday 18 April 2019 04:11 Comments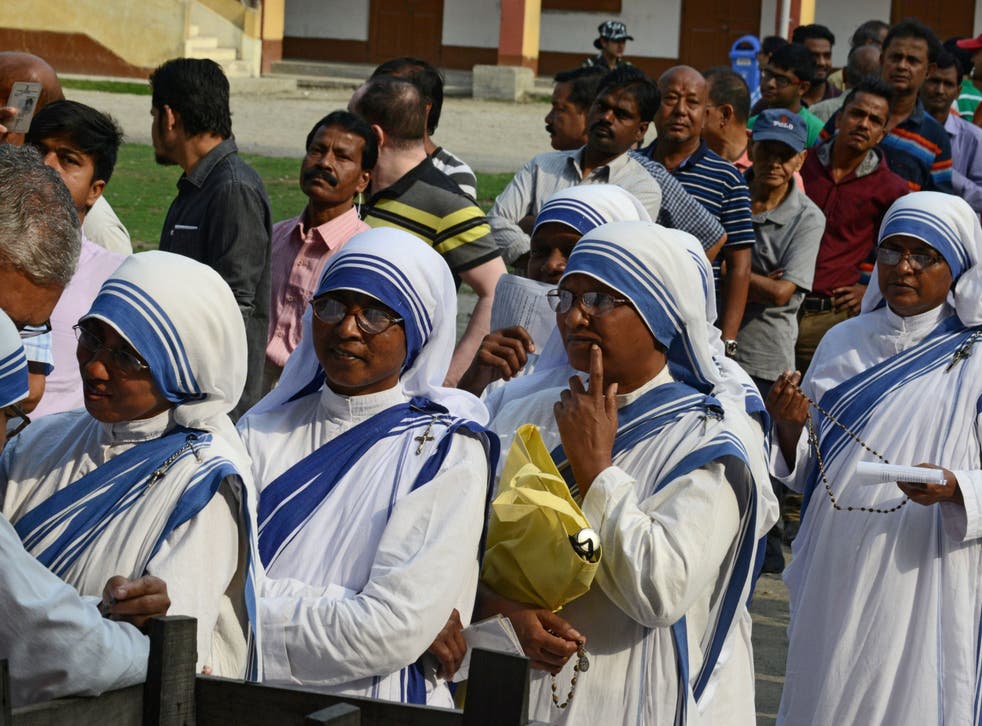 Sporadic violence and some disappointing turnouts have marred the second day of voting in India's mammoth general election.
The worst clashes were seen in West Bengal, where rival party activists came to blows, a candidate's car had its windows smashed and a number of electronic voting machines (EVMs) were broken.
Unlike on day one of the vote, no one was reported to have been killed in the violence. But the clashes, on a day when only three of the state's 42 constituencies were contested, are likely to lead to increased security measures in the coming weeks.
The clashes in Chopra, Darjeeling meant that scores of people were unable to reach the polling station. Ajay V Nayek, a police official, said across the state polling was "overall peaceful", and that those who were turned away were later escorted by security forces to cast their ballots.
More than 155 million people were eligible to vote across the 13 states where polling took place on Thursday, and turnouts varied hugely across the country.
In Srinagar, Kashmir, where separatists had called for a boycott of the election, just over 12 per cent of those eligible had cast their votes by 3pm, with only a few hours left before polling closed. That compared to some seats where the number was well over 70 per cent.
A police official told Reuters there had been "at least 40" separate incidents of stone-pelting directed at the security forces, who are ubiquitous in the valley at the best of times and were on high alert for the day's voting.
Police deployed tear gas and baton charges in downtown Srinagar as protesters tried to disrupt the vote, officials said. At most polling booths, armed security personnel and election officials vastly outnumbered voters.
Away from those hotspots, however, the day's voting appeared to pass without serious incident. In Manipur, voters complained that chief minister N Biren Singh turned up in the afternoon and jumped the queue - reportedly skipping past some people who had been waiting since 7am.
And at a Delhi press conference to announce a BJP candidate for a later phase, a protester pelted the ruling party's spokesman and MP GVL Narasimha Rao with shoes. Rao immediately dismissed his assailant, who was bundled out by security, as being "Congress-inspired".
Here's the run-through of the day's election events, as they happened.
Please allow a moment for the live blog to load.
1555559039
Welcome to The Independent's live blog from India, where voting is under way in the second phase of the country's epic, six-week general election.
Adam Withnall
18 April 2019 04:43
1555559161
More than 155 million people are eligible to vote today in 97 constituencies across 13 states.
It is the second of seven phases in the election, designed to spread out the logistical and security challenges of conducting a democratic exercise in a country with more than 900 million eligible voters.
Adam Withnall
18 April 2019 04:46
1555560210
The focus today will be on the southern states of Tamil Nadu and Karnataka, with #TNElection2019 already the top trend across India on Twitter.
All of Tamil Nadu's 39 seats, and half of Karnataka's 28, will be decided today. 
The south is a key region where the main opposition Congress party and its allies need to win big if they hope to have any chance of ousting Narendra Modi's Bharatiya Janata Party (BJP).
"If the non-BJP parties perform well in these two states, then they would still be having a chance of forming a non-BJP government at the centre," Sanjay Kumar, director of the Centre for the Study of Developing Societies in Delhi, told Reuters.
Adam Withnall
18 April 2019 05:03
1555561059
It's still early in the day, but some of the main political leaders in the seats at stake today have already been casting their ballots.
Among the first was the chief minister of Tamil Nadu, Edappadi K Palanisamy, a member of the regional AIADMK party in alliance with the BJP.
In Karnataka, the BJP leader and union government Defence Minister Nirmala Sitharaman voted in Bangalore South.
And in Puducherry, Chief Minister V Narayanasamy was pictured casting his vote at a polling station earlier. 
Adam Withnall
18 April 2019 05:17
1555561381
Rahul Gandhi has tweeted to all those voting today, to promote Congress's Nyuntam Aay Yojana, or NYAY scheme, offering a minimum income guarantee to the poorest people in the country.
Adam Withnall
18 April 2019 05:23
1555562621
The Indian election is a huge logistical undertaking, and some polling stations are equipped to higher standards than others.
According to Times of India, this "model" polling station in Srirangapatana has two wheel chairs for voters to use, a ramp, drinking water provided and no-queue voting for senior citizens. 
Meanwhile in Bhagalpur, Bihar, pictures from the ANI agency tell a different story of access for the elderly...
Adam Withnall
18 April 2019 05:43
1555563450
Srinagar, the biggest city in Jammu and Kashmir state, goes to the polls today amid extremely tight security.
Mobile internet services have been cut off in much of the Kashmir valley since last night, in what authorities described as a precautionary measure. 
Picture feeds showed some people turning out to vote but, with separatist leaders calling for a boycott of the election, the Associated Press in Srinagar reported that most polling stations in the Srinagar and Budgam areas of Kashmir looked deserted, with more armed police, paramilitary soldiers and election staff present than voters.
Adam Withnall
18 April 2019 05:57
1555565850
In southern Karnataka, both the BJP and Congress are hoping to make up seats, with the expectation that Mr Modi is unlikely to be able to repeat the near clean sweep he achieved across northern states in 2014.
But it's also true that the BJP's Hindu-first agenda has struggled to take root to the same extent in the southern states.
Critics say such divisive election rhetoric is a threat to India's secular foundations.
"Communal polarisation is obviously the biggest issue for me," said Rakesh Mehar, who voted in Karnataka's capital, Bengaluru. "And the growing intolerance in the country is what worries me the most."
While it is being seen as a referendum on Mr Modi's first five years in office, this election is not just about what is going on with the central government.
Voters in Bengaluru, once a sleepy retirement town that has been transformed into India's technology hub, said they wanted lawmakers who would fix infrastructure problems such as traffic congestion and poor water management.
"We have been voting every time expecting a change but nothing has come so far. People are talking about national issues," Manjunath Munirathnappa told Reuters. "But only when they fix the local issues will there be progress in the nation."
Adam Withnall
18 April 2019 06:37
1555569282
One of the big talking points in the days before the election began on 12 April was the controversial planned release of a Bollywood biopic about the prime minister, entitled PM Narendra Modi.
The Election Commission of India eventually decided that the film, which was seen as being positive about Mr Modi's life story, risked undermining the "level playing field" of the elections and ordered it and any other elements of "hagiography" not be released until after voting was over.
The film's producers complained, however, and the Supreme Court on Monday ordered the commissioners to at least watch the film before taking a decision.
That viewing is understood to have taken place yesterday, and the commission must now deliver its new ruling to the apex court no later than Friday. 
It raises the prospect that, if the commission changes its mind, the film could hit cinemas before the third day of voting on 23 April. The film, starring the self-confessed Modi fan Vivek Oberoi in the lead role, traces the prime minister's rise from being the son of a tea seller to leader of the nation.
Adam Withnall
18 April 2019 07:34
1555571488
Narendra Modi has been speaking this morning at a large rally in his home state of Gujarat.
With Srinagar in Kashmir voting under extremely tight security today, Mr Modi talked at length on the subject of national security. It's the one issue his strategists at the Bharatiya Janata Party (BJP) have been pushing more than any other since the turn of the year.
The Modi administration came in for some criticism in the wake of the Pulwama bombing that killed 40 armed police in Kashmir in February, with questions raised over whether more could have been done to stop the attack.
Speaking just now, Mr Modi defended his government's record, saying that "terrorism had been contained to only two-and-a-half districts" in Kashmir, and that no bombings had been seen outside these areas during his five years in power.
Mr Modi also harked back to a 2016 incident where India claimed to have carried out targeted ground operations within Pakistan-administered Kashmir after a militant attack on an Indian army base in Uri, Jammu and Kashmir.
He compared it to what he described as Congress's failure to act after the 2008 Mumbai attacks.
"Congress did not do any thing after the Mumbai attack. What did Modi do after Uri? I killed them by going in to their home with a surgical strike," he told the rally.
The Independent travelled to one of the "two-and-a-half" districts referred to by Mr Modi, Pulwama, last month. There, the family of the Pulwama bomber defended his actions, calling it a reaction to the excesses of Indian security forces in the region and a part of the separatist struggle. India says the militancy in Kashmir is fuelled by neighbouring Pakistan, which has armed and trained fighters in the past. 
Adam Withnall
18 April 2019 08:11
Register for free to continue reading
Registration is a free and easy way to support our truly independent journalism
By registering, you will also enjoy limited access to Premium articles, exclusive newsletters, commenting, and virtual events with our leading journalists
Already have an account? sign in
Join our new commenting forum
Join thought-provoking conversations, follow other Independent readers and see their replies