Frog wedding staged in prayer for rain as India swelters in deadly 50C heat
Heatwave kills 36 as Delhi records highest-ever temperature of 48C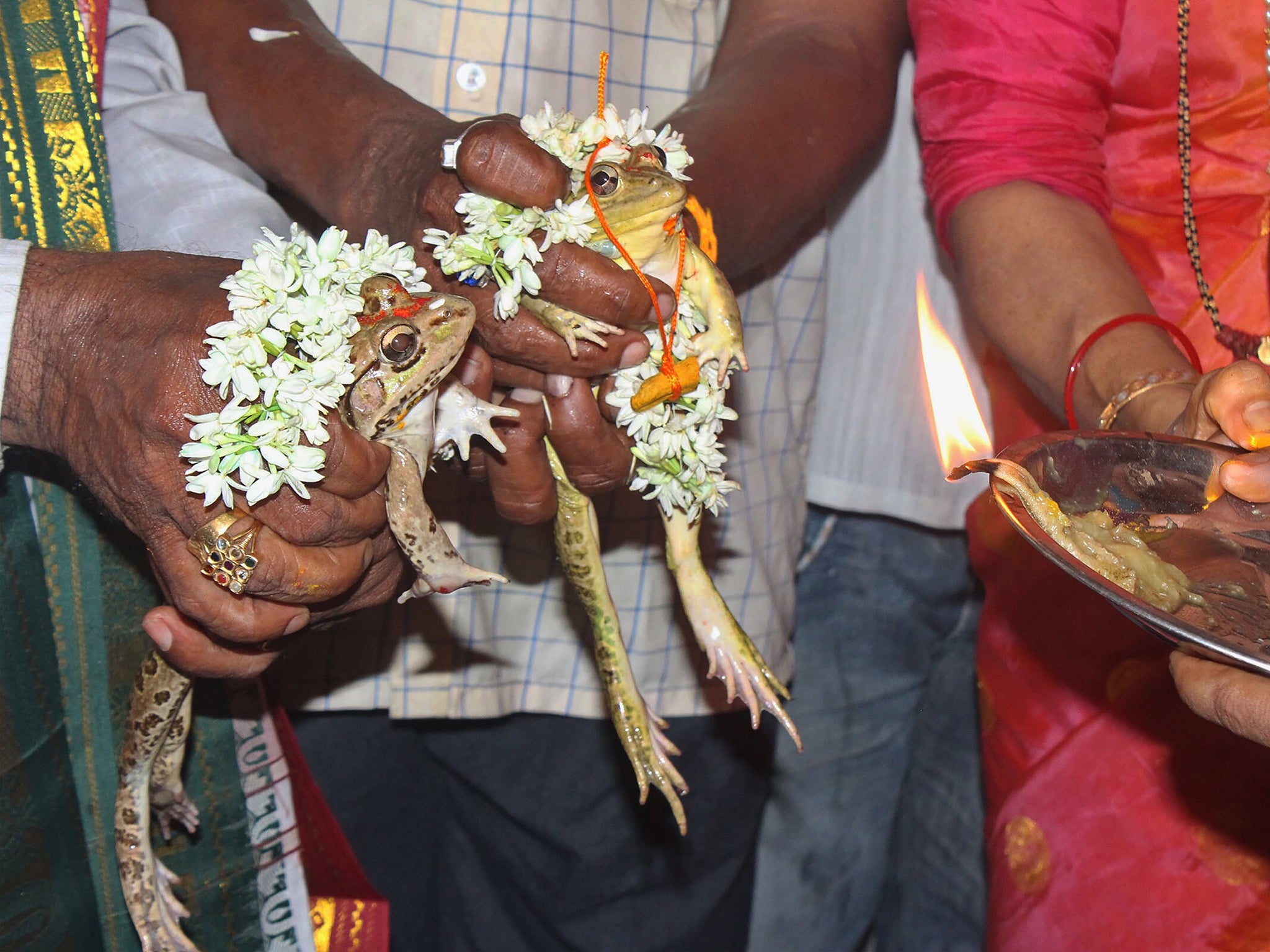 A city in India held a wedding ceremony for two frogs in the belief it will encourage rainfall in a country gripped by drought.
The heatwave has killed 36 people so far, as the capital Delhi recorded its highest-ever temperature of 48C on Tuesday, while Churu in the northwestern state of Rajasthan witnessed temperatures as high as 51C.
In the coastal town Udupi, Karnataka, a citizens' forum arranged a Hindu wedding ceremony for two frogs called a "Mandooka Parinaya", which is believed to appease the rain gods.
A group of frogs were caught in two different villages and inspected at the department of Zoology in Manipal, The Times of India reported.
A male and female frog were then chosen and christened Varuna and Varsha, named after the god of water and the rainy season respectively.
World news in pictures
Show all 50
The frogs were then driven through the streets on a tricycle before arriving at a hotel for the ceremony, according to NDTV.
They were dressed in custom-made outfits and the female frog was given a toe ring.
Wedding invitation cards had been sent out and guests were invited to offer prayers to the rain god for a downpour.
Over a hundred guests attended the ceremony, which was followed by a feast.
The frogs were then sent on a "honeymoon" to Mannapalla, a village near Manipal, where they were released.
India typically suffers from water scarcity during the summer months, but this year has been particularly bad in the country's western and southern states, which received less than normal rainfall in the 2018 monsoon season.
Join our commenting forum
Join thought-provoking conversations, follow other Independent readers and see their replies