Mother gang-raped on bus in India as two-week old baby dies in attack
Three-year-old-daughter tried to hide as woman was attacked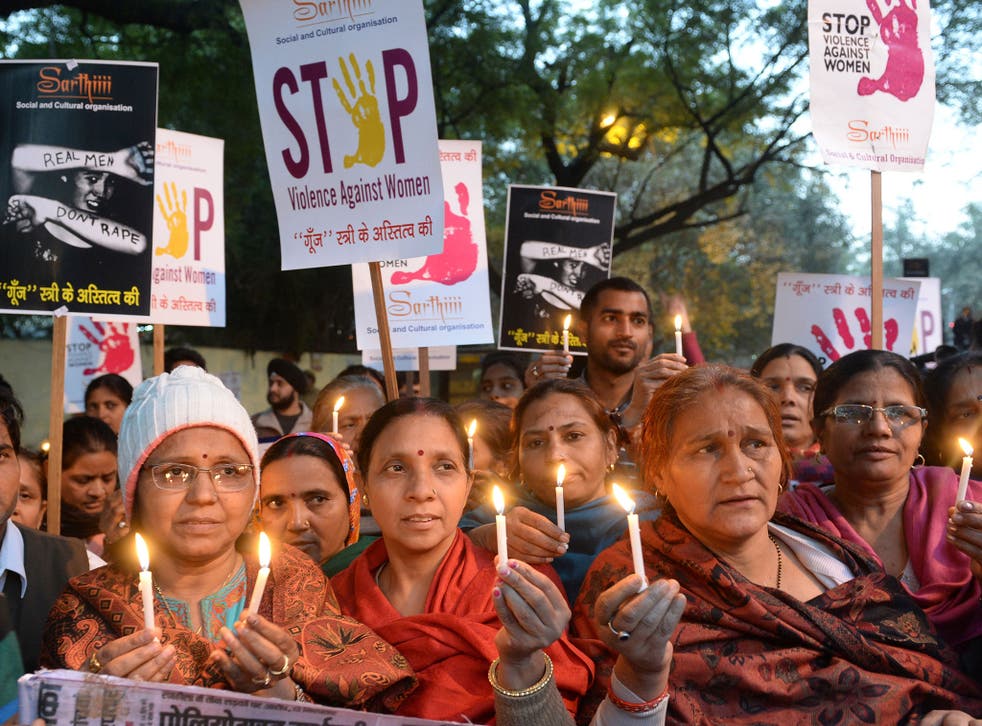 A three-year old girl is the sole witness to the brutal gang rape of her mother and death of her baby brother.
A 28-year-old woman was reportedly attacked on a private bus in Utter Pradesh by two men while her daughter was hiding in the corner.
The pair forced the woman to drink alcohol before the rape occurred, and so she was unable to explain the attack to the police, the Times of India reports.
However, her three-year-old daughter had witnessed the whole ordeal, and told the police what had happened.
There are conflicting reports about exactly what happened to the woman's 14 –day-old son, with the Times of India saying he was "flung to death by the two assailants", while The Indian Express said that the boy "reportedly fell from her lap and died".
Two men - conductor Ishwari Prasad and helper Shiv Kumar - both residents of Uttar Pradesh's Bareilly district, have since been arrested and charged with gang rape and culpable homicide not accounting to murder - and will also be charged under the Gangster Act.
The Indian Express says the incident happened at a bus station in Shishgarh, which is 50 kilometers from Bareilly.
India protests against sexual violence

Show all 20
Bareilly police officer Yamuna Prasad told the website: "Her child had been sick for some time and she went to visit her sister to meet a tantrik.
"She was returning to Rampur when she met the two accused at the bus station. She was allegedly raped inside the bus at the bus station. Later, she found her child dead."
Many have drawn parallels between this case and that of Jyoti Singh, the 23-year-old medical student who died of her injuries following a gang rape on a bus in Delhi, prompting outrage across the country.
Nandita Bhatla, Senior Technical Specialist in gender, violence and rights at the International Centre for Research on Women, told the Independent: "News of rapes continue unabated in the national newspapers.
"One is forced to think what has changed since the uproar following the rape of a young woman in December 2012.
"True, there were landmark changes in sexual harassment laws and in specific police procedures to prioritise crimes against women resulted after the incident, but it is obvious that there is a deep chasm between changes at policy and their impact on society at large.
"Issues of changes in the 'mind-set' are difficult and thus often talked about but rarely acted upon. And that perhaps is why, for the common person, the reality does not change."
She said questions need to be asked about whether the way men think about women has changed, including their attitudes towards using power to abuse them when they have the opportunities. Also, whether women have less fear when they step outside, and if they feel more able to report crimes and receive justice.
"If the answer to these questions is a resounding no, then it is difficult to imagine how change in the concurrence of sexual crimes against women will happen."
Ms Bhatla continued: "If men know they will escape, and women know no one will intervene – if the apathy and impunity remain, little will change.
"Dialogue needs to happen in every school and every institution to question rape – and who is to blame for it."
Register for free to continue reading
Registration is a free and easy way to support our truly independent journalism
By registering, you will also enjoy limited access to Premium articles, exclusive newsletters, commenting, and virtual events with our leading journalists
Already have an account? sign in
Register for free to continue reading
Registration is a free and easy way to support our truly independent journalism
By registering, you will also enjoy limited access to Premium articles, exclusive newsletters, commenting, and virtual events with our leading journalists
Already have an account? sign in
Join our new commenting forum
Join thought-provoking conversations, follow other Independent readers and see their replies