India one step closer to creating 'green fireworks' in effort to curb air pollution
Fireworks are one of key factors behind Delhi's intense smog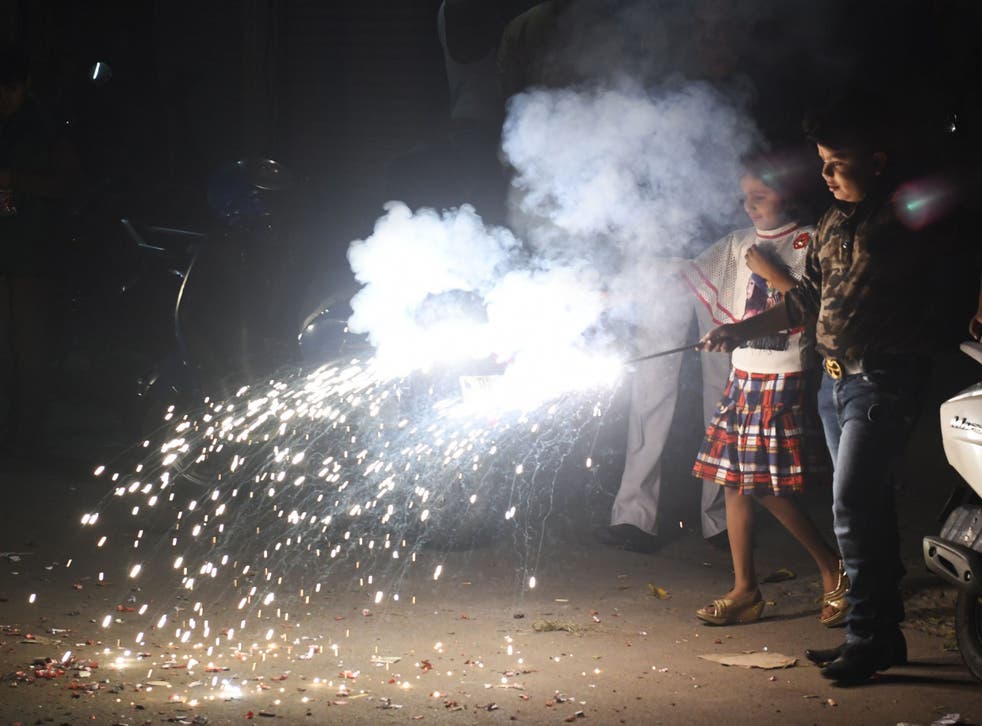 Scientists have come closer to producing "green fireworks" to aid India in its battle against pollution, especially the annual toxic smog that envelops Delhi and other cities during the Hindu festival of Diwali.
A panel of experts on Tuesday told judges at India's top court that they were confident of producing less harmful firecrackers by reducing certain noxious chemicals.
Every autumn a confluence of crop burning by farmers in neighbouring states, high humidity, industrial pollution and hundreds of thousands of firecrackers being set off in a week-long period sees Delhi's air become dense with smog.
This has had led to a soaring number of respiratory complaints at hospitals,.and extremely low visibility on the streets.
After various failed policies aimed at limiting the illuminations, last year the Supreme Court banned conventional fireworks in Delhi and its neighbouring states but said environmentally friendly ones would be permitted.
However, there was a lack of clarity over what exactly a "green firework" was, and the confusion resulted in angry shopkeepers being shut down by police – and a baffled public unsure how to mark the Festival of Lights.
Diwali celebrations 2017 – in pictures

Show all 11
With many other states introducing similar bans, traders held protests saying they were being deprived of their busiest period simply because "green fireworks" did not exist.
The Petroleum and Explosive Safety Organisation (Peso) has identified the most harmful ingredients – in popular styles of firecrackers such as "garland crackers", "atom bombs", "maroons" and "Chinese crackers" – as aluminium, sulphur, barium and potassium.
But now, members of the National Environmental Engineering Research Institute and the Centre for Scientific and Industrial Research have told the Supreme Court that a trial production of fireworks with significantly less barium nitrate and potassium nitrate had been successful.
Barium nitrate is an oxidiser used for colour, while potassium nitrate provides an explosive charge – both linger in the air, and when huge volumes are let off they have an evident effect on the air quality.
The scientific panel's statement to the court said a new process "shall reduce the emission of pollutants PM2.5 (particulate matter) at least by between 25 per cent and 30 per cent".
Researchers said that tests were conducted in front of Peso officials in Sivakasi, a town in the southern state of Tamil Nadu, which makes the bulk of India's firework, and the development "will be a win-win situation in the interest of all stakeholders in the public interest".
For a country where cheaply made fireworks are set off for just about any occasion, from weddings to the opening of a new office, this could be a major step to reducing pollution.
The Fireworks and Amorces Manufacturers' Association president A Asaithambi told reporters that "a lot of clarity was needed in the issue".
Dehli smog during morning commute
He also claimed conventional fireworks were still being made illegally, in preparation for the national elections in April and May.
"You can see these garland fireworks being used in the election campaigns. This is proof that illegal manufacturing is under way and going unchecked,'' he said.
The petition to ban conventional fireworks was originally filed in September 2015 on behalf of three infants, two six-month-olds and a 14-month-old, represented by their fathers expressing concern about the health of the children. The court has now sought a response from the government.
Join our new commenting forum
Join thought-provoking conversations, follow other Independent readers and see their replies