Almost one-third of Indian girls marry in their early teens, research shows
Campaigners say marriages can lead to early pregnancy and endanger educational prospects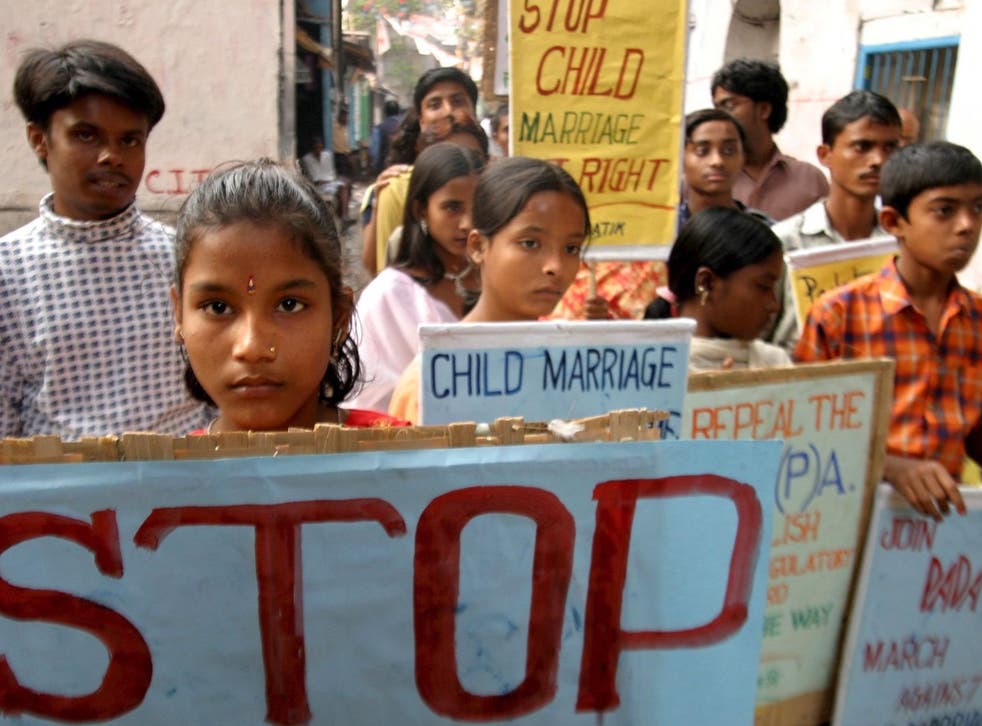 Almost a third of Indian girls marry in their early teens with weddings leading to early pregnancies and jeopardising educational prospects, campaigners have warned.
Rupesh Desai, of Mumbai-based non-profit called Magic Bus, said around 30 per cent of girls married aged 13 or 14.
Their parents effectively force them into an early commitment - commonly with an older man, Mr Desai said.
He added: "When we tell parents that they need to allow their children to finish higher education, then you are tackling issues of early marriage.
"We have to make the parents understand and keep them onboard."
World news in pictures

Show all 50
Magic Bus, with the support of Premier League football club Manchester City, is working to discourage the forced unions with football training.
They are sending over hundreds of footballs, as well as coaches and other sports equipment, to train young people there.
Syed Chaman, a 19-year-old student involved in the project, said: "Before Magic Bus girls were not being given any importance or priority, it was always for the boys."
Parents did not allow girls to go outside the house or play with boys, he said.
"Now I know girls need equal opportunities to play and girls should be given equal rights to education."
Research by Save the Children charity and the World Bank from 2017 found more than 20,000 underage girls are married every day. It found even in countries where there are laws restricting the practice, around 7.5 million girls are married illegally every year.
A further 100 million girls worldwide are not protected against child marriage under their country's laws, putting them at even greater risk, the study found.
They said the disconnect between national, customary and religious laws helped to facilitate child marriages – explaining traditions and beliefs mean that community leaders still supported the practice too often.
Many of the countries with the highest rates of child marriage are in Central and West Africa, where 1.7 million girls below the national minimum age limits are married each year.
Additional reporting by PA
Join our new commenting forum
Join thought-provoking conversations, follow other Independent readers and see their replies