India v Pakistan at the UN: Nuclear-armed neighbours to bring Kashmir row centre stage in New York
Trump attended a rally with Modi in Texas on Sunday, where the Indian PM successfully avoided the issue of Kashmir. One event down, many more to go this week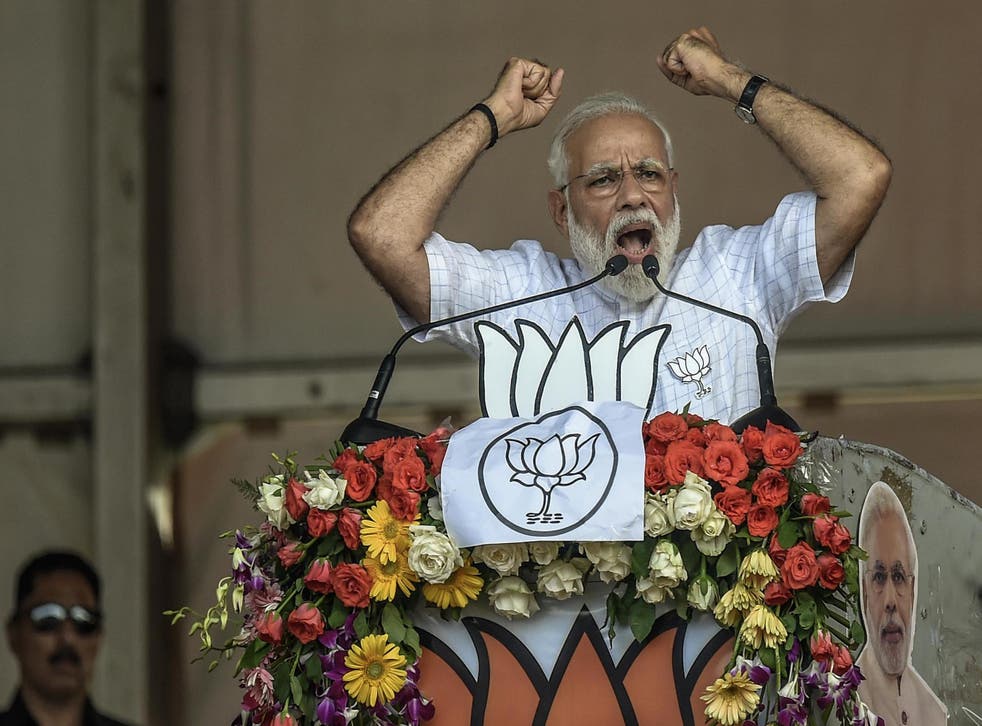 India will refuse to entertain any conversations about the fraught situation in Kashmir during the upcoming week of talks at the UN General Assembly, government officials say.
Pakistan, meanwhile, will make it a priority to raise the issue at any opportunity, most significantly during prime minister Imran Khan's address to world leaders on Friday.
Not for the first time at the UN, it puts the two neighbours on a diplomatic collision course, and forces shared allies to strike a delicate balance in order to avoid getting stuck in the middle.
Mr Khan's speech has coincidentally been scheduled to follow just after that of his Indian counterpart, Narendra Modi.
According to Pakistani officials, Mr Khan will use his address to accuse prime minister Modi of complicity in "terrorism" by the Indian state towards protesters in the part of Muslim-majority Kashmir it administers.
What was once the kingdom of Kashmir is now divided between India, Pakistan and, to a lesser extent, China, but the region is claimed in its entirety by both Delhi and Islamabad.
The Indian-administered portion has been under a tight lockdown since 5 August, when the Modi administration announced it was stripping the area of its constitutionally enshrined autonomy and downgrading it from being a state.
There have been pockets of unrest since the announcement, but tight restrictions on foreign media, daily curfews and an internet and mobile phone ban have kept the clashes from spreading.
When reporters have been able to reach members of the public, they have described widespread incidents of violence and torture by the security forces. The Indian government has denied any excess of force and said all allegations against the paramilitary are thoroughly investigated.
The Pakistani prime minister will press the international community "forcefully" during the general assembly speech on Friday, foreign minister Shah Mahmood Qureshi has said.
Mr Khan will "highlight the ongoing atrocities in Kashmir and the responsibility of the international community to avoid a genocide there", Sardar Masood Khan, president of Pakistan-administered Azad Kashmir, told The Guardian.
India, however, is insistent that what it does with its part of Kashmir is an internal matter, not for discussion on the UN stage.
At a press conference in Delhi, foreign secretary Vijay Gokhale said the general assembly was an opportunity for Mr Modi to talk about India's "global role and global expectations".
It is certainly set to be a busy week for the prime minister. His packed agenda for the week ahead is expected to include an address to the 2019 Climate Action Summit beginning on Monday, as well as a series of events reviewing the progress of the 2030 Sustainable Development Goals (SDGs).
He will be handed the 2019 "Global Gatekeeper Award" at an event by the Bill and Melinda Gates Foundation, in recognition of the Swachch Bharat programme building toilets across the country.
World news in pictures

Show all 50
Mr Modi will also host a special event on Gandhi's legacy. This year India marks the 150th anniversary of Mahatma Gandhi's birth on 2 October.
And he will be the keynote speaker on Wednesday's Bloomberg Global Business Forum, taking part in a Q&A session moderated by Michael Bloomberg.
As for Kashmir, "there will be no discussion on it and we will not discuss it", Mr Gokhale said. "If [Pakistan] wish to dwell on this issue in the speech by their prime minister then they are welcome to do so.
"Our prime minister will focus on what the UN General Assembly's high level segment is meant to focus on… what we are doing for development, for security, for peace and our expectations and aspirations of other countries," he said.
India may be seeking to shut down any talk of Kashmir on the global stage, but there are expected to be several events throughout the week involving Mr Modi and Donald Trump where that might be easier said than done.
Mr Trump has offered several times in recent months to "mediate" or to "help" India and Pakistan reduce tensions over Kashmir, despite India's repeated insistence that the only international talks it will consider on the issue will be with Islamabad directly.
On Sunday, Mr Modi kicked off his US visit with an event in Texas for just some of the estimated 4 million-strong Indian diaspora living in America.
The Indian prime minister told the crowd: "Friends, as I told you, we have met a few times and every time he [Mr Trump] has been the same: warm, friendly, accessible, energetic and full of wit. India has a true friend in the White House."
Mr Trump later joined him on stage, saying: "You [India] have never had a better friend as president as President Donald Trump. Under PM Modi's leadership, the world is witnessing a strong, sovereign republic of India.
"We welcome India's growing investments right here in the Lone Star State. Nations around the world are investing in the United States because they know we have the best economy and best workers in the world. We want to thank everybody and India has never invested in the US like it is doing today, and I want to say it's reciprocal because we're doing the same thing in India."
No questions were taken, and the matter of Kashmir was not raised.
India will be hoping they can keep it up for the rest of the week. During his news conference, Mr Gokhale was asked why it is "so difficult to convince President Trump that all these public utterances [on Kashmir] are actually not in India's interest?"
The foreign secretary replied that Mr Modi "has made it very clear" to Mr Trump what India's position is. "India does not see a role for anybody in mediating on this matter," he said. We will soon find out if Mr Trump was paying attention.
Join our new commenting forum
Join thought-provoking conversations, follow other Independent readers and see their replies