India's new labour laws will put more children to work, warn charities
Rule that allows families to employ young relatives is open to abuse, say campaigners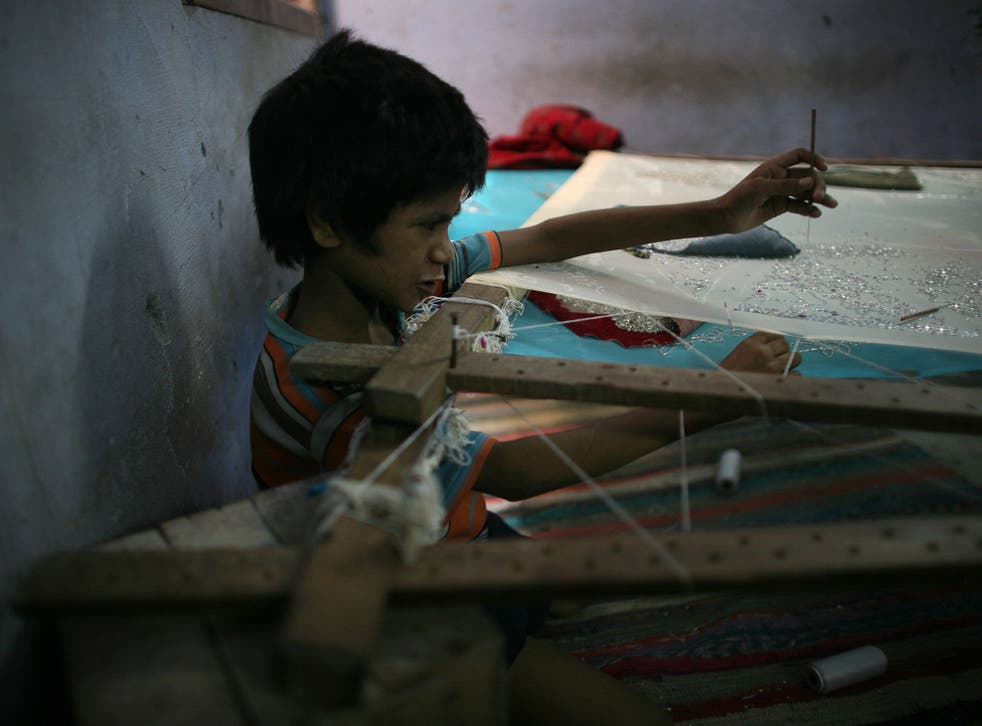 On the rooftop of a crumbling brick house in a filthy Delhi slum, 11-year-old Roshni patiently glues tiny sequins and mirrors into delicate floral and paisley patterns typical of traditional Indian suits.
She has not been to school since migrating from the state of Bihar three years ago, so she works with her mother adorning blouses destined to dazzle guests at a wedding or party with their intricate detail.
Each piece, which takes a day to complete, earns the family 40 rupees, or 40 pence.
"I would prefer to go to school but I like helping my mother," says Roshni, whose faded clothing jars with the sparkling fruits of her labour.
The legality of this set-up is currently the subject of a fierce battle between child-rights campaigners and the Indian government, which has proposed to amend labour laws to allow children to work in "family enterprises" outside school hours.
The Prime Minister, Narendra Modi, is heavily promoting his country as a global manufacturing hub, launching his "Make in India" drive last year to much fanfare.
But with cheap labour being India's competitive edge, activists say the family loophole in the new legislation will encourage production to be outsourced to informal household units, with child labour becoming entrenched in supply chains.
"The question we are asking is, are we going to 'Make in India' on the backs of children?" said Enakshi Ganguly, co-director of the Haq Centre for Child Rights, in Delhi.
The cabinet approved the changes earlier this year and the bill is now before parliament, scheduled to be discussed before the end of the winter session this week.
According to 2011 census data, 4.4 million children aged between five and 14 are working in India – largely across agriculture, manufacturing and in traditional crafts. The International Labour Organisation puts the figure higher, at 5.8 million, estimating that 54 per cent of seven- to 14-year-olds work without wages within their own families.
Under existing legislation, children under the age of 14 are prohibited from 18 hazardous occupations, including working in brick kilns and slaughterhouses, and 65 dangerous processes.
The proposed new framework would ban the employment of under-14s and regulate the work of older teenagers, but reduce the number of industries defined as hazardous to three, including mining and working with explosives.
And an exemption would be made for children helping their families outside school time, justified by the government as balancing the right to education with a recognition that parents need extra pairs of hands to make ends meet.
"While considering a total prohibition on the employment of children, it would be prudent to also keep in mind the country's social fabric and socio-economic conditions," the cabinet said when it approved the changes.
Campaigners question how such a system could be monitored and enforced, with any employer able to claim to be a family member and no way of checking whether children enrolled in school are in fact skipping lessons to work.
"This will actually cause more harm – in the name of helping the family, children will drop out of school," said Prabhat Jha, head of child protection at Save the Children India. "We don't understand why they are taking this regressive step."
In south-east Delhi, the winter sun sets over the home that Roshni and her parents share with eight other families.
Her mother, Rizwana Khatoun, laments that her daughter has not been admitted to a Delhi school due to complications in the transfer process from her home state. "I would rather she was educated, so then she can make a better living than us," she said.
Join our new commenting forum
Join thought-provoking conversations, follow other Independent readers and see their replies