India scraps 12% tax on sanitary pads after protests
Activists say this will allow more girls to go to school rather than staying home due to a lack of access to feminine hygiene products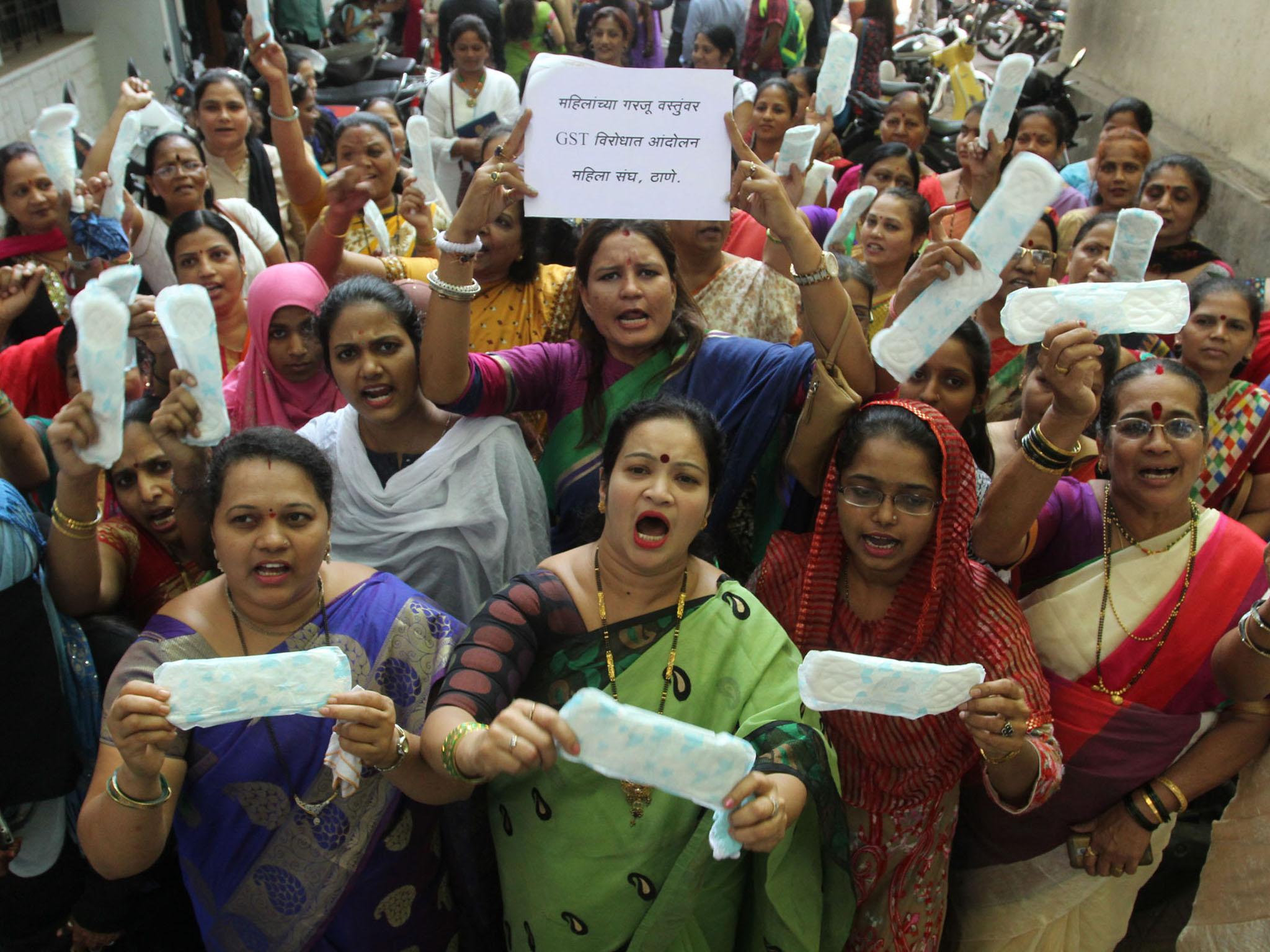 The Indian government has scrapped a controversial 12 per cent tax on women's sanitary products after months of campaigning.
Activists said the decision to axe the tax will enable more girls to go to school rather than being forced to stay home due to a lack of access to feminine hygiene products.
Menstrual hygiene items were taxed at 12 per cent under India's Goods and Services Tax which was launched in July 2017.
"I am sure all mothers and sisters will be very happy to hear that sanitary pads are now 100 per cent exempt from tax," Piyush Goyal, the acting finance minister, said.
Periods are one of the main reasons why girls drop out of education in India – a country where period poverty is rife and an estimated four out of five women have no access to sanitary products.
Girls in the country are also faced with a shortage of toilets in schools and some struggling to provide access to running water. This is further exacerbated by the stigma often attached to menstruation in India – with political parties historically considering items like sanitary pads "taboo".
With the overwhelming majority of women in India unable to access basic feminine hygiene products, millions of women living in poor rural areas resort to rags or even ashes, sawdust and leaves, boosting the risk of infections and disease.
The decision to implement the tax was met with outrage from activists – sparking months of campaigning which involved court challenges and a petition by Indian lawmaker Sushmita Dev that garnered more than 400,000 signatures.
Ms Dev thanked those who had got behind her campaign but also condemned the government for taking over a year to get rid of the tax on sanitary pads.
"Clearly the government had put forth frivolous arguments for one year and delayed it," she said in a tweet on Saturday.
The tax was referred to as Lahu ka Lagaan in Hindi which translates as "blood tax".
World news in pictures
Show all 50
Campaigners challenged the government taxing pads as a luxury rather than an essential item – like condoms – which remain tax-free.
Jo Feather, ActionAid senior policy advisor, told The Independent: "While the Indian government's decision to scrap the tax is a significant step that will positively impact the lives of thousands of women and girls in the country, for most safe sanitary products will still remain inaccessible.
"Due to cultural taboos and poverty, millions of women and girls in India and across the world are still denied the right to choose how they manage their periods with dignity. The lack of access, knowledge and support often leads to girls missing or dropping out of school, putting them at greater risk of child marriage and early pregnancy – further exacerbating the cycle of poverty and inequality.
"We help provide safe, and clean sanitary products to women and girls in need and work with communities to bring about sustainable change through challenging taboos and ensuring girls can claim their rights.
"However, to solve period poverty globally we need to collectively address the issue of gender inequality at its root. We must not allow women and girls to be identified primarily by their biological functions and ensure their periods are celebrated, not shamed, and can be a positive step in exercising empowerment."
Bollywood's first film about menstrual hygiene Padman sparked a debate over the taboo issue in India after its release earlier this year.
Akshay Kumar – one of Hindi cinema's most popular action heroes who stars in the film – voiced his joy at the controversial tax being axed.
"One of those days when news brings tears of joy as a cause close to your heart gets fulfilled," he wrote on Twitter.
"Thank you, #GSTCouncil, for understanding the need for menstrual hygiene and exempting sanitary pads from tax. I'm sure scores of women in our country are silently sending gratitude your way."
The problem of period poverty extends to south Asia as a whole, where more than a third of girls miss school during their menstrual cycle due to a dearth of access to toilets or pads, according to a recent report by charity WaterAid and Unicef.
The report also found many receive no education about menstruation before they reach puberty.
In the UK, sanitary products are taxed at 5 per cent in what is widely referred to as the "tampon tax".
They are classified as "non-essential" luxury goods while exotic meats like crocodile and kangaroo are classed as essential products which are exempt from tax. Campaigners have called for the "tampon tax" to be scrapped.
Join our commenting forum
Join thought-provoking conversations, follow other Independent readers and see their replies