India signs $22bn of deals with China as Narendra Modi ends landmark state visit
China has been accused of 'economic colonisation' in trade agreements with other countries
Lizzie Dearden
Saturday 16 May 2015 12:39 Comments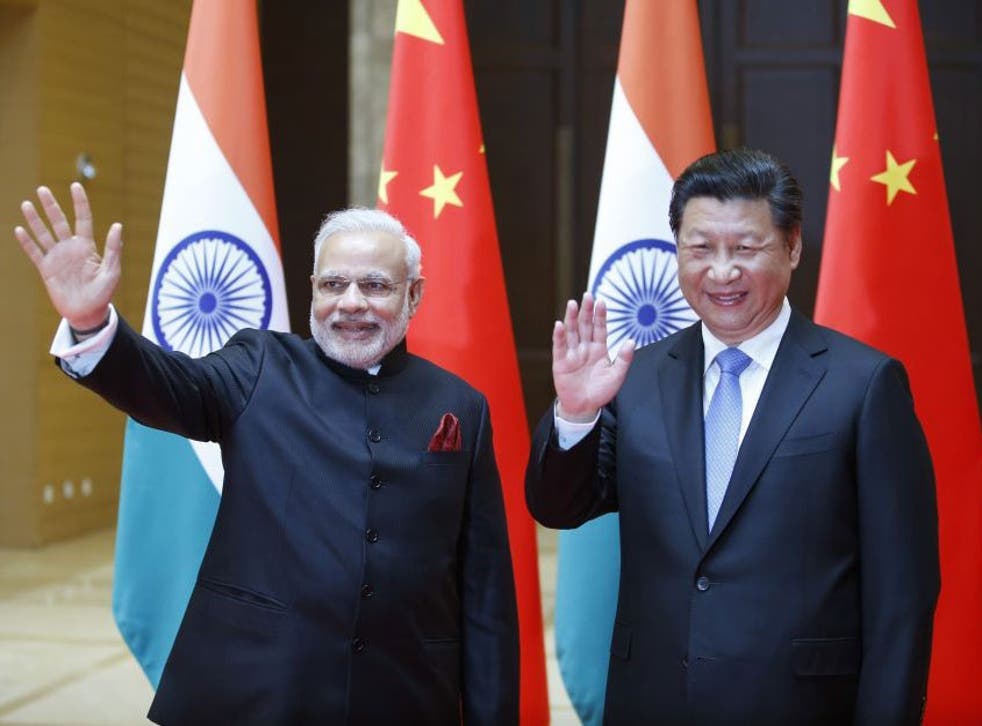 The Indian Prime Minister has said he wants to make ties with China "even stronger" after his country signed trade and economic co-operation deaths worth $22 billion (£14 billion) with Beijing.
Narendra Modi was due to leave China on Saturday after a three-day visit that saw him welcomed with full ceremony including dancing dragons and performing acrobats.
He met President Xi Jinping, exchanging gifts and having conversations Mr Modi described as "candid, constructive and friendly".
Peace along the India-China border was on the table, as well as visa policies and routes for Indian pilgrims, but finance was the main focus.
Speaking to the India-China Business Forum in Shanghai today, Mr Modi said the partnership between the two countries "should and will flourish".
"As two major economies in Asia, the harmonious partnership between India and China is essential for economic development and political stability of the continent," he continued, calling China the world's "factory" and India its "back office", focused on software and services.
"This industrial partnership of China and India can bring about greater investment, employment and satisfaction of our people," Mr Modi said.
"Let us work together in mutual interest and for progress and prosperity of our great countries."
The agreements cover a range of industries including renewable energy, the financial sector, education, space exploration, railways and scientific research.
On Friday, Mr Modi held talks with China's Premier Li Keqiang and both sides agreed to seek a "fair resolution" to disputes on their common border.
Their meeting appeared to have a relaxed tone, with Mr Modi tweeting a picture of the pair with the caption: "It's selfie time!"
Both countries have claims on parts of each other's territories, including an Indian-administered area known as South Tibet (Zangnan), which is in China but considered part of Arunachal Pradesh.
Mr Modi said that he and Mr Li had agreed to explore a "fair, reasonable and mutually acceptable resolution" to the issue and the Chinese Premier said their differences could be overcome with "political wisdom".
As he ended his visit, Mr Modi tweeted a message in Chinese thanking the government people for their hospitality and saying he would "always remember" his time in the country.
"Let's make India-China ties even stronger in the years to come," he added.
The deals with India come after China's "economic colonisation" of Brazil continued with billions of pounds of investment in railways.
Register for free to continue reading
Registration is a free and easy way to support our truly independent journalism
By registering, you will also enjoy limited access to Premium articles, exclusive newsletters, commenting, and virtual events with our leading journalists
Already have an account? sign in
Join our new commenting forum
Join thought-provoking conversations, follow other Independent readers and see their replies