Narendra Modi 'fake' image: Indian government removes 'photoshopped' picture of PM visiting flood-hit Chennai
The Indian Prime Minister was on a visit to Tamil Nadu's capital city yesterday to get a first-hand view of the flooding which has devastated the city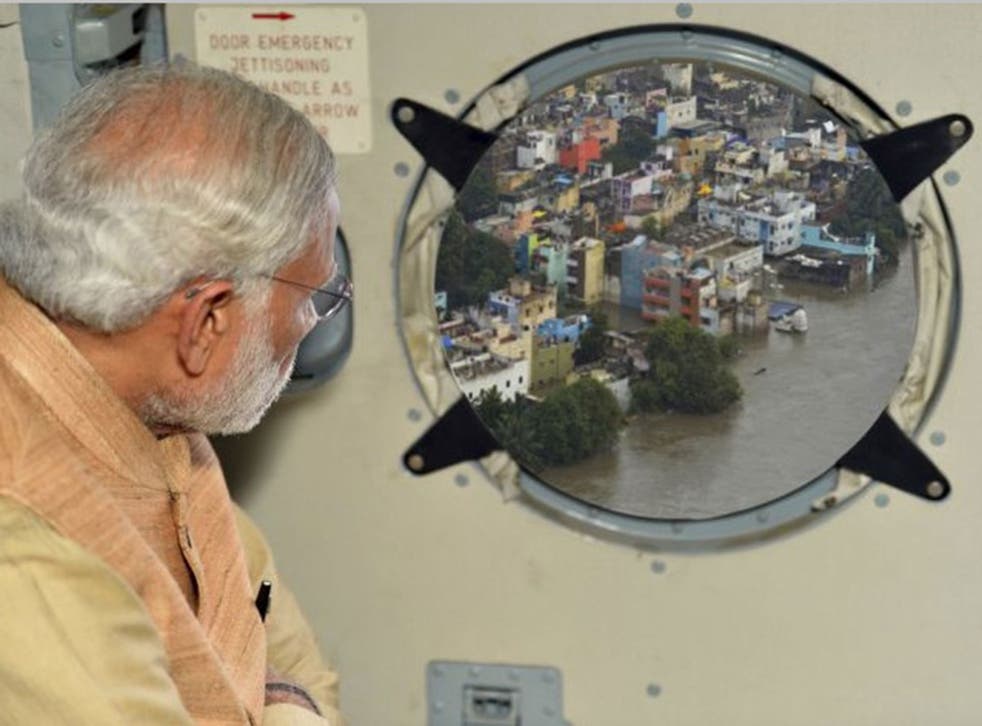 The Indian government has removed a seemingly doctored photo of Prime Minister Narendra Modi surveying severe flooding in Chennai which went viral amid much mocking on social media.
Mr Modi travelled to Tamil Nadu's capital city yesterday to get a first-hand view of the disaster.
More than 280 people have been killed and thousands of residents displaced as the south-eastern state continues to experience its heaviest rainfall in a century.
A photo of Mr Modi on the visit was published on the website of the government's Press Information Bureau (PIB), showing the premier looking through the round window of his helicopter at a clear view of waterlogged buildings.
But the same photo – this time with a blurred view through the chopper's window – had also been posted on Mr Modi's personal Twitter account, leading to speculation that the PIB had Photoshopped its version of the image, superimposing the picture of the buildings onto the photo.
PIB has since removed its version from its website.
A senior official at the prime minister's office, who did not want to be named, said it was "shocked to see facts being distorted", according to the Reuters news agency.
In pictures: Severe flooding hits India 2015

Show all 20
He added that "officials from the press office have been summoned to reinforce rules and regulations".
Another official said: "We will not allow anyone to falsify the facts. The prime minister will not tolerate this."
The head of the PIB did not comment.
But creative Twitter users used the apparent gaffe as inspiration to engineer their own photos of the Indian prime minister.
Register for free to continue reading
Registration is a free and easy way to support our truly independent journalism
By registering, you will also enjoy limited access to Premium articles, exclusive newsletters, commenting, and virtual events with our leading journalists
Already have an account? sign in
Register for free to continue reading
Registration is a free and easy way to support our truly independent journalism
By registering, you will also enjoy limited access to Premium articles, exclusive newsletters, commenting, and virtual events with our leading journalists
Already have an account? sign in
Join our new commenting forum
Join thought-provoking conversations, follow other Independent readers and see their replies