Indian monsoon rains kill 81 and leave over 9,000 stranded
The western state of Gujarat has seen thousands displaced by seasonal rains
Chris Stevenson
Friday 26 June 2015 22:03 Comments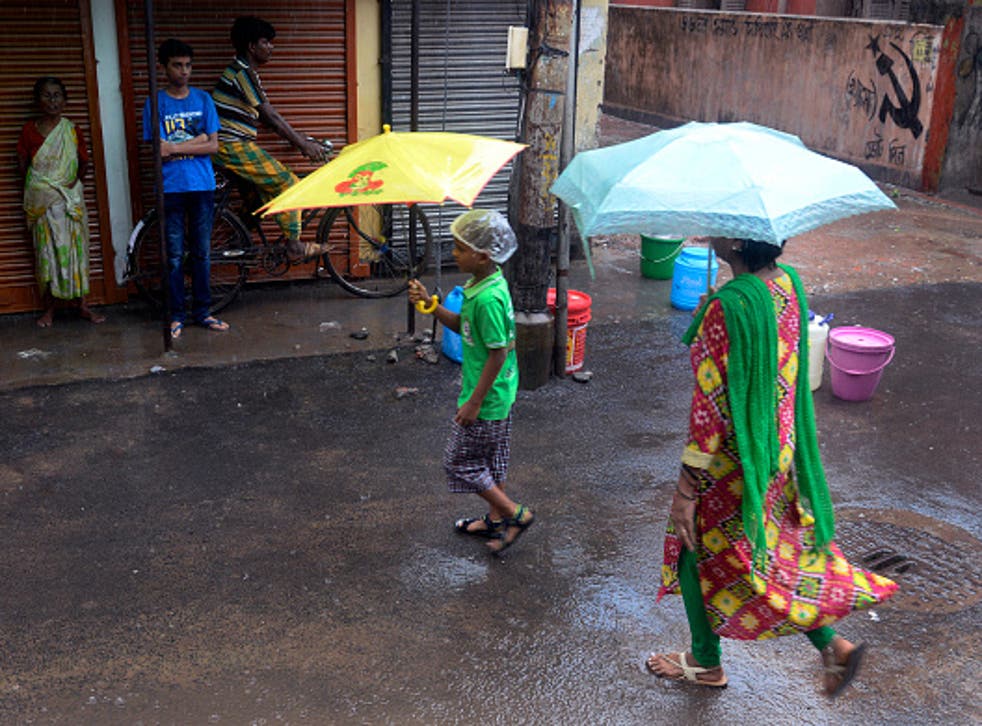 Dozens of people have been killed as monsoon rains engulfed wide areas of Gujarat state in western India and thousands of others have been forced to leave their flooded homes.
Around 9,000 people were evacuated to higher ground in rural areas that have been worst hit by the rains. At least 81 people have been killed, many of them swept away by flood waters and mudslides, or buried in collapsed houses, according to Ridhi Butt, an official with the National Disaster Response Force.
More than 1,000 Hindu pilgrims were also stranded on the mountain paths leading to the Hindu shrines of Kedarnath and Badrinath in northern Uttrakhand state, because of the rains. Workers are clearing roads to restore the pilgrimage route, according to the Press Trust of India news agency.
The monsoon has covered nearly the entire country, with the rains arriving days ahead of schedule. As well as Gujarat, parts of Assam state in the north-east were flooded and a swollen river breached its banks in the northern Jammu-Kashmir state.
India's financial capital of Mumbai was also badly hit last week when torrential showers closed public transport and led to a breakdown in public services.
The rains follow a heatwave last month that killed more than 2,000 people across the country, with India's Meteorological Department saying that it expected a drier July than average.
Neighbouring Pakistan has had a heatwave of its own to contend with in recent days, and Anwar Kazmi, of the Edhi Foundation, a private charity that runs a network of ambulances and mortuaries claimed that the death toll there had reached more than 1,150 around the around the port city of Karachi.
Sea breezes meant that thermometers across the city fell to around 36C, after temperatures had previously reached up to 45C. The heatwave coincided with power failures that triggered sharp criticism of the government's response. The power cuts left many without fans, water or light at the beginning of Ramadan, when many Muslims do not eat or drink anything during daylight hours.
Mass funerals were held for 50 unidentified victims before their bodies were hastily buried. "We waited for three days for any claimants to come forward, and now we are going to bury the 50 bodies," Amanullah Khan, of the Edhi Foundation, told Reuters.
Some of the victims appeared to be homeless. "Before we bury them, we take photographs and issue tag numbers in case any claimants turn up later and can identify the body," he added.
Qamar uz Zaman Chaudhry, the Islamabad-based special adviser for Asia to the UN World Meteorological Organisation, said of the crisis in Pakistan: "These types of event are taking place across the world. We need to prepare ourselves and develop our strategy. It's time to learn lessons, instead of getting into the blame game," he told Reuters.
Pakistan's national and local political parties have blamed one another for the crisis, while much of the relief was provided by the powerful military and private charities.
Register for free to continue reading
Registration is a free and easy way to support our truly independent journalism
By registering, you will also enjoy limited access to Premium articles, exclusive newsletters, commenting, and virtual events with our leading journalists
Already have an account? sign in
Join our new commenting forum
Join thought-provoking conversations, follow other Independent readers and see their replies