Pakistan heatwave: Death toll tops 400 in Karachi as morgues overflow and power cuts worsen crisis
There are fears the death toll could rise dramatically as rain looks unlikely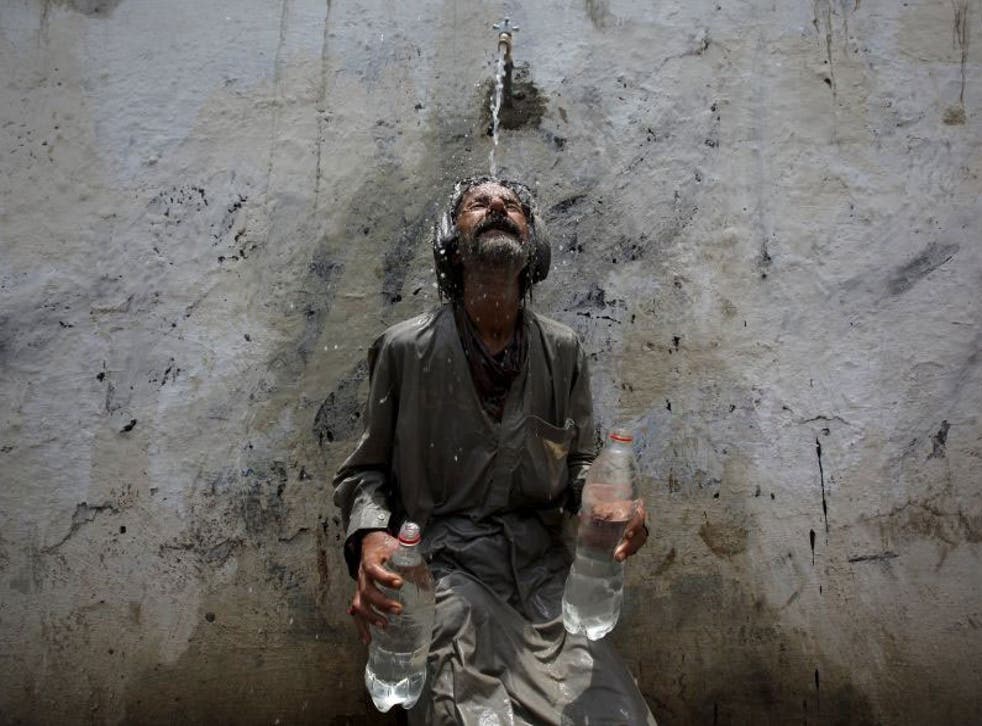 More than 400 people have died in just three days as a heatwave hits Pakistan's largest city.
Karachi, which has an estimated population of 23.5 million people, has seen temperatures of up to 44C coincide with huge power cuts, wiping out vital air conditioning.
Morgues are overflowing as health authorities set up emergency medical camps in the streets in desperate attempts to prevent more deaths from dehydration and heat stroke.
One of Karachi's biggest public hospitals said all its beds were full, with more than 200 people having died there so far.
"Some were brought in dead, while others died during treatment," said Dr Seemin Jamali, joint director at Jinnah Postgraduate Medical Centre.
Another facility, Civil Hospital, was also full of heatstroke patients, who are mostly elderly, frail, homeless or migrant workers with little access to shelter from the burning sun.
A morgue run by charity the Edhi Foundation had received more than 400 people who died of complications from the heat, official Anwar Kazmi told Reuters news agency, but there has not yet been an official tally for the whole of Sindh province.
The normal summer temperature for Karachi is 37C but the mercury is forecast to top 41C over the coming days and nights will not dip below 33C.
Ghulam Rasool, director general of Pakistan's Meteorological Department, forecast the start of much-needed monsoon rain tonight in an interview with Reuters, but a glance at the Met Office website suggests that is optimistic.
The British agency has not forecast any rain for the next 10 days at least, potentially worsening water shortages and compounding the current crisis.
The provincial government and power company K-electric has come under fire for failing to avert disaster, with angry protesters taking to the streets claiming authorities should have anticipated the overwhelming demand on the grid caused by the heat and Ramadan.
As well as strain caused by the soaring temperatures, the Islamic holy month is currently being observed by 97 per cent of Pakistan's population.
Muslims are forbidden from eating or drinking in daylight hours, meaning that at sunset, millions of people start cooking at the same time.
People are being urged to look out for the signs of heat exhaustion, including fatigue, dropping blood pressure, nausea and sweating, and immediately try and cool themselves down.
If it is not treated, it can develop into potentially deadly heatstroke as the body's temperature rises beyond safe levels.
Symptoms include confusion, dry skin, hyperventilation, cramping and later seizures, organ failure and death.
The deaths in Pakistan come after last month's heatwave in India, which had killed 2,500 people by the start of June.
Additional reporting by Reuters
Join our new commenting forum
Join thought-provoking conversations, follow other Independent readers and see their replies