Indian women launch 'Happy to bleed' campaign to protest against 'sexist' religious rule
Menstruation is considered a taboo subject in India
Victoria Richards
Wednesday 25 November 2015 16:28 Comments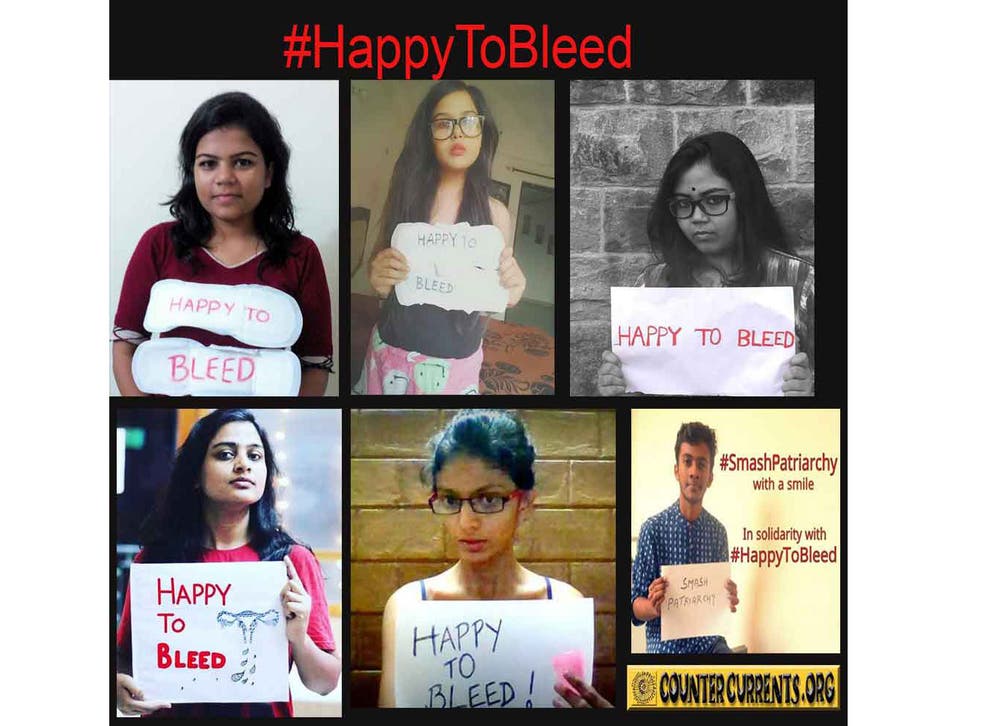 Indian women unhappy about a 'sexist' statement put out by a Hindu temple in Kerala have started a social media campaign to tell the world that they're not ashamed to menstruate.
Using the hashtag #happytobleed, the women are making a stand against 'rules' introduced by the chief of a famous Sabarimala temple, which currently bans all women of reproductive age from 10 to 50.
Prayar Gopalakrishnan said recently he would only allow female worshippers into the shrine, which is dedicated to Lord Ayyappa, when there is a machine invented to detect whether or not women had their periods.
According to the BBC, he told reporters that he was waiting for a scanner that could tell whether is was the "right time".
"These days there are machines that can scan bodies and check for weapons," he said. "There will be a day when a machine is invented to scan if it is the right time for a woman to enter the temple.
"When that machine is invented," he added, "we will talk about letting women inside."
Nikita Azad, a college student and gender rights' activist from Patiala, Punjab, started a petition entitled, "#HappyToBleed: An Initiative Against Sexism".
She described it as a "counter attack against the sexist statement given by Devaswom chief".
In a statement on the website CounterCurrents.org, she said: "The class structure has created various forms of patriarchy like locking women in kitchens, reducing her contribution in production processes, considering her a reproductive machine, attaching the 'honour' tag, objectifying her as an object of sexual pleasure, impurity during menses etc.
"While recognising all manifestations, we particularly chose menstrual taboos as an immediate response to the statement, but it does not mean that we do not acknowledge more acute representations."
She also told Thomson Reuters Foundation: "Menstruation is a natural activity which doesn't need curtains to hide behind."
Since the campaign started, women have been posting photographs of themselves holding signs declaring they are "#happytobleed to social media. There is also a legal petition against the rule pending in the Supreme Court.
One said, "We are #happytobleed each month and if we didn't, you wouldn't exist!"
World news in pictures

Show all 50
In rural and urban India, menstruation is rarely discussed openly and menstrual blood is considered "impure". In many communities, menstruating girls and women are not allowed to prepare food or enter a temple, Reuters reported.
Mr Gopalakrishnan told the news outlet that his quotes had been taken "out of context" - but said the temple would not consider lifting the ban on women as it was the "custom since ages".
Register for free to continue reading
Registration is a free and easy way to support our truly independent journalism
By registering, you will also enjoy limited access to Premium articles, exclusive newsletters, commenting, and virtual events with our leading journalists
Already have an account? sign in
Join our new commenting forum
Join thought-provoking conversations, follow other Independent readers and see their replies