Indonesian province considers carrying out canings in private after public outcry against gay lashings
Change of protocol in Aceh state follows international media attention after two men were subjected to corporal punishment for violating Sharia prohibition against homosexuality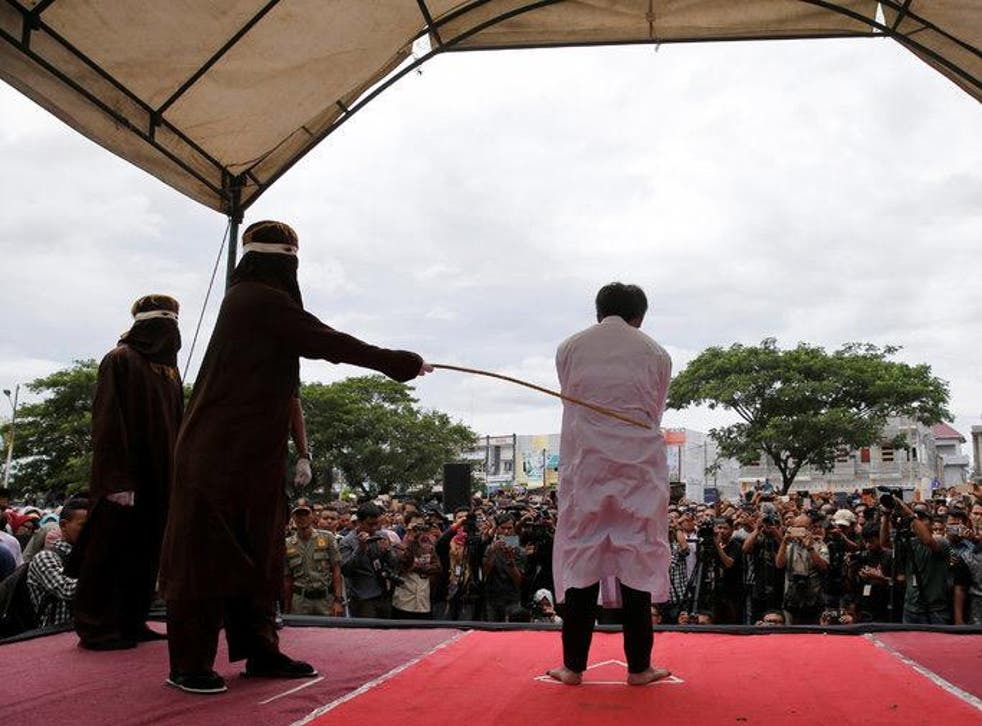 Two months after Indonesia's most conservative province drew international headlines for publicly caning two young gay men for having sex with each other, the governor is considering making such whippings private to avoid negative news media attention and prevent any adverse impact on outside investment.
The proposed changes in Aceh province have caused a stir in Indonesia ever since local news media reported that President Joko Widodo had met with the newly inaugurated governor, Irwandi Yusuf, to discuss ways to improve the province's international image.
In an interview with local media, Vice Governor Nova Iriansyah said that because of the international attention on public whippings: "We will minimalise press coverage and conduct it inside prisons. Right now it's in front of the mosque, right after Friday prayers."
He added, "I think the national government is right that we have to do something."
In a statement, the governor's office emphasised the provisional nature of the discussions to end public canings, noting that the decision required approval from Muslim scholars and Aceh's Legislature.
Even as the Indonesian province considers moving the public floggings indoors, a highly conservative state in neighbouring Malaysia, Kelantan, passed a law allowing it to become the first state in the country to hold public canings. Currently, caning in Malaysia is conducted in private, often in prison yards and away from crowds.
On caning days in Aceh, huge crowds gather to watch as convicts are publicly beaten, an event resembling a medieval spectacle. Longtime critics of public caning said they were glad to hear that the punishment might be phased out.
"It will mean nobody will be publicly humiliated anymore," said Ratna Sari, the head of Women's Solidarity, Aceh, a progressive group. Still, she said, it was only a "small step forward" since canings will still be conducted, only out of sight.
World news in pictures

Show all 50
Two men accused of having sex with each other were each sentenced in May to 85 lashes in public, the first case of people being punished for homosexuality in the province under a strict version of Shariah law.
The sentences alarmed rights activists, who called the punishment a dangerous development in Aceh, a semiautonomous province on the northern tip of the island of Sumatra. One of Indonesia's poorest provinces, a legacy of the three-decade civil war with Jakarta, it has received comparatively little investment from Jakarta-based conglomerates.
The New York Times
Register for free to continue reading
Registration is a free and easy way to support our truly independent journalism
By registering, you will also enjoy limited access to Premium articles, exclusive newsletters, commenting, and virtual events with our leading journalists
Already have an account? sign in
Join our new commenting forum
Join thought-provoking conversations, follow other Independent readers and see their replies