Strangers crowdfund £2,500 for 94-year-old banana seller after he was attacked and robbed
'I cried because of the unfairness of it all. Is this what our country has been reduced to? I hope that the authorities will catch these crooks soon,' one Facebook user wrote
Narjas Zatat
Monday 12 June 2017 16:17 Comments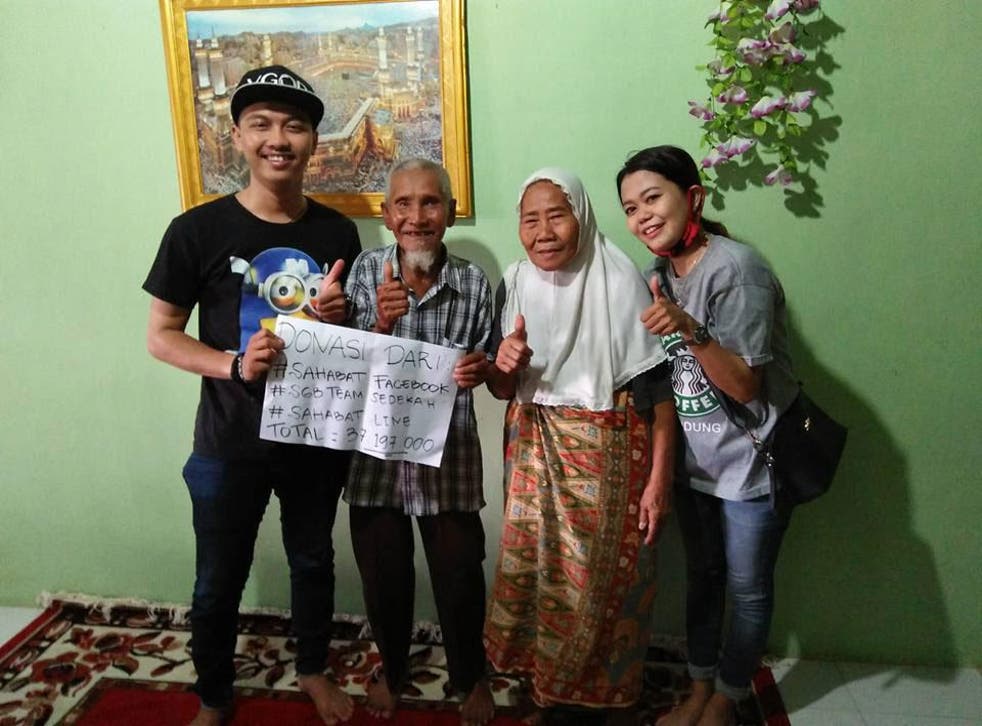 Online donations have poured in for an elderly Indonesian banana seller who was robbed of his life savings.
Suratman, 94, who is known only by one name, was found in tears on the roadside in the province of Jambi on Sumatra island, after having one million Indonesian rupiah (£52) stolen.
He was spotted by passing motorcyclist Tommy Reza, who heard him shouting.
The nonagenarian told Mr Reza that he had been approached by a driver who told him to enter his vehicle to sell the fruit, because they were too embarrassed to be seen buying food in the holy month of Ramadan.
Once inside, two other men forced him to empty his pockets before kicking him out.
Suratman had been saving funds to buy new furniture for his family as part of Eid al-Fitr celebrations at the end of June.
After comforting him, Mr Reza wrote about the incident in a Facebook post.
The heartbreaking tale garnered an immense response from users, who got in touch with him about sending donations to the elderly man. To date, his post has been shared 71,476 times.
Many expressed anger at the incident, including Angie Kuron, who commented: "I cried because of the unfairness of it all. Is this what our country has been reduced to? I hope that the authorities will catch these crooks soon."
But soon money was flooding in from people from across Indonesia, as well as other parts of the world.
So far, people on the internet have donated 37 million rupiah, and the local governor an additional five million. In total, 42 million rupiah - almost £2,500 - has been raised.
Mr Reza said: "[Mr Suratman] was very grateful and he was praying. I told him that I was only the messenger."
Register for free to continue reading
Registration is a free and easy way to support our truly independent journalism
By registering, you will also enjoy limited access to Premium articles, exclusive newsletters, commenting, and virtual events with our leading journalists
Already have an account? sign in
Join our new commenting forum
Join thought-provoking conversations, follow other Independent readers and see their replies