John Le Carre plot becomes real life: The mystery of the missing Interpol president
Meng Hongwei lost his seat on the Communist Party's central committee earlier this year, Kim Sengupta writes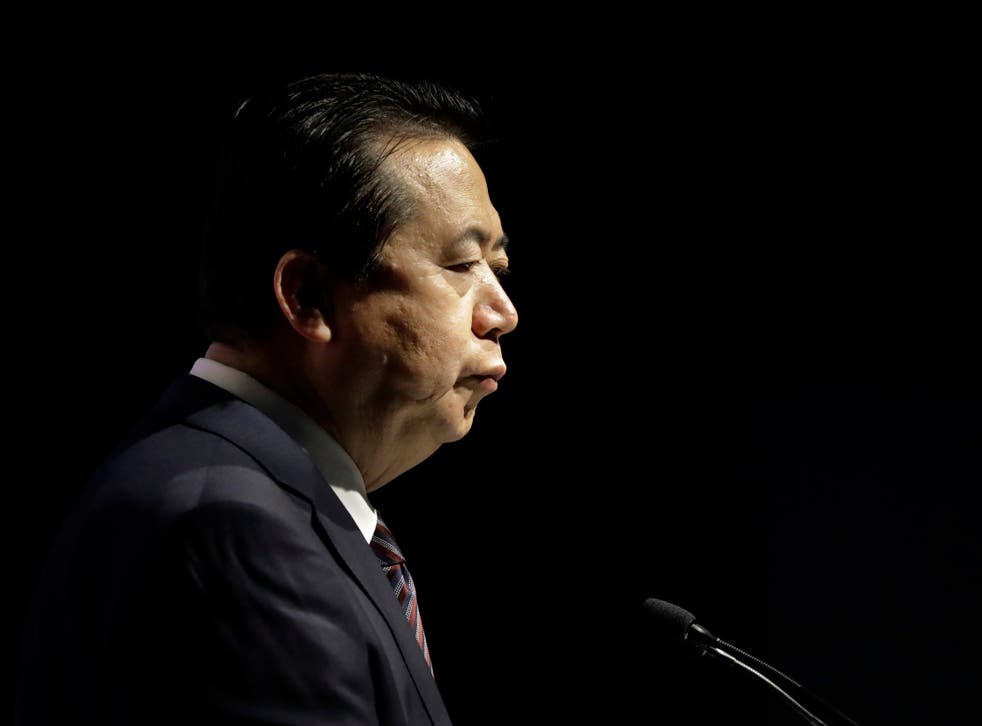 The head of Interpol, the international police agency, has been arrested after returning back to his native China, according to reports, with his current whereabouts unknown.
Meng Hongwei, a former minister in the Chinese government, disappeared after leaving the organisation's headquarters in France last week with claims in China that he was detained after arriving in Beijing.
The South China Morning Post newspaper reported that he was "taken away" by officials "as soon as he landed back in China", but there was no clear indication why he is under investigation and which particular security agency was holding him.
French authorities say they are investigating his disappearance and a person familiar with the investigation said the initial working assumption of Western investigators was that Mr Meng had antagonised Chinese authorities in some way and had been detained as a result.
The Chinese foreign ministry and the public security ministry have not yet responded to questions about what happened to 64-year-old Mr Meng, who has been a member of the Communist Party for decades.
Mr Meng has spent 40 years of his working life in the field of counter-terrorism and law enforcement, serving, at one stage, as vice-minister for public security. However, he lost his seat on the Communist Party's central committee, the main power centre of the organisation, in April this year.
Under Chinese law a suspect's family and employers must be notified within 24 hours of his arrest. But Mr Hongwei's wife and children, who live in Lyon, France, have not, it is claimed, received any notification from the Chinese authorities and neither had Interpol, which stated that it was looking into reports of his disappearance.
It said in a statement: "Interpol is aware of media reports in connection with the alleged disappearance of Interpol president Meng Hongwei. This is a matter for the relevant authorities in both France and China."
As a senior figure in China's counter-terrorism field, Mr Meng is believed to have been involved in dealing with Uighur militants among the country's Muslim population as well as dissidents who the state regard as subversive elements.
Mr Meng was elected as Interpol's president in November 2016 and was due to serve until 2020. Human rights groups had expressed concern upon him getting the post that Beijing may try to use Interpol to pursue political opponents abroad.
Interpol chief Meng Hongwei missing
The former minister had dismissed the claims, saying he would adhere to the rules of the organisation and was focused on promoting "the cause of policing in the world".
However in 2014 Interpol issued "red notices", international alerts, for 100 people of Chinese origin living overseas, including in April last year one for Guo Wengui, a wealthy businessman who claimed to have evidence of corruption at senior levels of the Communist Party.
Mr Wengui, who had been wanted by Chinese prosecutors since 2014, had links to Ma Jian, who, like Mr Meng, had held the post of vice-minister for security, and was being investigated for alleged corruption.
Join our new commenting forum
Join thought-provoking conversations, follow other Independent readers and see their replies