iPhone factory 'threatened to cut funding for disabled man'
Foxconn plant in China wanted brain-damaged man to take disability assessment, say family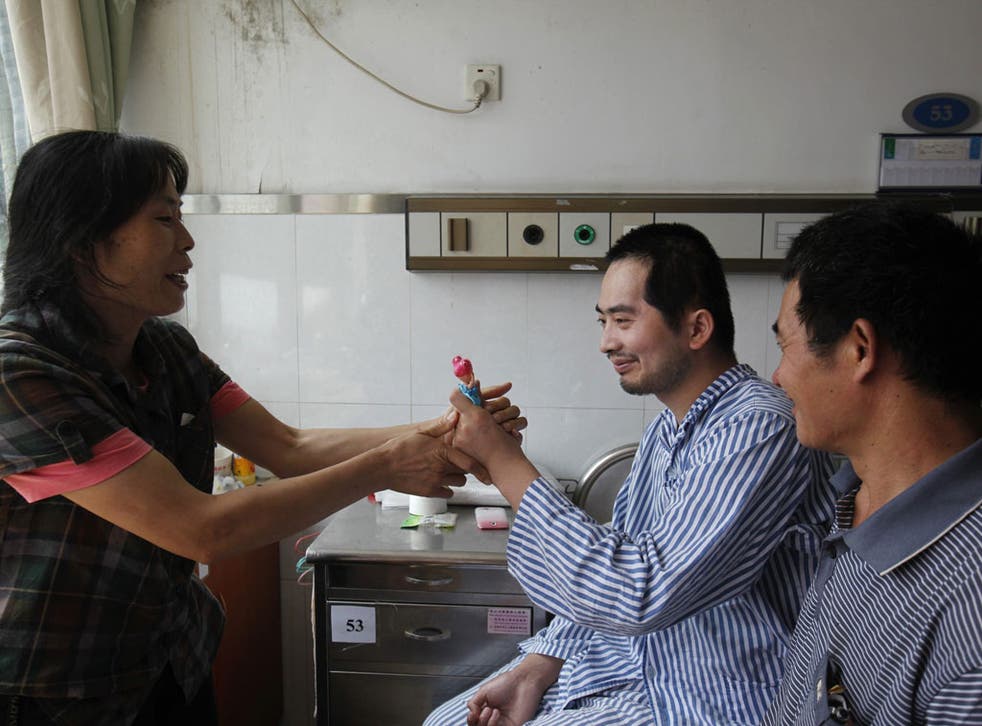 Foxconn, the Taiwanese manufacturer of Apple iPhones and other popular electronic devices, has again been criticised over working conditions at its factories in China after it called for a worker who was brain-damaged in an accident at its Shenzhen plant to report back for a disability assessment and threatened to cut off funding for his treatment if he didn't comply.
It's the latest public relations challenge for Foxconn, a unit of the giant Hon Hai Precision, which employs nearly a million people in China. It comes as the company is working flat out to meet increased orders for the iPhone 5. As well as making iPads and iPhones, Foxconn also makes PlayStations for Sony, the Nintendo Wii, PCs for HP and Dell, and equipment for Microsoft and Cisco Systems.
A Reuters report said Zhang Tingzhen, 26, had nearly half his brain surgically removed after surviving an electric shock at a Shenzhen factory nearly a year ago. He fell four metres and the brain damage he suffered has left him incontinent and unable to speak or look after himself.
Mr Zhang's father, Zhang Guangde, 50, confirmed the Reuters story and said Foxconn had been sending the family text messages since 20 July, demanding the 26-year-old be removed from hospital to be assessed at the factory in Huizhou where he was hired.
"We have refused the request because our son can still not speak and he has no ability to be on his own," Zhang Guangde said from his hometown in Henan. "He cannot be moved. Foxconn has stopped answering the phone recently, and so far the hospital bill has been paid by social insurance."
While the company said it would be prepared to send Mr Zhang back to the hospital after the assessment, his father said he was too ill to be moved. Zhang Guangde had to return home to the family farm in Henan to tend to the wheat, "otherwise what will we eat next year"?
There has been bad press over Foxconn's poor performances in labour audits and regular accusations that Apple's vast profits are being made at the expense of young Chinese workers. The news of the Zhang family's plight comes after reports last week that 4,000 workers downed tools at a Foxconn plant in Zhengzhou, in Henan, in a wildcat strike similar to several last year. Foxconn said in a statement there was no strike, merely a disagreement between production and quality-control personnel, which was quickly addressed. It blamed the story on a tweet by a disgruntled employee.
Last month, at a Foxconn plant in Taiyuan, a dispute between a young woman working at the factory and a security guard escalated into a riot. Thousands of police were called in to restore order.
Two years ago, Foxconn was criticised over working conditions after 13 suicides by employees at the company's plants in southern China.
Foxconn's close links with Apple have been a headache for the California-based company and its chief executive, Tim Cook, visited an iPhone factory in Zhengzhou in March to try to shore up the damage from the public relations disaster.
Li Qiang, of the China Labour Watch group in New York, which examines labour practices in factories around China, said in a research note: "Foxconn factories, which produce many of Apple's products, have a history of maintaining militaristic management practices as well as putting an inordinate amount of stress on workers."
Register for free to continue reading
Registration is a free and easy way to support our truly independent journalism
By registering, you will also enjoy limited access to Premium articles, exclusive newsletters, commenting, and virtual events with our leading journalists
Already have an account? sign in
Register for free to continue reading
Registration is a free and easy way to support our truly independent journalism
By registering, you will also enjoy limited access to Premium articles, exclusive newsletters, commenting, and virtual events with our leading journalists
Already have an account? sign in
Join our new commenting forum
Join thought-provoking conversations, follow other Independent readers and see their replies