Iranian women protest hijab as defiant headscarf demonstrations spread
'Her message is clear, girls and women are fed up with forced [hijab]. Let women decide themselves about their own body'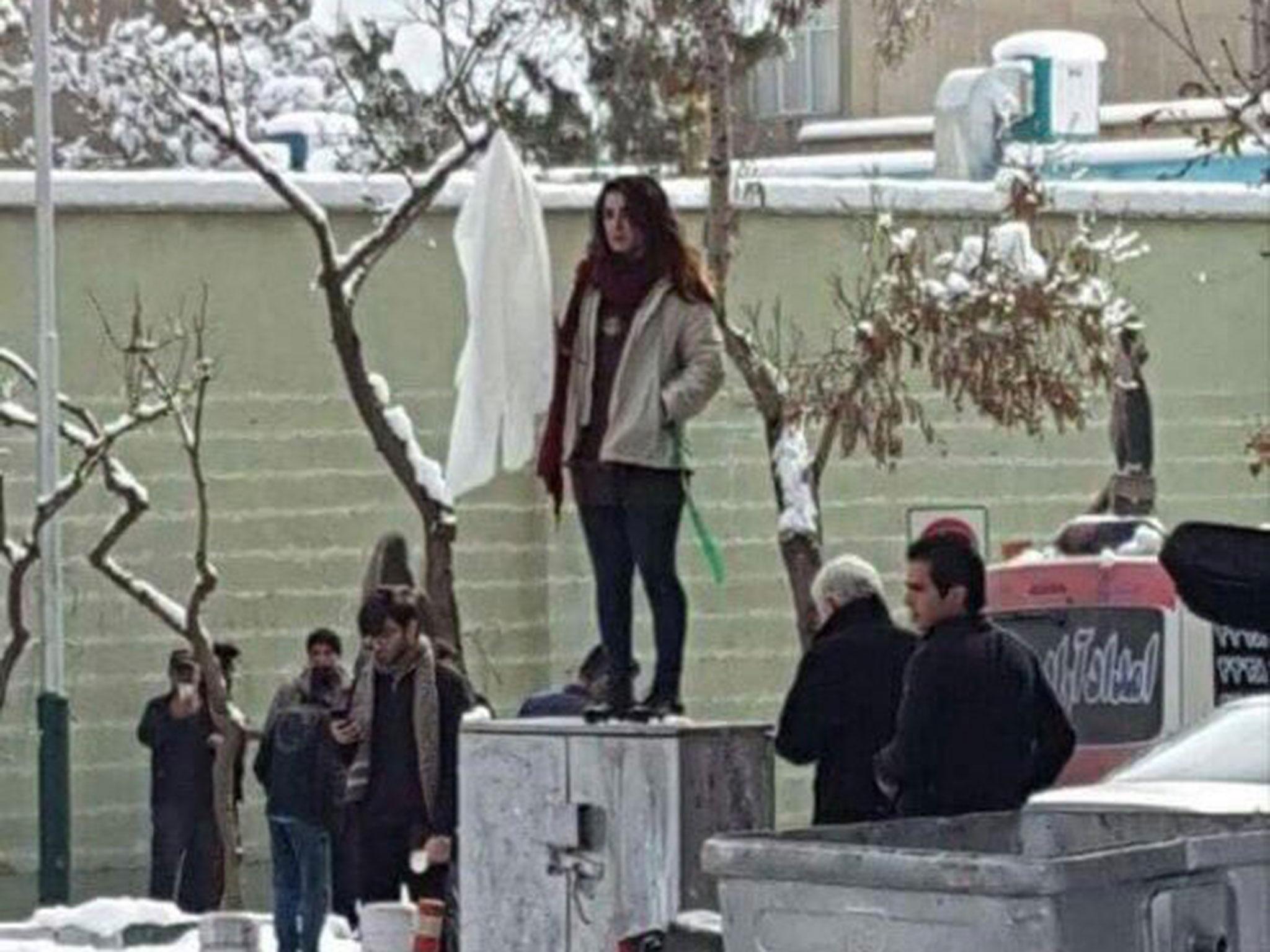 At least six women in Iran have been pictured protesting the obligatory Islamic headscarf by publicly taking off their hijabs and waving them on sticks.
Videos and photos shared widely on Facebook and Twitter showed the women purportedly following the lead of a woman who was arrested for a similar demonstration last month.
The 31-year-old protester known as the "Girl of Enghelab Street," later identified as Vida Movahed, took off her headscarf on a street in the capital Tehran.
She was detained for several weeks before being released from custody.
One of the women taking part in the protests was arrested after staging a protest on the same busy street in apparent solidarity.
Narges Hosseini was arrested within 10 minutes of removing her hijab along with two people filming her, Iran's foremost human rights lawyer, Nasrin Sotoudeh, told The Guardian.
Ms Hosseini was pictured wearing a green wristband in an apparent reference to the Iranian Green Movement which rose in protest after the 2009 presidential election.
"Her message is clear, girls and women are fed up with forced [hijab]," Ms Sotoudeh wrote on Facebook. "Let women decide themselves about their own body."
Iran protests – in pictures
Show all 11
While it is unclear where the images shared on social media were taken, women who fail to wear a headscarf in the Islamic Republic can be jailed for up to two months or fined 500,000 rials (£9.50).
The Muslim dress code, in place since the 1979 revolution, considers veiling obligatory for any female above 13 and says they should cover themselves from head to toe while disavowing any figure-hugging dress.
Last December, police in Tehran said they would no longer arrest women for failing to observe the dress code.
The announcement suggested an easing, called for by the young and reform-minded Iranians who helped re-elect Hassan Rouhani as president earlier this year.
Many Islamists believe hijab should not be imposed by the law, but consider it a religious obligation for every Muslim woman.
Both Mr Rouhani and Iran's Supreme Leader, Ayatollah Ali Khamenei, support a softer attitude towards women with improper hijab, although hard-liners opposed to easing such rules still dominate Iran's security forces and the judiciary.
Join our commenting forum
Join thought-provoking conversations, follow other Independent readers and see their replies