Japan and South Korea 'settle' wartime sex slaves dispute
After decades of anguish for thousands of South Korean women forced into military brothels during the Second World War, Japan has agreed to formally apologise and pay £8m towards their psychological care. David McNeill reports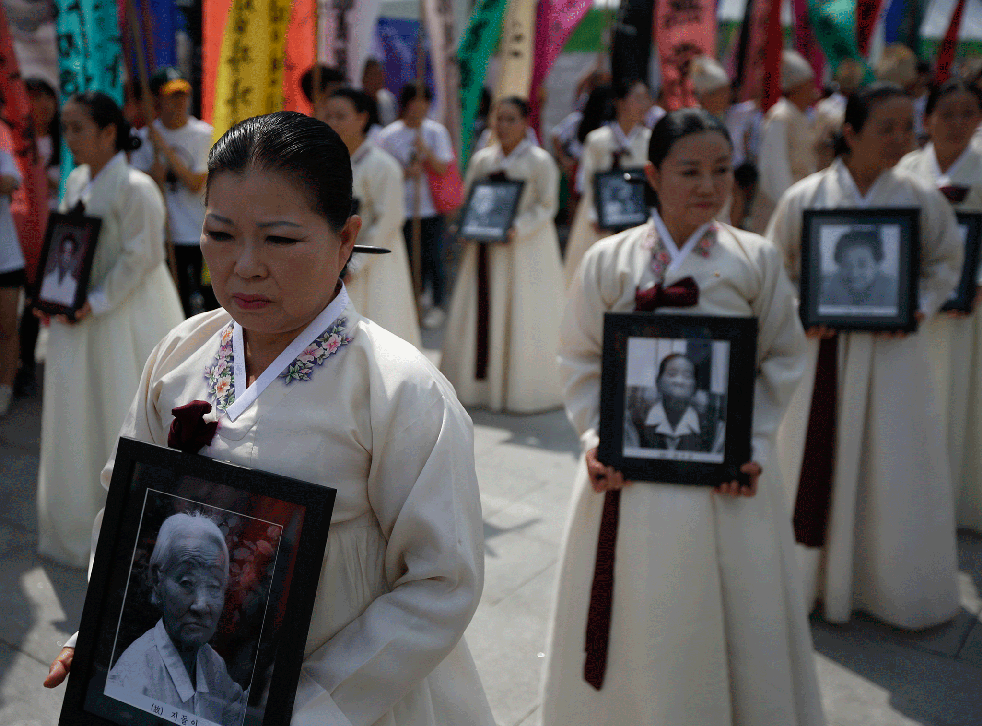 For years, Kang Il-chul has fought for an apology from Japan for the darkest episode in her life. She was one of thousands of young South Korean women rounded up to work in Japanese military brothels during the Second World War. Now the governments of both countries have announced a deal that many hope will finally lay the issue to rest.
Japan announced today that it would pay more than $8m for the psychological care of surviving "comfort women", such as Ms Kang. Japanese Foreign Minister Fumio Kishida said his government is "painfully aware" of its responsibilities.
Tokyo expressed "apologies and remorse" to the women, who "underwent immeasurable and painful experiences and suffered incurable physical and psychological wounds". Japan has also promised a formal apology will be made by Prime Minister Shinzo Abe.
Imperial Japan set up a network of military brothels in Asia, known as "comfort facilities," into which thousands of women from across Asia were corralled, sometimes being transported vast distances, to service troops in Japan's short-lived empire. One aim was to stop sexual diseases decimating the army.
Ms Kang was 15 years old when she was taken to a Japanese base in Manchuria, she says. On her second night, before her first period, she was raped. Soldiers lined up night after night to abuse her, she says. Ms Kang still suffers headaches from a beating she took at the hands of an officer. "I still have blood tears in my soul when I think about what happened."
Many records of the brothels were torched after the war and the surviving "comfort women" stayed largely silent until the early 1990s. In 1993, Japan's then chief cabinet secretary Yohei Kono, acknowledged Japan's role in pressing the women into sexual service. A private fund was set up to compensate them.
But conservatives, supported by some of Japan's most popular newspapers, have long denied that the military was directly involved in forcing the women into brothels, and insist they voluntarily serviced frontline troops. Nationalist politicians say the women were prostitutes, sold or brokered by locals in Korea and elsewhere.
Those claims ignore the extensive documentation of military and government involvement in the comfort women system, says Dennis Halpin, a former senior Asia policy staffer for the US government and one of the authors of a landmark 2007 US House of Representatives resolution demanding Japan come clean.
They also play down the testimony of the women themselves, and other crucial evidence, including a Dutch parliamentary report in 1994, which found that some European civilians had been herded into the military brothels. Most expert historians accept that a mixture of coercion, deception and outright force was used against many of the women.
As a parliamentarian, Prime Minister Abe supported nationalist think tanks that reject such accounts. During his first term as prime minister in 2007, he got himself into hot water by saying there was "no proof" that the comfort women were coerced by the military. But in 2014 he bowed to pressure by pledging not to revise the Kono statement.
The statement was intended to end the controversy and reset the diplomatic compass. Instead, the dispute has festered and spread to the US, where a string of memorials to the comfort women, erected by Korean communities, has triggered angry Japanese diplomatic protests. American textbooks have also included references to the brothels.
Japan wants the controversy to end and has been prodded to act by Washington, which needs a resolution to an issue that divides its two key allies in East Asia, say analysts.
"The US wants Tokyo and Seoul to focus on their real enemies – North Korea, China – and not on each other," says Robert Dujarric, director of the Institute of Contemporary Asian Studies at Temple University Japan.
On issues involving Japan's wartime past, Mr Abe often seems torn between nationalist instincts and diplomatic necessity. In this case, diplomacy seems to have won.
Tokyo said the announcement means the comfort women issue is "resolved finally and irreversibly" and that both sides have agreed to end the diplomatic mudslinging that has poisoned ties for years.
However, a demand that a statue of a girl symbolising the women be removed from outside the Japanese embassy in Seoul has been rebuffed. The statue has become a rallying point for those seeking wartime redress in Korea but is viewed by Japanese conservatives as an embarrassment.
The deal may also be a hard sell for the Korean government. It must end diplomacy on the issue and, in effect, end campaigning on behalf of the women, who – says Yoshiaki Yoshimi, a Japanese historian who unearthed much of the documentation on the brothel system – were not consulted over the agreement. "It makes me sad because nobody has taken real responsibility for what happened," he says.

Register for free to continue reading
Registration is a free and easy way to support our truly independent journalism
By registering, you will also enjoy limited access to Premium articles, exclusive newsletters, commenting, and virtual events with our leading journalists
Already have an account? sign in
Register for free to continue reading
Registration is a free and easy way to support our truly independent journalism
By registering, you will also enjoy limited access to Premium articles, exclusive newsletters, commenting, and virtual events with our leading journalists
Already have an account? sign in
Join our new commenting forum
Join thought-provoking conversations, follow other Independent readers and see their replies