Japan declares state of emergency for Tokyo over coronavirus
The one-month emergency will run from Friday and remain in place until 7 February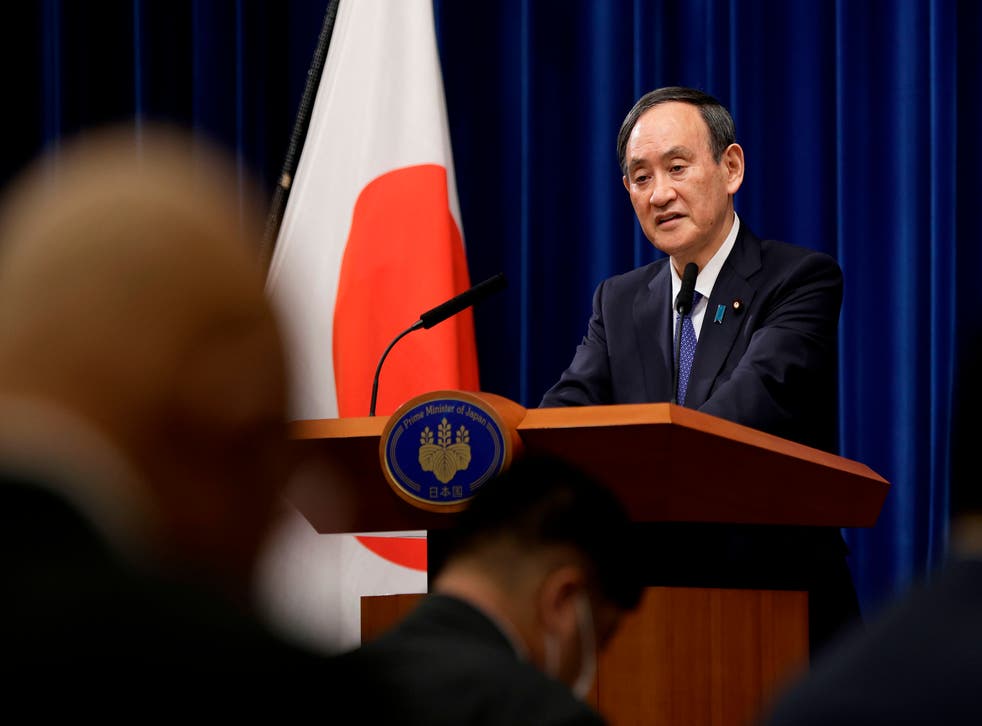 Japan's prime minister Yoshihide Suga on Thursday declared a state of emergency in Tokyo and three neighbouring areas to contain the rapidly increasing rate of coronavirus infections. 
The one-month emergency in Tokyo and neighbouring prefectures of Saitama, Kanagawa and Chiba will remain in place until 7 February with curbs on the operations of restaurants and bars after 8pm. The administration has also advised people to stay home and avoid visiting crowded areas.
"I am confident we can overcome this, but I must ask all of you to endure a restricted life for a while longer," Mr Suga told reporters.
The restrictions are less stringent than the ones observed in April last year that included the nationwide closure of schools and non-essential businesses. Though schools and shopping complexes have not been shut this time, the government has directed cinemas and museums to reduce their capacity for visitors.
The emergency declaration from the government came days after governors from the affected areas requested the central authorities to take necessary measures to contain the pandemic. 
"We need to now recognise that virus infections have entered a totally new stage," said Tokyo governor Yuriko Koike. "Tokyo is making the protection of human life a top priority."
"Please take this matter seriously as your own, to protect all precious life, your parents, your grandparents, family and friends, over generations," Mr Suga said, as he informed the media that they working to get a vaccine approved and delivered. He also pledged to provide more aid to hospitals treating coronavirus patients.
The restrictions are not bound by any kind of legal heft or penalties, but rely on voluntary compliance.
Covid-19 cases have exploded in Japan since the Christmas holidays, with a record 5,000 cases on Wednesday, compared to a high of 700 during the first emergency period in April 2020 and about 1,000 in November.  So far, the country has recorded over 250,000 cases with more than 3,700 deaths. 
Keeping Covid-19 infections under control is imperative for Japan ahead of the Tokyo Olympics, scheduled for 23 July this year. The Games were postponed last summer due to the pandemic.
Additional reporting by agencies
Join our new commenting forum
Join thought-provoking conversations, follow other Independent readers and see their replies