Japan investigating 'North Korean' boats full of decomposing corpses washing up on its shores
Experts investigating the case have suggested these boats and bodies may belong to North Korean fisherman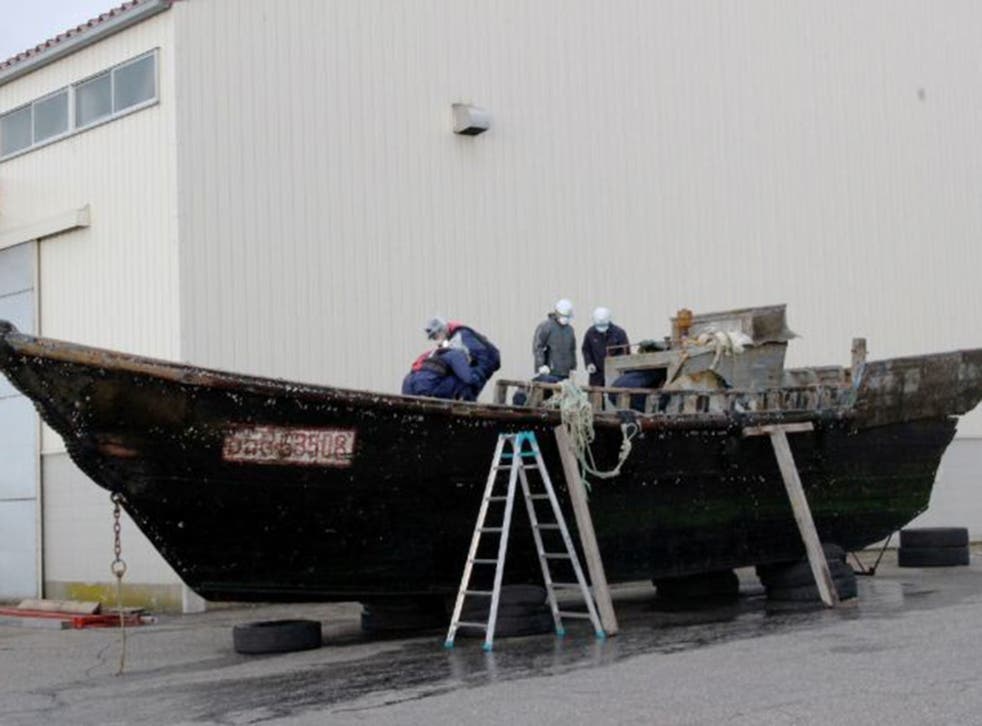 Japan is investigating a number of suspicious boats that have been found drifting off the country's coastline with decaying bodies on board, officials have said.
There have been 11 wooden boats found so far, some which are badly damaged.
Authorities are investigating the situation, but local media has speculated that the boats may have come from North Korea.
Some of the boats have been found to be carrying up to 20 dead bodies inside them, according to a coastguard spokesman.
The boats have been found in the Sea of Japan – known as the East Sea in North and South Korea – this month and last.
Many of the boats have been towed to Japanese ports, but the bodies are yet to be identified, he said.
The latest boat to be discovered was pulled ashore at Fukui port, where three sets of human remains were found.
Japanese bathe in wine to celebrate Beaujolais Nouveau
The coast guard spotted the boat 100km (62miles) offshore in the Sea of Japan.
Tokyo Broadcasting System reported that the remains were badly decomposed and partially skeletonised.
Japan's public broadcaster, NHK reported that a piece of cloth, thought to come from a North Korean flag was found inside one of the boats, while writing on one of the boats is believed to say "Korean People's Army" on the side.
Experts investigating the case have suggested these boats and bodies may belong to North Korean fisherman.
After a number of bad harvests, the closed-off country has been trying to improve the amount of fish its fisherman catch.
But the fishing equipment is difficult to manoeuvre and lacks equipment such as radars. A maritime expert told NHK these boats could have been drifting for months without anyone knowing where they were.
Others have said the boats could be people attempting to escape the communist state.
Register for free to continue reading
Registration is a free and easy way to support our truly independent journalism
By registering, you will also enjoy limited access to Premium articles, exclusive newsletters, commenting, and virtual events with our leading journalists
Already have an account? sign in
Register for free to continue reading
Registration is a free and easy way to support our truly independent journalism
By registering, you will also enjoy limited access to Premium articles, exclusive newsletters, commenting, and virtual events with our leading journalists
Already have an account? sign in
Join our new commenting forum
Join thought-provoking conversations, follow other Independent readers and see their replies