Japanese ships begin commercial slaughter of whales for first time in 31 years despite international condemnation
'The world opposes killing whales, but you can say the same thing about many of the animals bred on land and killed for food'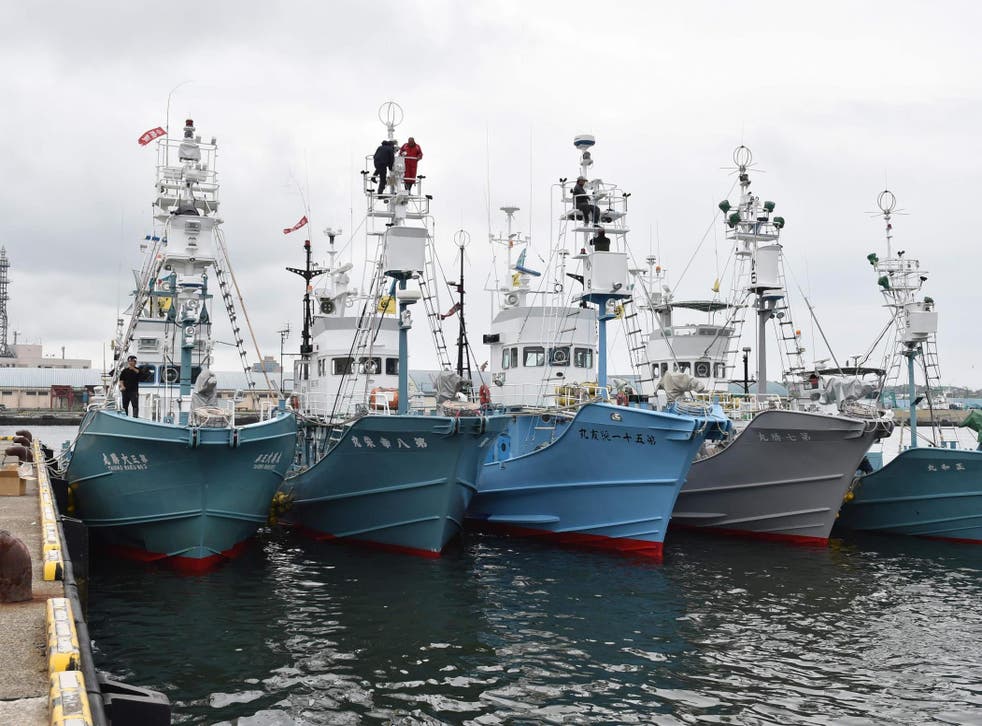 Japan's first ships to embark on a commercial whale hunt in 31 years have sailed out of port amid international condemnation.
The main boat and two support boats will sail within an area of 200 nautical miles known as Japan's exclusive economic zone (EEZ) in a bid to catch minke, Bryde's and sei whales.
Five other smaller ships will stay closer to the coast but also hunt minkes, as well as the Baird's beaked whales and dolphins that they have been catching thanks to a loophole in regulations set out by the International Whaling Commission (IWC).
The move to commence commercial whaling follows Japan's decision to withdraw from the IWC.
The country, which has long maintained few of the species it wants to hunt are endangered, gave notice of its intention to withdraw from the body in December last year – a decision that came into force on Sunday.
Tragic photos show beached whales

Show all 15
Japan's departure from the IWC was the culmination of years of campaigning by industry supporters and Japan's prime minister Shinzo Abe, whose constituency includes a city that has traditionally been a base for whaling.
Nicola Beynon, of Humane Society International, said it was a "sad day" for whale protection.
"The word 'research' may have been removed from the side of the factory ship, finally ending Japan's charade of harpooning whales under the guise of science, but these magnificent creatures will still be slaughtered for no legitimate reason," she said.
The last time Japanese ships went out on a commercial hunt was in 1988. In the years since the Asian nation claimed all whaling activities were for research purposes.
The country's Fisheries Agency said the catch quota for 2019, which will be limited to whales in its EEZ, was set at 227 whales.
This is fewer than the 333 whales Japan hunted in the Antarctic during recent years.
Hideki Moronuki, a Fisheries Agency official and a chief negotiator at the IWC, said Japan's commercial whaling would never harm its stock and it would stick to a very strict catch quota with respect to the IWC findings, and continue conducting research.
As the boats left port, whalers, their families and local officials in two major whaling towns, Shimonoseki in southwestern Japan, the prime minister Shinzo Abe's electoral constituency, and Kushiro in the north, celebrated the fresh start.
Deputy chief cabinet secretary Yasutoshi Nishimura told reporters in Tokyo the move would contribute to local prosperity.
"We hope commercial whaling will be on track as soon as possible ... and carry on Japan's rich whale culture to the next generation," he said.
While the resumption of commercial whaling is condemned by many conservation groups, others see it as a face-saving way to let the government's embattled and expensive whaling programme gradually succumb to changing times and tastes.
Despite the massive attention, tax income and political support from ruling party politicians, whaling in Japan involved only a few hundred people and accounted for less than 0.1 per cent of total meat consumption in the year to April 2018, according to the latest government data.
Whale meat was an affordable source of protein during the lean times after the Second World War, with consumption peaking at 223,000 tonnes in 1962 before it started being replaced with other meats.
Consumption had dropped to 6,000 tonnes in 1986, a year before the commercial whaling moratorium imposed by the IWC.
Japan began whaling for scientific research in 1987, which it insisted was carried out to gather crucial population data, and abandoned commercial whaling the following year.
Under the research hunts, catches peaked at 1,200 whales, but that number has seen a sharp decline in recent years after international protests escalated and whale meat consumption slumped at home.
These hunts were condemned by many who believed they were just a cover for commercial hunts as the meat was sold on the market.
Today, between 4,000 and 5,000 tonnes of whale meat are supplied to Japan annually, or 30-40g per person each year, according to Fisheries Agency officials.
In the move to commercial whaling, those whales caught in coastal waters are expected to be brought back for fresh local consumption at six local whaling hubs, mainly in northern Japan.
Whale meat caught further off the coast will be frozen and distributed for wider consumption.
Mr Moronuki said the fate of commercial whaling depended on whether whale meat was widely accepted by consumers, as the subsidies it used to get are no longer available.
He hoped whale meat would be reasonably priced so it would gain popularity in the long term instead of becoming an expensive delicacy for a limited clientele.
"If we had more whale available, we'd eat it more," said Sachiko Sakai, a 66-year-old taxi driver in Kushiro, a port city on the northernmost main island of Hokkaido, where the whaling ships were waved out of harbour in a brief ceremony.
"It's part of Japan's food culture," said Ms Sakai, adding that she ate a lot of whale as a child.
"The world opposes killing whales, but you can say the same thing about many of the animals bred on land and killed for food."
Additional reporting by Associated Press and Reuters
Join our new commenting forum
Join thought-provoking conversations, follow other Independent readers and see their replies