Japanese railworkers hold funeral for 'stationmaster' cat who helped save railway line from bankruptcy
Well known feline helped save the local Kishigawa railway line from bankruptcy after joining staff in 2007
Alexander Sehmer
Sunday 28 June 2015 14:51 Comments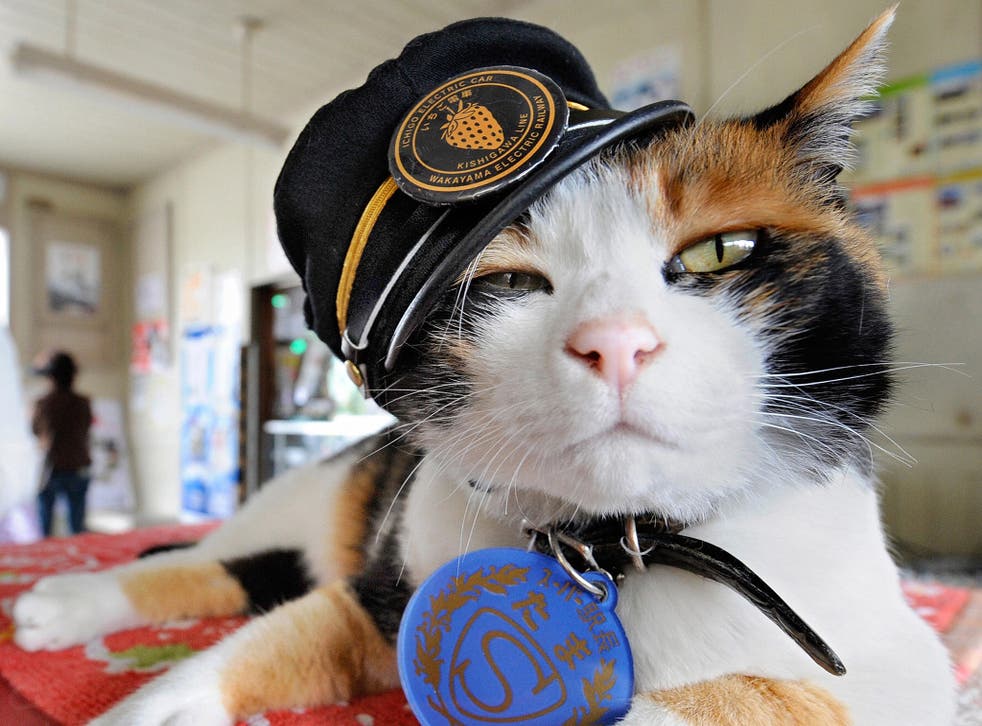 A cat appointed stationmaster of a struggling Japanese railway has been mourned by railworkers at its funeral and elevated to the status of "honourable eternal stationmaster".
Tama, who died of heart failure earlier this month, was well-known among staff and visitors at the Kishi station in western Japan.
The calico cat joined the staff of the local Kishigawa railway line in 2007 when she was appointed stationmaster and given a custom-made stationmaster's cap and a jacket.
Her fame brought in large numbers of tourists to the station, giving a boost to the the Kishigawa railway line which had been close to bankruptcy, as well as the local economy.
Tama's death was marked in a Shinto-style funeral on Sunday.
Speaking at Tama's funeral, Mitsunobu Kojima, the president of Wakayama Electric Railway, thanked Tama and said she would be enshrined at a nearby cat shrine next month.
Mr Kojima said appointing Tama as stationmaster was initially an excuse to keep the cat at the station.
"But she was really doing her job," he said. "Tama-chan really emerged like a saviour, a goddess. It was truly my honour to have been able to work with her."
Lady Dinah's Cat Emporium: in pictures

Show all 10
During her tenure, Tama had contributed an estimated 1.1 billion yen ($8.9 million) to the local economy, Mr Kojima said.
Another calico cat named Nitama, now an apprentice stationmaster, is to take over Tama's duties.
Register for free to continue reading
Registration is a free and easy way to support our truly independent journalism
By registering, you will also enjoy limited access to Premium articles, exclusive newsletters, commenting, and virtual events with our leading journalists
Already have an account? sign in
Join our new commenting forum
Join thought-provoking conversations, follow other Independent readers and see their replies