Hong Kong student pro-democracy leader Joshua Wong decries 'political prosecution'
Activists face court a year after prolonged protests against the government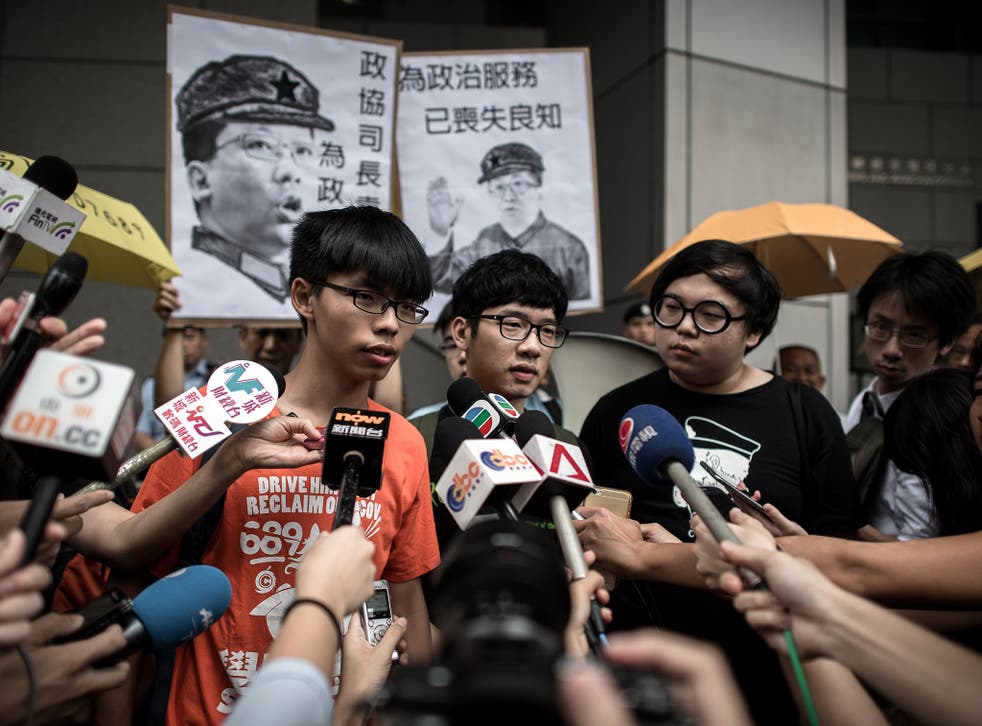 One of the student leaders of Hong Kong's pro-democracy movement has said he was willing to "pay the price" for his actions, after being charged over his role in the storming of government headquarters which helped to spark months of street protests last year.
Joshua Wong, the 18-year-old leader of student group Scholarism, decried what he called "political prosecution" – with the charges coming nearly a year after he and other activists climbed into an area known as Civic Square, which is part of the city's government complex.
The arrest of Mr Wong and other key leaders drew more protesters on to the streets, eventually forcing police to fire volleys of tear gas in an attempt to disperse the crowds.
Allegations of heavy-handed police tactics helped to kick-start what came to be known both as the Umbrella Movement and Occupy Central, direct challenges to the Hong Kong authorities. Mr Wong is charged with unlawful assembly, and inciting others to take part in an unlawful assembly.
Two other student leaders of the demonstrations, Nathan Law, the secretary-general of the Federation of Students, and his predecessor, Alex Chow, were also charged. Mr Chow is accused of taking part in an unlawful assembly and Mr Law is charged with inciting others to take part in an unlawful assembly.
The root cause of the movement was the desire for free elections to decide Hong Kong's next leader – with the next chief executive to be chosen in 2017. Planned changes to the electoral system, backed by Beijing – which took back control of Hong Kong from Britain in 1997 – would only allow candidates who have been vetted by a loyalist committee.
That election plan was voted down in June, in a rebuke to China from legislators in the semi-autonomous city that has left it polarised.
The charges against Mr Wong could result in a sentence of up to five years, but he was unrepentant as all three attended police headquarters yesterday. He has repeatedly denied doing anything wrong, and has claimed that other protests were held in the area without incident.
"Being involved in the action to take back Civic Square on 26 September was the best decision I have made in the four years I have been involved in the social movement and student movement," Mr Wong said. "I do not regret it... even if I need to pay the price, go to court and even to jail."
Outside the police station, dozens of people turned out to support the activists. Some held up yellow umbrellas – the symbol of the democracy movement – and shouted "CY step down", a reference to Hong Kong's current chief executive, Leung Chun-ying.
According to local reports, Mr Wong's lawyer, Michael Vidler, has said that he is considering asking the courts to end the action.
He believes that it was wrong to prosecute a full 11 months after the incident. "I think the whole rationale for proceeding at this stage, a year after the event, is totally flawed," Mr Vidler told AFP.
The three accused student leaders are scheduled to appear before a magistrates' court on 2 September in relation to the charges.
Separately, Mr Wong and Mr Law are also charged with obstructing police during another protest last year, outside the liaison office of the Chinese central government in Hong Kong.
Both pleaded not guilty last month to those charges and are expected to appear in court on Friday for the next hearing in that case.
Join our new commenting forum
Join thought-provoking conversations, follow other Independent readers and see their replies