Kabul bombing: At least 28 people killed and more than 300 injured in Taliban suicide attack on security agency
The attack came during Tuesday morning's rush hour in the Afghan capital
Lizzie Dearden
Tuesday 19 April 2016 08:29 Comments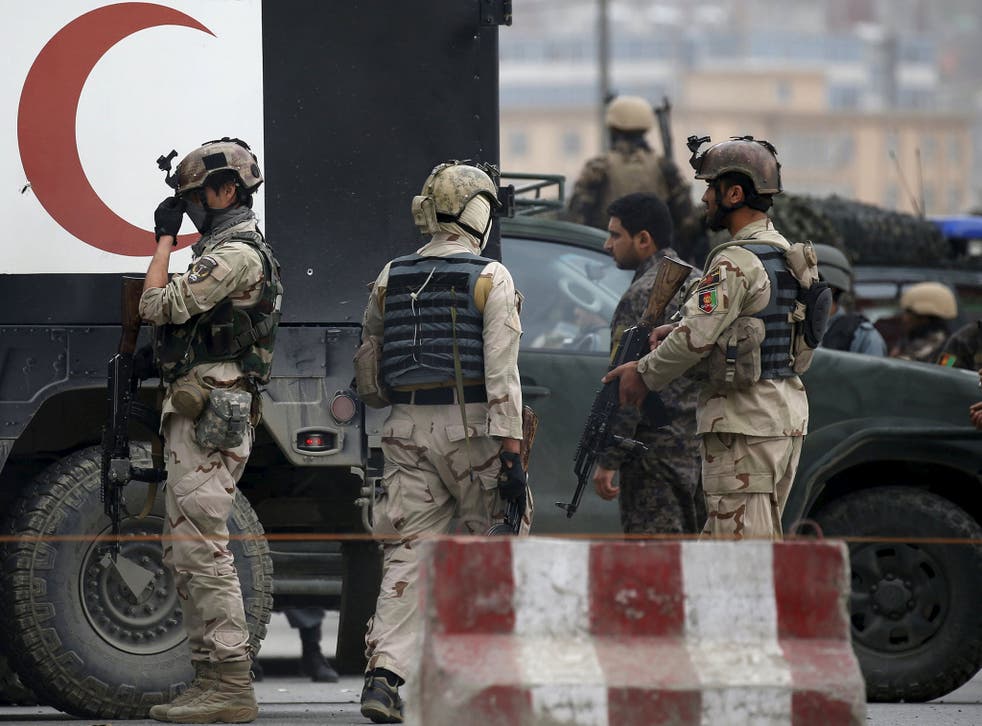 At least 28 people have been killed and more than 300 wounded in a suicide bombing and gun attack in Kabul.
Civilians and members of the Afghan security forces were among those caught in the assault, which was claimed by the Taliban.
The bombing, during Tuesday morning's rush hour, targeted the headquarters of a security agency in central Kabul, near the ministry of defence and embassies.
There were also reports of gunfire amid claims that Taliban militants had fought their way into the National Directorate of Security (NDS), Afghanistan's main intelligence agency.
Afghanistan's health ministry said that casualty estimates were expected to rise as recovery work continued.
A propaganda statement issued by the Taliban said the attack targeted Department 10, a unit protecting government ministers and MPs, as part of its previously announced "spring offensive".
It claimed a car bomb was detonated at the gates of an NDS compound at 9am local time (5.30am BST) before gunmen rushed inside.
The area was closed off by security forces as fighting continued and dozens of ambulances were seen at the scene.
Witnesses described chaotic scenes after the blast as hundreds of Afghans rushed to donate blood for the victims.
"I was here when a huge explosion happened," said Amir, who works in a nearby restaurant. "I saw three boys with severe head injuries. My uncle was injured and my brother is missing, I don't know what happened to him."
It was the worst single militant strike in Kabul since 2011, when about 60 people died in a suicide blast outside a mosque, and will reinforce concerns in Afghanistan and the West that the country is being dragged into a worsening spiral of violence.
Mr Rahimi said one attacker had tried to slip into the NDS building through a destroyed wall after the blast, but he was discovered and killed.
The health ministry said 327 injured victims, including women and children, had been taken to local hospitals.
War artists in Afghanistan

Show all 6
A spokesperson at the presidential palace, just a few hundred metres from the blast, condemned the attack.
"Such cowardly terrorist attacks will not weaken the will and determination of Afghan security forces to fight against terrorism," he added.
A tweet from President Ashraf Ghani said the assault "clearly shows the enemy's defeat in face-to-face battle" with government forces.
Philip Hammond also tweeted his support, writing: "I condemn the bomb attack in Kabul, thoughts are with families. The Taliban continues senseless attacks against civilians. The UK stands with Afghanistan."
The American embassy in Kabul released a statement calling for continued efforts in the government's peace process.
"Afghanistan deserves peace and security, not attacks that victimise parents taking their children to school, workers on their morning commute, and people who have stepped forward to help defend their fellow citizens," a spokesperson said.
The Taliban controls swathes of Afghanistan, where Isis is also trying to expand its presence amid deteriorating security.
Islamists have been gathering strength since the bulk of British, American and Nato forces withdrew in 2014, sparking an exodus by hundreds of thousands of refugees and pleas by local officials for help to combat insurgents.
Afghanistan's defence minister, Masoom Stanikzai, warned last week that al-Qaeda is also gathering strength in the country and "preparing themselves for bigger attacks".
Additional reporting by agencies
Register for free to continue reading
Registration is a free and easy way to support our truly independent journalism
By registering, you will also enjoy limited access to Premium articles, exclusive newsletters, commenting, and virtual events with our leading journalists
Already have an account? sign in
Join our new commenting forum
Join thought-provoking conversations, follow other Independent readers and see their replies