Kerala protests: State hit by violent unrest as third woman enters temple of 'celibate' god
First two women to enter temple now in hiding and under police protection after protests tore through state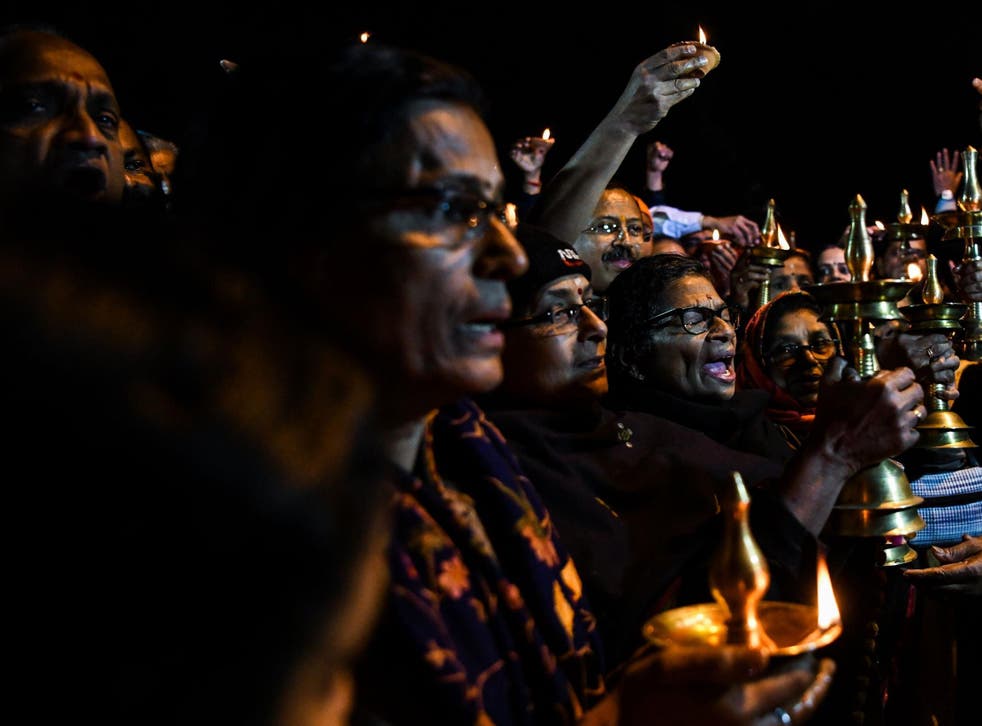 A third woman has entered the Sabarimala temple in the south Indian state of Kerala, in a move likely to cause further uproar in the region.
It was not immediately clear how the woman, a Sri Lankan national named Sasikala, entered the temple, which prohibits women of menstruating age from visiting.
She is thought to have visited the site at around 11pm on Thursday.
A spokesperson for Pinarayi Vijayan, Kerala's chief minister, said that the 46-year-old was accompanied by her husband and was offered police protection.
Life in the state was brought to a halt on Thursday after news of the first two women entering the temple was met with violent protests.
Bindu Ammini and Kanaka Durga entered the site in the early hours of Wednesday, making history as the first women ever to do so.
The women arrived in an ambulance and were escorted through a side gate by plain-clothes police officers.
They are now in hiding and have been given police protection.
Sabarimala is a hill temple devoted to the Hindu god Ayyappan, who is particularly popular in Kerala.
It is one of the few Hindu sites in India which bans women and girls between the ages of 10 and 50 from entry.
Temple officials continue to enforce the ban by claiming menstruating women are unclean.
But Kerala was thrown into disarray in September, when India's Supreme Court ordered the temple to lift the ban. Authorities at Sabarimala have refused to abide by the ruling.
Feminist groups say the ban is discriminatory.
Support free-thinking journalism and attend Independent events
India's ruling Bhartiya Janata Party (BJP) and its rival Congress party both oppose women entering the temple.
But, unlike much of India, Kerala remains a stronghold for the communist party which governs the state.
The left-wing state government has instead thrown its support behind women seeking to enter.
Conservative Hindu groups paralysed Kerala on Thursday, shutting businesses and halting transport with a protest strike against Kerala's left-wing political leaders.
One person was killed and 15 injured in the uproar as demonstrators called for the ban to be reinstated.
Discrimination against menstruating women is common in some parts of South Asia, where they are forbidden from entering houses or temples.
Indian political parties at times try to use religious division to their advantage. The country is due to hold a general election by May.
Additional reporting by agencies
Join our new commenting forum
Join thought-provoking conversations, follow other Independent readers and see their replies