North Korea elections: Kim Jong-un wins 100% of the vote
Elections give government chance to check up on the people – with only one candidate listed on each ballot paper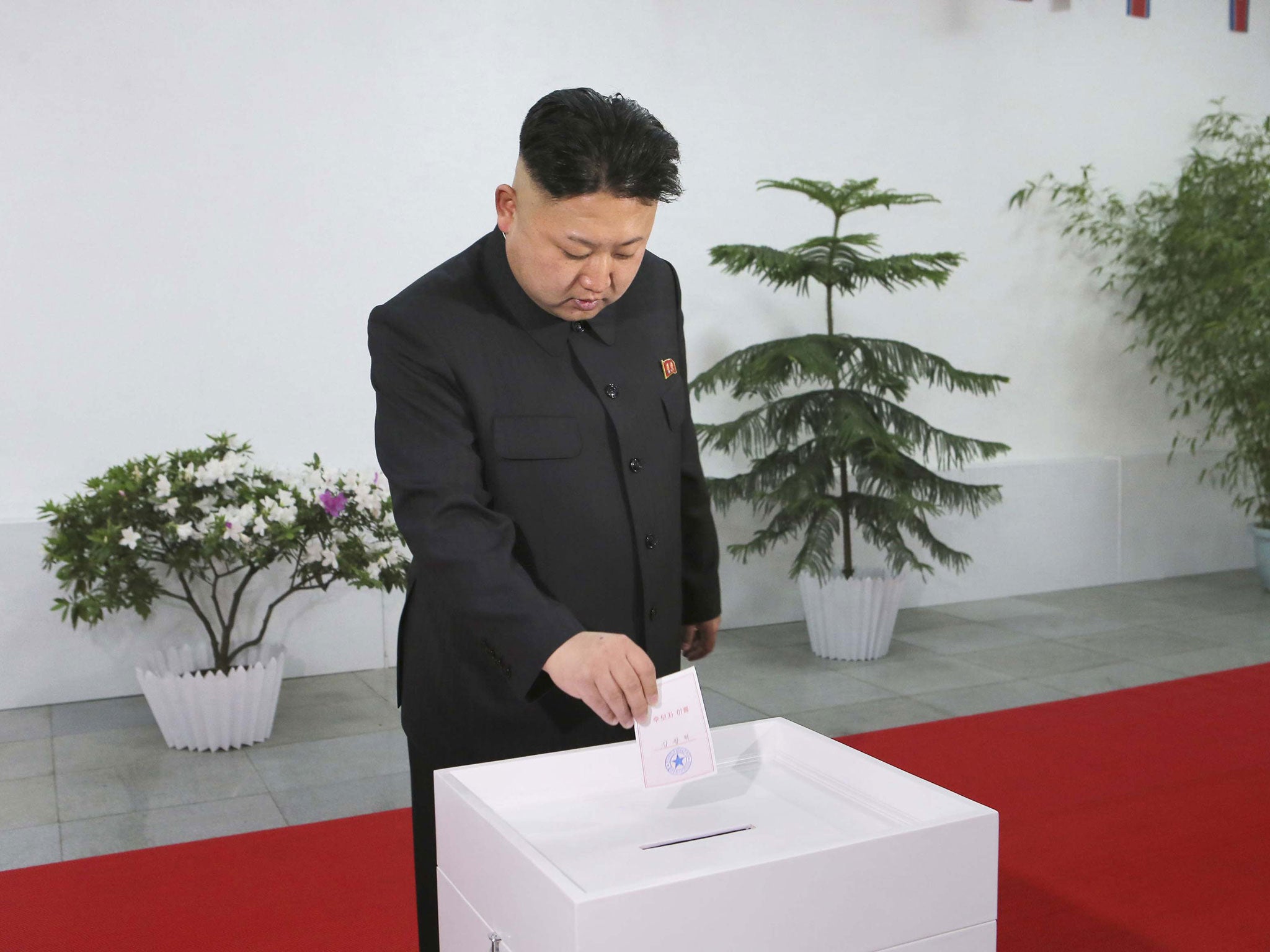 The North Korean leader Kim Jong-un has been unanimously re-elected to the country's parliament after every single eligible person in his constituency turned out to vote – with only his name on the ballot paper.
Standing in the highly symbolic Mount Paekdu district, Kim was declared victorious this morning ahead of the results for any of the other 700 or so seats.
Rather than being a democratic choice between candidates, elections in North Korea superficially provide the people with the chance to approve the politicians pre-selected by the leading party. Each ballot has a single named listed with the option to pick "yes" or "no".
In practical terms, however, they are a powerful tool for the government to check up on the movements and potential dissidence of the population.
Announcing Kim's 100 per cent victory today, the state media agency declared: "This is an expression of all the service personnel and people's absolute support and profound trust in supreme leader Kim Jong-un as they single-mindedly remain loyal to him."
North Korean Voters go to the Polling Stations to elect a new national legislature
Show all 6
This was the first "test" to Kim's authority since he came to power – elections are usually held every five years in North Korea, the last being held before the death of his father Kim Jong-il in 2011.
External analysts of North Korean politics watch the elections closely, despite the lack of any contest, because the changing line-up of so-called "deputies" gives a rare glimpse into the thinking of the leading Workers' Party (WPK).
The new parliament was expected to meet next month, with experts keen to see if the new set of representatives reflects a generational change as Kim continues to replace older, more entrenched figures with younger – and potentially more loyal – ones.
The elections usually receive a turnout of around 99 per cent nationwide. Michael Madden, editor of the NK Leadership Watch website, said this reflects one reason the autocratic North has votes at all: they provide "the most comprehensive assessment of the population".
Mustering the nation is a chance for the authorities to hone their mobilisation skills, check the efficiency of local leaders and get a snapshot of internal movements.
"The DPRK is very good at mobilising the population for events," Mr Madden said, adding that elections "are celebratory events".
"According to North Korean migrants and defectors, it is very difficult to get a hardship dispensation from participating," he said.
Mr Madden said security officials will review data on non-voters to glean information on suspicious activity - absentees could be defected military personnel or workers who have escaped to China in search of higher pay and a better life.
Join our commenting forum
Join thought-provoking conversations, follow other Independent readers and see their replies