Li Tingting released: 'Feminism is my soul,' says gay Chinese activist after 37 days in detention for campaigning against sexual harassment
Ms Li claims that she was deprived of sleep in jail and had cigarette smoke blown in her face while being restrained in an iron chair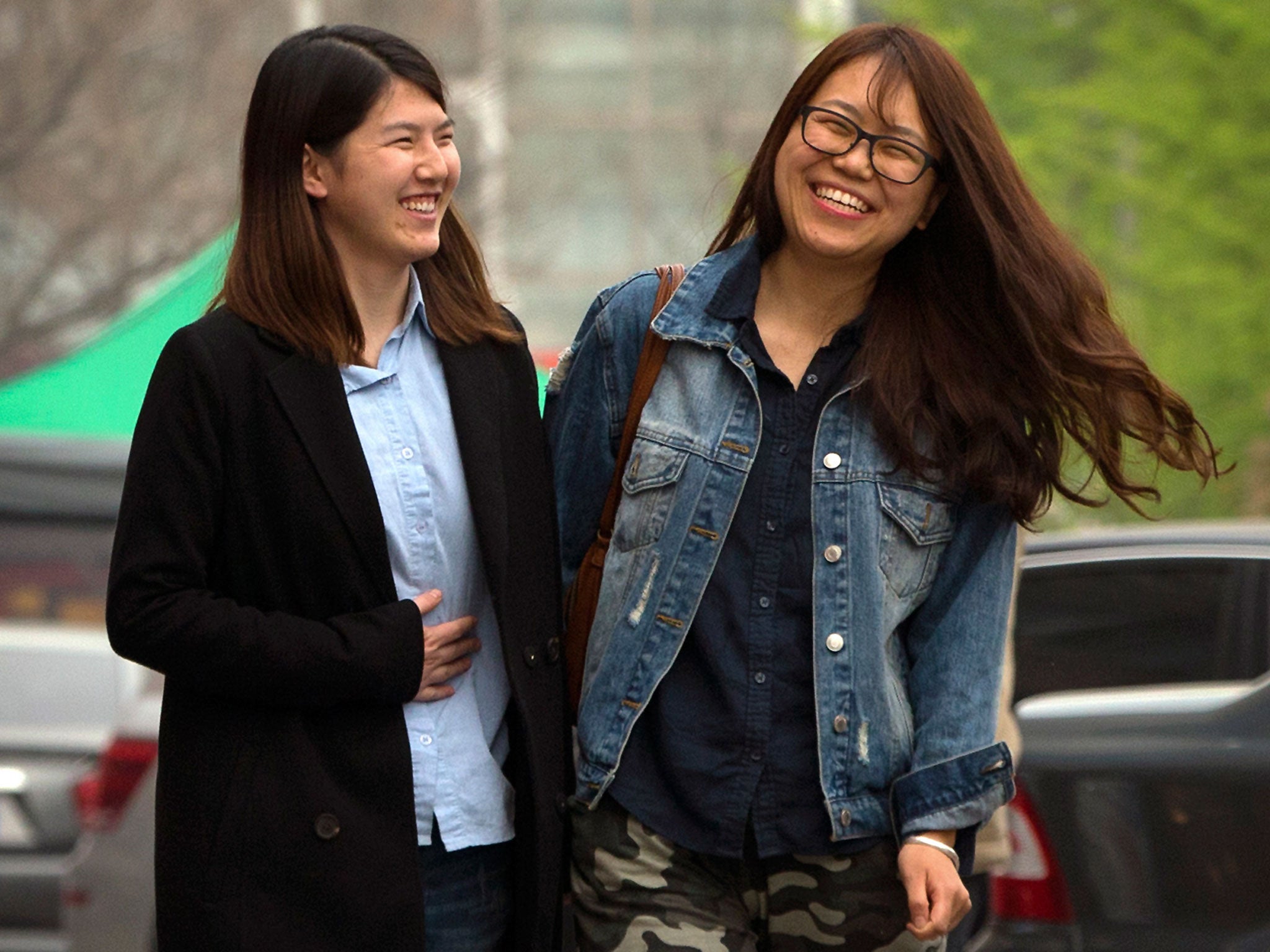 Li Tingting, 25, an openly lesbian campaigner for women's issues in China, was at the centre of an international outcry when she was detained, along with four other activists, earlier this year.
Now, speaking through her girlfriend for the first time since her conditional release from a Beijing jail last Monday, she said her dedication to the cause had grown after spending 37 days in detention under interrogation. Her girlfriend spoke on condition that she be identified only as "Teresa". By her side was Ms Li, who could not be interviewed, and her lawyer Wang Yu.
"Feminism is my soul," Teresa quoted Ms Li as saying. "I thought a lot and came to believe what I do cannot be wrong. My belief is firmer. Feminism will surely be inseparable from me."
Ms Li and four other women, aged from 25 to 32, were detained in a criminal investigation for their plans to hand out stickers and flyers denouncing sexual harassment. The five drew what was an unusual amount of attention overseas. Foreign governments, rights groups and luminaries including Hillary Clinton criticised the arrests and urged the Chinese authorities to drop the case against the women.
The women who are shaping our world
Show all 27
The Foreign Ministry responded by saying the detentions were an internal affair being handled according to law. Though the five were released, they remain under investigation and have been told not to travel outside their home cities or meet journalists.
In Ms Li's home village of Hongtongying, journalists are trailed by unidentified vehicles. Her friend and lawyer said Ms Li would abide by state security officials' demands that she grant no interviews. They also released a written statement by Ms Li, in which she pleaded innocence.
"What I have done does not provoke trouble, but is mild advocacy that does not amount to any crime," Ms Li wrote. "I demand police dismiss the case immediately, remove coercive restrictions on me and return innocence to me."
Born just weeks after the Tiananmen protests, Ms Li came out early as a lesbian to her parents, who reacted badly. At college, she organised tongue-in-cheek public protests – one which involved marchers strolling down a busy Beijing street wearing blood-stained wedding dresses and warning passing couples about domestic abuse.
Ms Li will need some time to readjust, but has been in good spirits despite her ordeal, her friend and the lawyer said. She was deprived of sleep and had cigarette smoke blown in her face, she wrote, while being restrained in an iron chair. Interrogators also shone strong lights into her eyes and repeatedly called her homosexuality "sickening" and "shameless". Mr Wang said this amounted to torture.
Ms Li was detained just ahead of International Women's Day, which the Chinese authorities mark by touting gender equality under the leadership of the Communist Party. Ms Li believes it shows that China's civil society is facing extreme difficulty, and that "more needs to be done", Teresa said.
AP
Join our commenting forum
Join thought-provoking conversations, follow other Independent readers and see their replies