Malaysia mass grave victims showed signs of torture, police say
Authorities say they do not know how many people are in the graves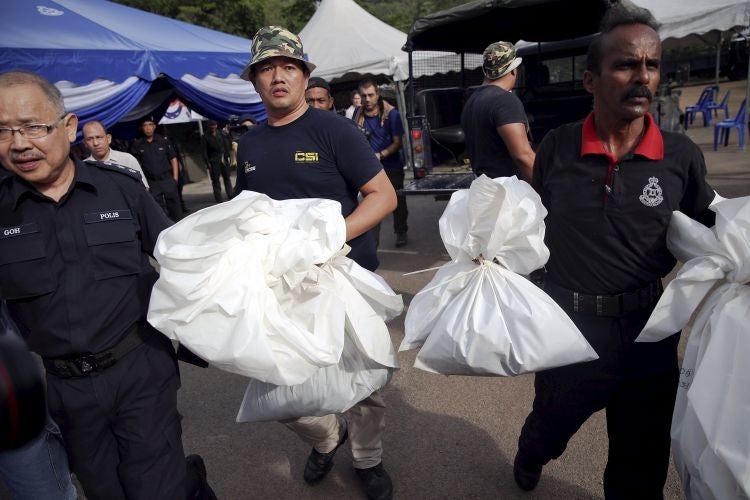 Malaysian police have released new details about the discovery of 139 mass graves saying some of the bodies show signs of torture.
The grisly discovery of the bodies of what is believed to mainly Rohingya Muslim refugees from Burma in 28 people trafficking camps in was the second large scale discovery of mass shallow graves on the Malaysian-Thai border this month.
In a press conference today, the Malaysian police did not elaborate on what torture was used but they said metal chains have been found near the burial site suggesting some victims had spent time as prisoners before they died.
They also found barbed-wire pens which were likely used to cage the migrants.
Malaysia's chief of police, Khalid Abu Bakar told reporters at a police outpost in Wang Kelian, a town several miles from the grave site: "It is a very sad scene. I am shocked. We never expected this kind of cruelty. We are working closely with our counterparts in Thailand. We will find the people who did this."
He added that officers were not sure how many bodies were in each grave. One grave is believed to be large enough for 300 bodies.
Thousands of Rohingya people are thought to have fled Burma in recent months to escape persecution from the country's Buddhist majority. Since May 10th, more than 3,600 people, half of them Rohingya half believed to be Bangladeshi jobseekers, have landed in Indonesia, Malaysia and Thailand.
Thousands more are believed to have been killed by trafficking gangs or stuck at sea after being abandoned by their captains.
Human rights groups and activists say the area on the Thai-Malaysia border has been used for years to smuggle migrants and refugees.
Additional reporting by the Associated Press
Join our commenting forum
Join thought-provoking conversations, follow other Independent readers and see their replies