Malaysia migrant graves reveal 139 human skeletons at site where Rohingya Muslims 'kept by traffickers'
Authorities say bodies have been found where Rohingya Muslims fleeing Burma were known to be held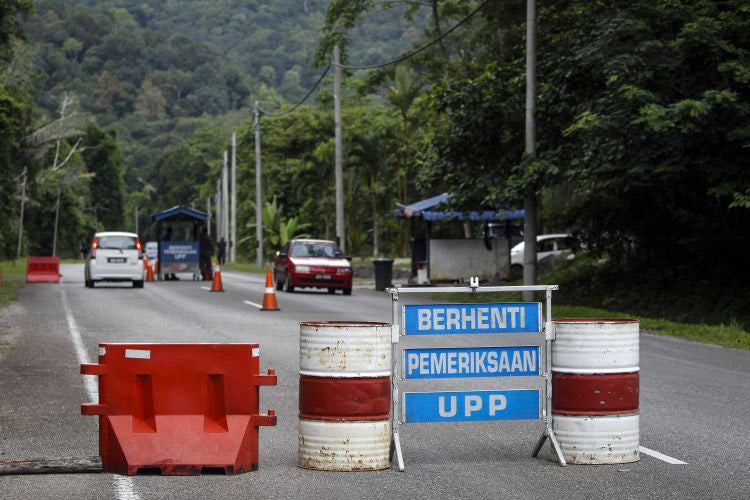 Malaysian authorities have discovered 139 suspected graves in a series of abandoned camps used by human traffickers on the border with Thailand where Rohingya Muslims fleeing Burma were believed to have been held.
Police chief Khalid Abu Bakar said that a sweep of the hilly, jungle area found at least 28 camps along a 50-kilometer (30-mile) stretch of the border. At one of the camps, police found "a highly decomposed body" that would be examined by forensics experts as teams began the work of exhuming the areas believed to be graves. 

"It is a very sad scene," Abu Bakar told reporters in northern Perlis state at a police outpost several kilometers (miles) from the suspected camps, some of which he said appeared to have been abandoned two to three weeks ago. 

"We have discovered 139 of what we believe to be graves," he said, describing them mostly as mounds of earth, covered by leaves and marked by sticks. "Forensics teams have gone in to exhume any remains."

"We accept that there are syndicates involved in this and their main aim is for monetary gains," he said. "We will investigate, and we will not condone anyone, including Malaysian officials." 

The finding follows a similar discovery earlier this month by police in Thailand who unearthed dozens of bodies from shallow graves on the Thai side of the border. The grim discoveries are shedding new light on the hidden network of jungle camps run by traffickers, who have for years held countless desperate people captive while extorting ransoms from their families. 

Most of those who have fallen victim to the trafficking networks are refugees and impoverished migrants from Burma and Bangladesh, part of a wave of people who have fled their homelands to reach countries like Malaysia, where they hope to find work or live free from persecution. 

As Southeast Asian governments have launched crackdowns amid intensified international pressure and media scrutiny, traffickers have abandoned camps on land and boats at sea to avoid arrest.

The graves were found in the northern state of Perlis. The state borders southern Thailand's Songkhla province, where at least 36 bodies were found earlier this month. 

According to the Malay-language Utusan Malaysia newspaper, police found 30 large graves containing hundreds of corpses in mid-May in forests around the Perlis towns of Padang Besar and Wang Kelian. 

The English-language Star Online said 100 bodies were found in a single grave in Padang Besar. It said police forensics teams had arrived there Friday night to investigate, and the area had been cordoned off. 

Malaysia and Indonesia announced last week that they would provide temporary shelter for up to one year for migrants recently found or still stranded at sea. The U.S. has said it will settle some of them permanently. 

Four Malaysian navy ships began searching for boats Friday, but their operation is limited to Malaysia's territorial waters. The Pentagon said Thursday that Washington was readying air patrols to aid in the search, but a U.S. Embassy spokeswoman in Bangkok said the offer of assistance was still awaiting clearance. 

The Rohingya, numbering around 1.3 million in Burma, have been called one of the most persecuted minorities in the world. Long denied basic rights, they have been driven from their homes in mob attacks in Myanmar's Rakhine state several times since 2012. 

More than 140,000 were displaced and are now living under apartheid-like conditions in crowded camps. More than 100,000 others have fled by sea.
Associated Press
Join our commenting forum
Join thought-provoking conversations, follow other Independent readers and see their replies